UPDATE MARCH 5, 2020 - Microsoft has just announced that they are making Microsoft Teams available for free, in an effort to support worldwide teams that need to work remotely due to COVID-19 concerns. If you are looking to customize Microsoft Teams templates with one-click, in minutes and avoid lengthy installation instructions, then this post is for you.
Microsoft SharePoint look book templates and Microsoft Teams templates available, for free, alongside BindTuning Starter Kits. Everything you need to jump start collaboration is available from BindTuning optimized for immediate deployment from one searchable gallery. Using one single deployment app from BindTuning, Microsoft templates, Microsoft Teams templates and BindTuning Starter Kits can all be up and running in minutes.
From concept to reality in minutes.
By now you know impact that site customization has on user adoption. A site needs to reflect your brand. Therefore, it needs to be properly structured to display content and support collaboration through design. These are absolutely critical to the success of your people and your company. But getting your site to that point isn't always easy. Luckily for you, there are many resources available to give you a head-start on building collaborative workspaces. Robust user adoption is the key to Microsoft's success, so they are resolute in seeing their resources support your people and advance your projects, as are we. Let's explore some of the options available to you.
Start with a Microsoft Template
Microsoft has made templates available for both SharePoint and Teams. The Microsoft look book is an excellent resource if you are looking for inspiration for SharePoint.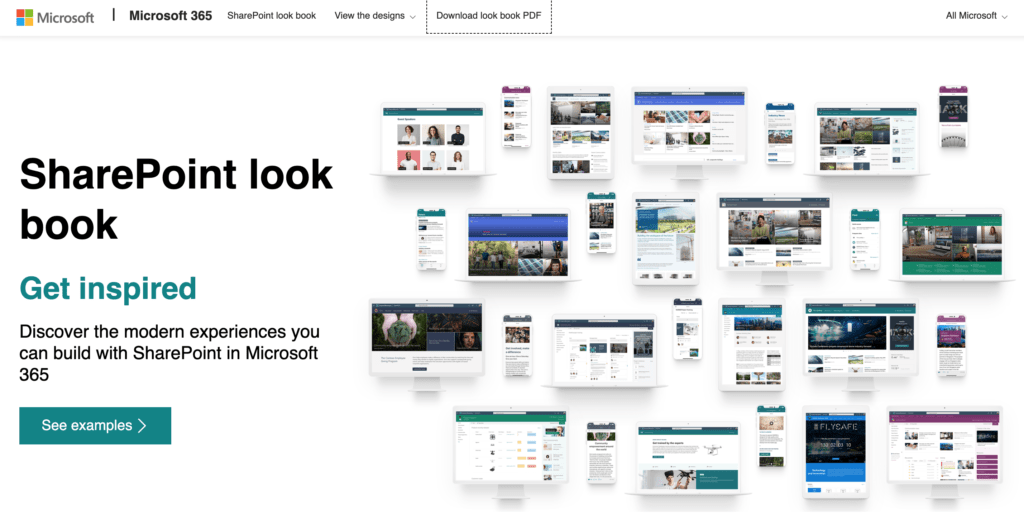 Currently there are 19 templates for Microsoft SharePoint, ranging from organization, department, team and community solutions. Deployed in a few minutes using PnP, each template includes out-of-the-box web parts and some limited branding options. Each template is free to use.
For Microsoft Teams, there are currently 12+ templates for Education, Healthcare, Retail and SMB. Teams templates do not include any branding, but they are free to download and feature Microsoft apps.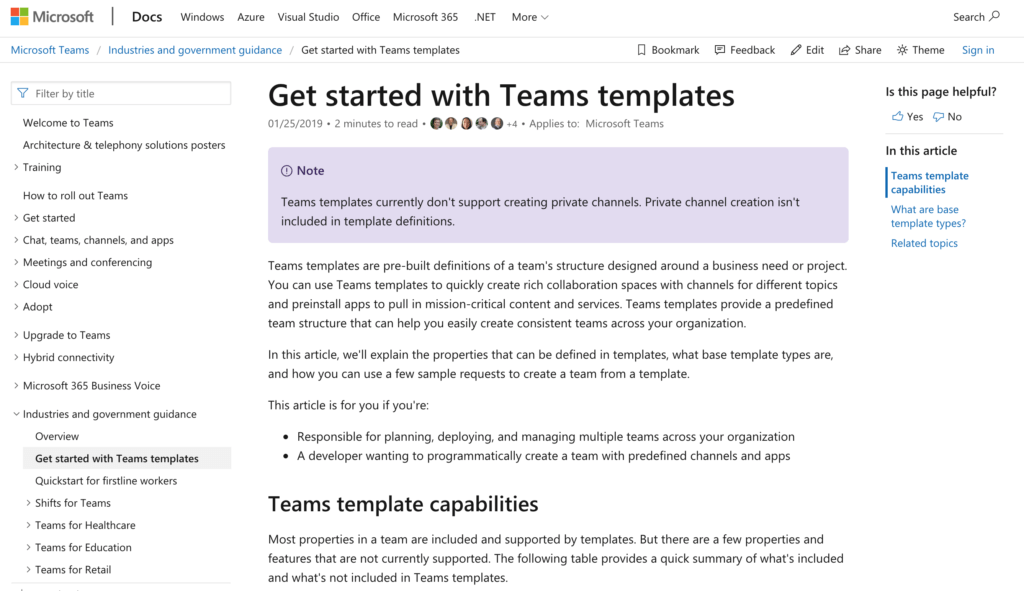 However, deploying these templates is a bit more challenging and time consuming. A user needs to make a manual http request using one of the free developer tools available online, like Microsoft Graph Explorer. Not as simple as the SharePoint templates, but again they are free to the community.
Today, we've made it incredibly easy for you to deploy any of the Microsoft templates. By adding these free templates to the BindTuning app, we put the power of automated provisioning into your hands. Yes, the templates are still available for free, but if you want to deploy them in minutes, then using our BindTuning app is a huge advantage!
But what if you want to take one step further in your design, in ease of deployment and added functionality?
Take your sites even further with BindTuning Starter Kits.
BindTuning Starter Kits are ready-to-launch, packaged scenarios and include sample pages, a theme*, web parts and demo content that can be branded and configured to suite your needs.
Over 35 BindTuning Starter Kits are available: 3 cross-industry sites (Department, Intranet Landing Page, Project Workspace) and 32 industry-specific sites (Education, Business, Finance & Legal, Government, Healthcare, Hospitality, Manufacturing, Retail, Travel & Tourism).
BindTuning Starter Kits extend SharePoint and Microsoft Teams functionality beyond what is available out-of-the-box.
*Themes are included in Microsoft SharePoint Starter Kits. Look for Microsoft Teams themes (branding) in Spring 2020!
Compare templates and starter kits here:
| Details | Microsoft look book templates | Microsoft Teams templates | BindTuning Starter Kits |
| --- | --- | --- | --- |
| How many? | 19 | 12+ | 35+ |
| Works with | Office 365, SharePoint (Modern sites only) | Microsoft Teams | Office 365, SharePoint (Classic and Modern), Microsoft Teams |
| Cost? | Free | Free | Paid subscription. 30-day free trial avail. |
| Custom Branding? | None | None | Magic Tool. Over 20 customizable theme designs. Custom Fonts, rich backgrounds. Extended menus and navigation. Add HTML to any content area. |
| Custom CSS coding? | None | None | Yes. Classic and Modern SharePoint |
| Manual Deployment method and time? | PnP. 5-10 minutes | Manual, Lengthy process using PowerShell. | BindTuning Provisioning. 5-10 minutes |
| Manual Deployment time using BindTuning App? | 5-10 minutes | 1-3 minutes | 5-10 minutes |
| Who can install? | Tenant Admin only. | Anyone, subject to MS Teams Admin | SharePoint Office 365: Site collection Admins. MS Teams: Anyone, subject to MS Teams Admin |
| Can I apply to existing sites or use existing content? | For new sites only. Cannot link to existing lists, data or external data. | n/a | Yes. Completely list-driven content. Connect to existing content or external data sources |
| Web parts and apps? | Microsoft only. | Microsoft only. | Microsoft and BindTuning web parts and apps. |
Get Started Today with Microsoft Templates and BindTuning Starter Kits
Microsoft SharePoint look book templates and Microsoft Teams templates are available, for free alongside BindTuning Starter Kits in the BindTuning App. Create a BindTuning account and you'll be able to deploy any Microsoft template for free in minutes.
All BindTuning Starter Kits are available for 30-day trial. Pricing information is available on our website. If you prefer to get a quick demo or talk to sales, you can schedule a meeting right now.
---