Provisioning Microsoft 365 workspaces and Microsoft Teams can be relatively straightforward, involving the swift deployment of standardized and consistent workspaces throughout an organization. However, it's important to note that within the BindTuning Automate 365 product, there are certain features that might not be immediately apparent but are essential for effectively handling the diverse and complex environments that our customers encounter today. In essence, these features are crucial for successful provisioning.
To uncover these "hidden features", I had a conversation with Carlos Silva, the CTO of BindTuning, to gain insights and understanding about them.
What are the features that users may not be aware of in Automate 365?
We've introduced some fantastic features within Automate 365. Throughout the development phase, we proactively consider various scenarios and conditions, especially when it comes to replicating SharePoint sites, Microsoft Teams, and other shared workspaces like Planner and Project. These anticipations are rooted in the diverse and intricate environments in which our customers operate.
Our customers actively contribute to shaping this product by sharing detailed requirements. Leveraging agile development methods and the flexibility of a cloud-based application, we can swiftly introduce new features across all our products, delivering immediate benefits to our valued customers.
Three powerful provisioning features you need:
Apply modern, pre-built page templates across SharePoint site collections, Teams, Planner and Project.
Simplify site permissions.
Synchronize Microsoft Entra ID security groups with Microsoft Teams.
Provision custom content types and metadata.
Apply modern, pre-built page templates across SharePoint site collections, Teams, Planner and Project.
Most of our customers are using modern SharePoint page templates and would like to apply them across not only new but existing site collections. So we provide that capability right in the template. Just as you would select the lists, folders, pages and site settings you can also include modern page templates, too. In fact, if the only thing you want to do is to apply modern page templates from one site to existing sites, with Automate 365 you can create a template that does just that. The options available to you are endless. Everything you want to include in a template from a source site is customizable to your needs, including page designs.
A consistent intranet experience can be easily attained, without starting from "scratch". Existing sites can be easily updated with consistent, modern page templates without disrupting the flow of work. And the same applies to Microsoft Teams, Planner and Project workspaces - with predefined structures that facilitate efficient communication, tasks management and collaboration. Provisioning across the enterprise - these features go a long way towards a solution that works in all the application spaces you work.
Simplify site permissions.
The last thing anyone needs when creating new sites and teams is the tangle of owners, users, guests and visitors. Well, we have taken several steps in simplifying this process. In the app, users can take the existing Microsoft 365 Site Security settings (admin, owners, members, visitors...) from the source site and optionally include it in their template. A fast and convenient way to create sites and teams, "pre-loaded" with the proper members.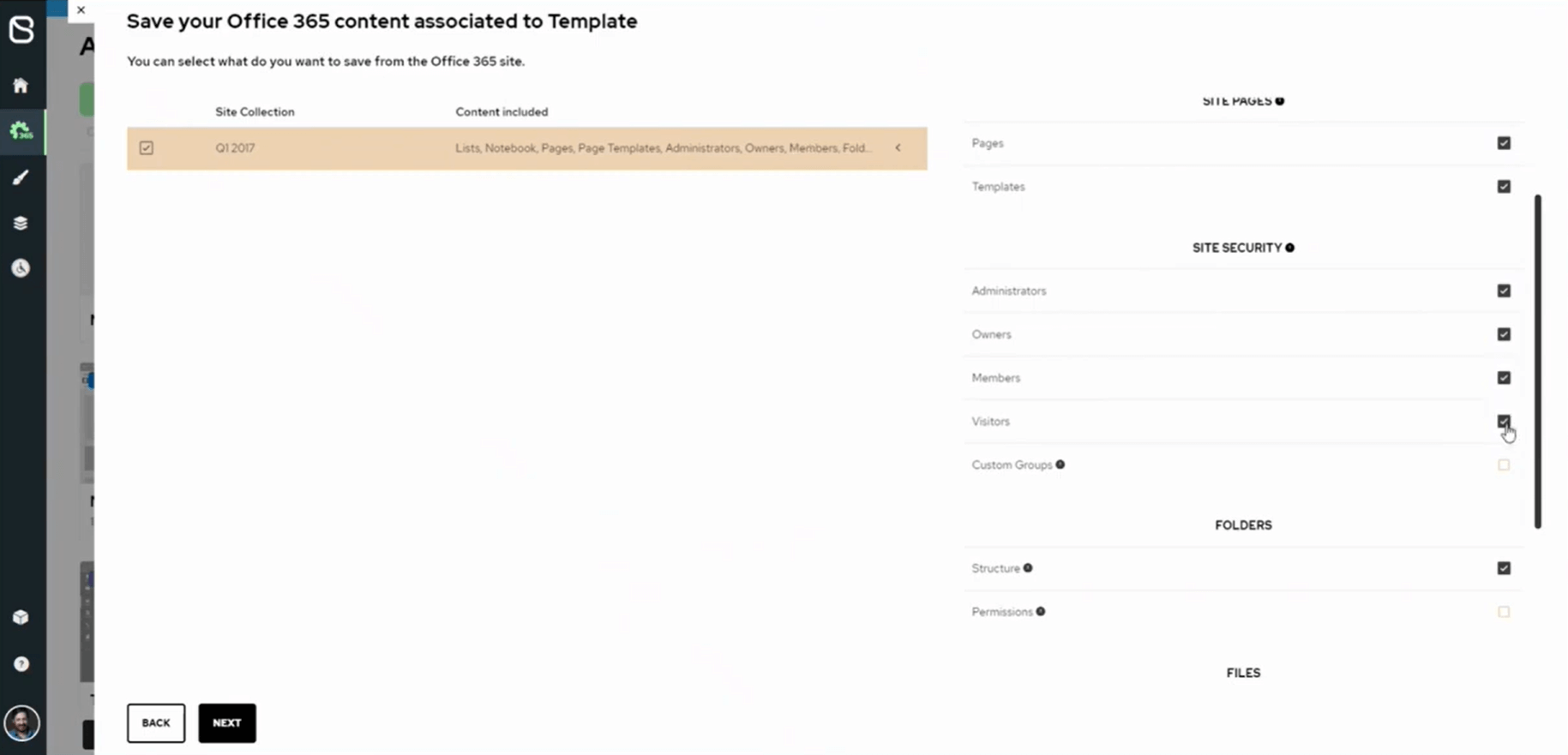 But sites and teams can be created and loaded with members without ever logging into Automate 365. Using the built-in, data-driven capabilities of Automate 365, sites and teams - including their permissions settings - can be deployed by a data-driven event in a SharePoint list, an Excel file, CSV or even a JSON file. Utilizing field mappings, owners, members, visitors, guests can all be customized during the deployment process.
Why is this important? We have many customers managing projects and/or trouble tickets for their clients. New sites and/or teams need to be quickly created based on a variety of membership options. Imagine completely automating this process so that sites and teams are created on-demand to the exact specifications you define. Not only that, you can manage it entirely outside of the Automate 365 application. This gives real power to end users, but fully governed by IT. Once the template settings are defined, users are able to generate new sites and teams in a few keystrokes in a data source. When you create a new template, you carry over personalized fields - including site permissions - to the new template, ensuring continuity of operations, right from the start. We have anticipated so many scenarios, that we keep building deployment automation features you need!
Synchronize Microsoft Entra ID security groups with Microsoft Teams
I'd say Group Sync is a game-changer for our customers. We have many customers who are migrating from on-premises to online and Microsoft has tools to help integrate on-premises directories with Microsoft Entra ID (formerly Azure Active Directory). Using the Microsoft Entra ID Directory Connect, admins can easily leverage common identities and security groups from on-premises Active Directory to the cloud Azure Active Directory infrastructure.
But these same customers face an additional challenge: how to leverage these existing security groups for use in Microsoft Teams. Currently, you can only create a Microsoft Team with Microsoft 365 groups. For organizations that already have security groups in place, they are useless for creating Teams. So, we developed a feature in Automate 365 called Group Sync which not only allows admins to create Microsoft 365 groups based on entra ID Directory security groups, but synchronize them regularly, so that they remain current. Organizations regularly add and remove users from security groups, so having a way to keep them current is essential.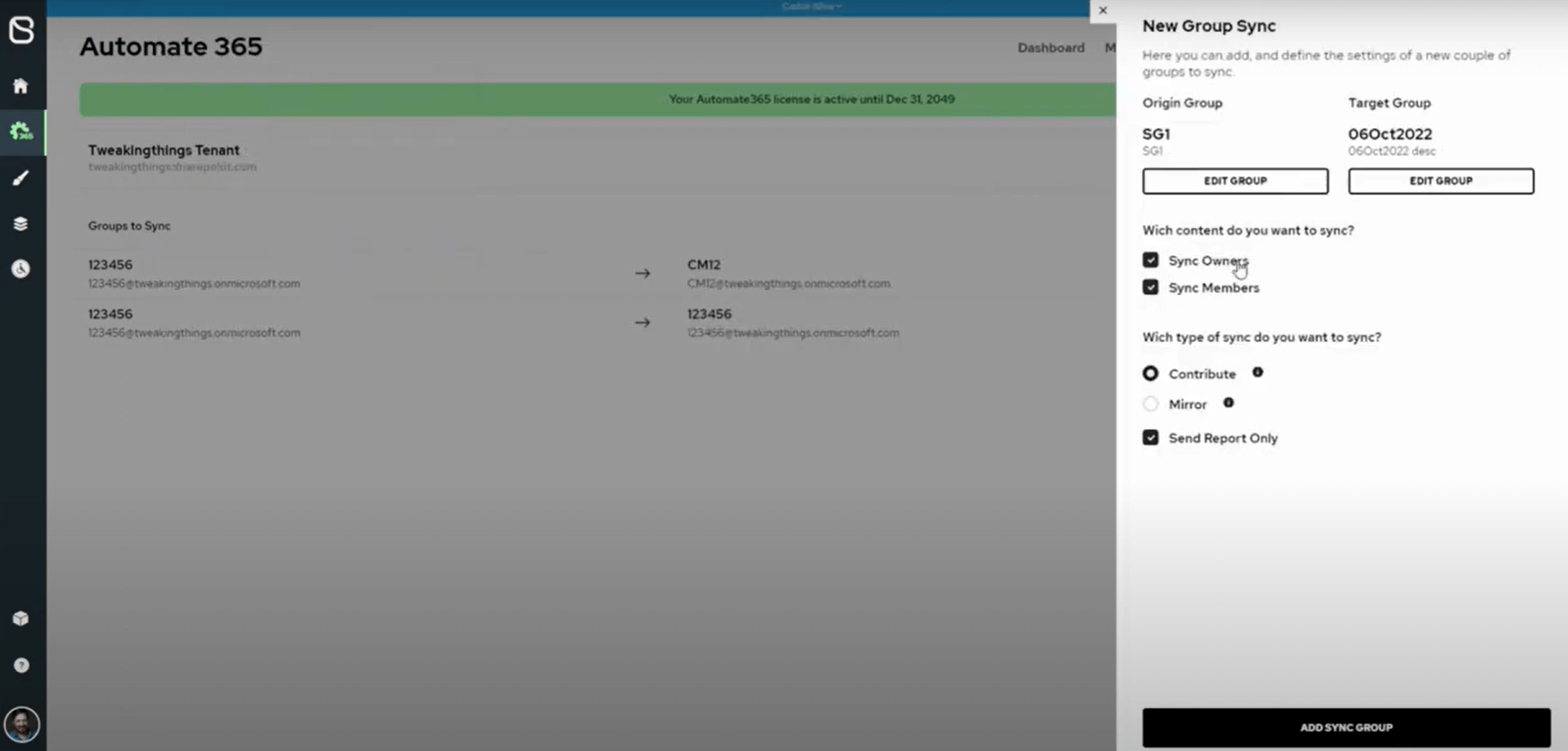 Group Sync allows Microsoft 365 groups to sync with users from the Azure Active Directory security group. Users can be added to existing Microsoft 365 groups or you can create a new Microsoft 365 that mirrors the Entra ID Directory group. Realizing the impact of this tool, we also provide the option to run a sync report before scheduling, giving complete visibility before the sync starts. Group Sync can be set up to run daily, weekly, monthly or yearly.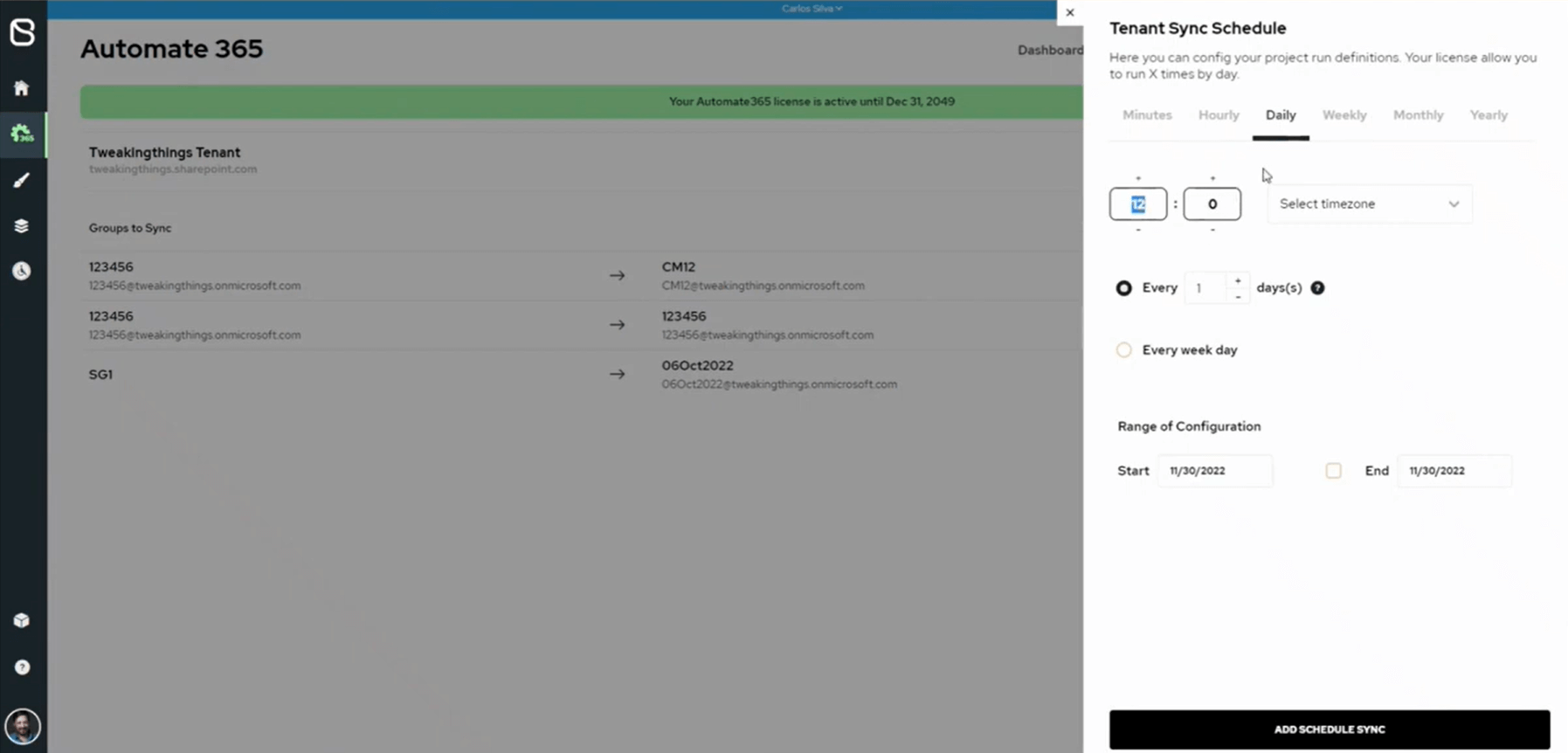 Provision Custom Content Types and Metadata
Experienced users and administrators often encounter an issue when they delete published Content Types from the Content Type Hub without first un-publishing them. Or when they use custom metadata in document libraries. These customizations can later lead to problems when provisioning, especially when incorporating custom taxonomies at the tenant level.
For instance, consider a scenario where a client is using Content Types and creating new site collections and documents using this taxonomy. If you attempt to create a template using a custom content type that has been deleted from the tenant level provisioning will fail. Automate 365 is capable of identifying orphaned items and skipping them during the process, allowing you to proceed. It also takes into consideration meta data information from files within a document library.
Throughout the provisioning process, a log will notify you about any orphaned items or metadata discrepancies. The ultimate goal here is to ensure a smooth provisioning experience for users while alerting them to content discrepancies that can be easily rectified later. Importantly, this process does not come to a halt but continues, enhancing the overall user experience.
Get to know Automate 365
The best way to understand the power of Automate 365 is to let us reveal to you all the Microsoft 365 and Microsoft Teams provisioning features you need with a quick demo. Schedule one today.
---