BindTuning Customer Success Manager, Francisca Peixoto, gives you practical advice on how to get started on your journey of discovery. Ensure successful onboarding with BindTuning Starter Kits.
When you newly purchase a product, log in after a long time or even start a free product trial, it is easy to get excited and jump right in and start playing around with features. My advice as Customer Success Manager is to take a deep breath and then take deep dive. Get an overview of what a product can do for you and your organization. I know, this takes time. Time you probably don't have.
Successful onboarding with BindTuning Starter Kits
Luckily for you, we have found an easy way of helping you with that with our BindTuning Starter Kits, without you having to spend a lot of time.
First let's identify the ideal customer for a BindTuning Starter Kit. Are you:
Experimenting with a free trial?
A new customer?
Looking for new ways to refresh what you already have in SharePoint - new brand, page layouts, functionality?
Building a new project/department site?
Elevate what you have already purchased from BindTuning
Searching for inspiration and use cases for our web parts?
If you are in any of these stages in your journey with BindTuning, let me recommend that you start off with a BindTuning Starter Kit and to simplify things, I've broken down the setup into three easy steps. You'll have an integrated view of the features and perceive how its capabilities match your needs and know how to properly deploy.
Understanding Starter Kits
BindTuning starter kits for Microsoft SharePoint are fully branded, industry-focused and deployed with one-click. Each starter kit is composed of one theme (design and branding) and a set of web parts (to build functionality to out-of-the-box SharePoint).
Leveraging our knowledge and years of experience with customers across different industries, we have created each pre-built scenario to showcase our products and give you a head-start when you are working on a project with BindTuning.
The idea behind these starter kits is to inspire you to create your own customizations based on our identified best practices and use cases. You are free to use them, as is, on your own sites. Once deployed, all starter kits are customizable to suit your own needs: you can add, remove and customize BindTuning web parts, do small tweaks to the BindTuning theme (in Modern SharePoint using the BindTuning Settings Panel) and even combine 3rd party products if needed. We start you off with demo content, so your site has meaningful information, structure and purpose. You can change all of that or keep it, it's up to you.
Step 1: Pick the right Starter Kit.
When you are choosing a starter kit to deploy there are a couple of things to consider, for instance are you deploying to a modern or classic site?
If Classic – Team site or Publishing site?
If Modern – Team site or Communication site?
Some templates are only available to specific site types, so this is something to keep in mind.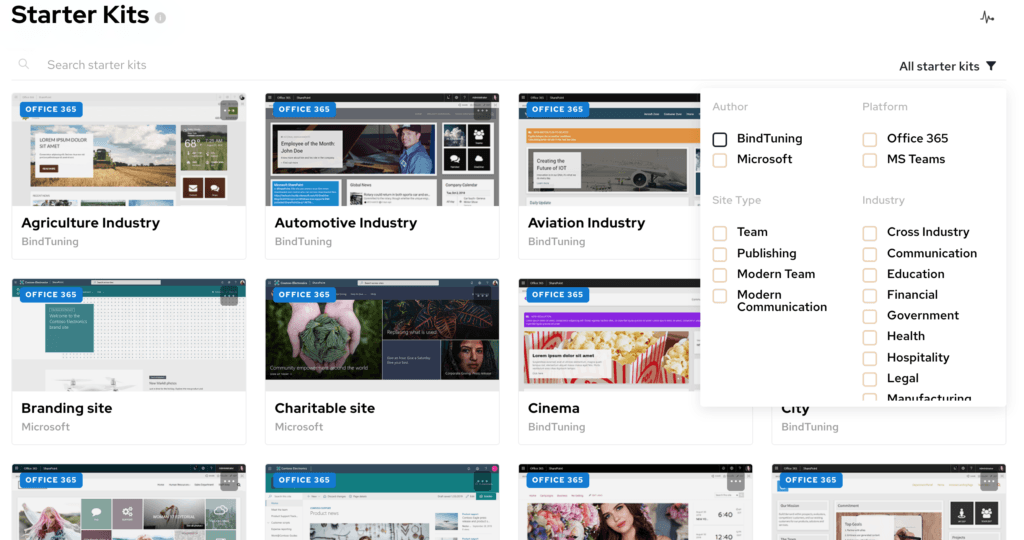 Step 2: Filter starter kits based on your unique variables.
You can easily pinpoint the best starter kit to use, whether it is matched to your industry or simply a theme design that catches your eye. While industry can be a good indicator, don't feel stuck with it – if there is a starter kit that catches your eye, give it a try. You can connect it to your own lists and libraries and make it your own later.
Other criteria might be the theme. Does your company already use a BindTuning theme, that would be important to maintain?
As mentioned above, Starter Kits are comprised of Design (theme) + Build (web parts) features. If you have chosen a main theme design and want to make sure that theme matches the Starter Kit, attention should be paid to the "Required Product" list that is shown with each theme.
In the BindTuning App Starter Kit gallery, you can search by theme name to see all the starter kits associated with each theme. I have pulled that list together below:
Themes and corresponding Starter Kits
Temple
Zeus
Kraft
Metro
SPC
Engage
Diffuse
Social
X
Intranet landing page
X
Insurance
X
Project Workspace
X
Cinema
X
Aviation Industry
X
School District
X
Automotive
X
Tech Consulting
X
Medical Group
X
Department
X
Food Industry
X
Clothing Retail
X
City
X
FANatics
X
Insurance
X
Senior Living
X
Sports
X
Technical Services
X
Cosmetics Retail
X
Hotels Chain
X
Public Transports
X
NPO project
X
Mortgage
X
Government Labs
X
Bank
X
Oil and Gas
X
Law Firm
X
Investment Group
X
Press
X
Step 3: Deploy your Starter Kit
If you are a new customer, or if you do not yet have an active subscription plan, you will initiate a trial for the Design and Build features during the installation of the Starter Kit. Also if you have an active subscription for just one of the required features, the same process will take place. A trial will be automatically initiated, on your behalf when you start the product installation. Keep in mind that if you are running a trial it will expire in 30 days.
Of course, the ideal scenario for you to explore with BindTuning Starter Kits for SharePoint, if you love them as much as we do, is to have an active Design and Build subscription as that would allow you to install unlimited starter kits and use them throughout the term of the plan.
That's it. In 3 steps for a sucessful onboarding using BindTuning Starter Kits, you've successfully mapped a BindTuning discovery journey that will optimize the success of your evaluation. Stay tuned for soon to be released BindTuning Starter Kits for Microsoft Teams that will help you govern your Microsoft Teams deployment.
Get Started Today with BindTuning Starter Kits
All BindTuning Starter Kits are available for 30-day trial. If you prefer to get a quick demo or talk to sales, you can schedule a meeting right now.
---