The new SharePoint Lists web part from BindTuning offers clear advantages over the SharePoint List web part that comes out-of-the-box from Microsoft. It features a modern UX, plus the critical functionality needed when sharing list data on your intranet – improved designs, flexible layouts, audience targeting and enhanced data handling functionality.
Get the most out of your SharePoint Lists
The dreaded SharePoint List. The source for all sorts of consumable data - customer contacts, training schedules, product SKUs, etc. With so many SharePoint list examples, why is the SharePoint list so universally used, yet so often loathed?
While most users rely on Excel or similar database applications for managing data, the SharePoint List is the better choice when users want to connect, share, or visualize important data with colleagues on the intranet. Not much different from a table or spreadsheet or database – a SharePoint list can include any number of data types – text, numerical, dates, even images and hyperlinks. But it works seamlessly with other Microsoft 365 products like Power BI and Power Automate. It can easily be updated by numerous users. There clearly is a lot to love here.
Because of these reasons, the SharePoint list becomes the preferred source for data that is to be displayed and shared across departments and to employees on a company intranet. Sure, you lose some of the useful features you get in Excel (I'm talking about you, pivot tables), but the SharePoint list is advantageous for sharing data on an intranet. However, applying SharePoint modern list view styles, remains a source of much frustration. Just Google SharePoint Lists and you'll see many articles offering advice on how to improve the look and display. That's where we come in.
A better Lists web part
BindTuning web parts have been providing customers better ways to display and manage information on intranet pages and our latest modern web parts offer even greater capabilities. The new List web part features not only a modern UX but a ton of new features for displaying data on your intranet.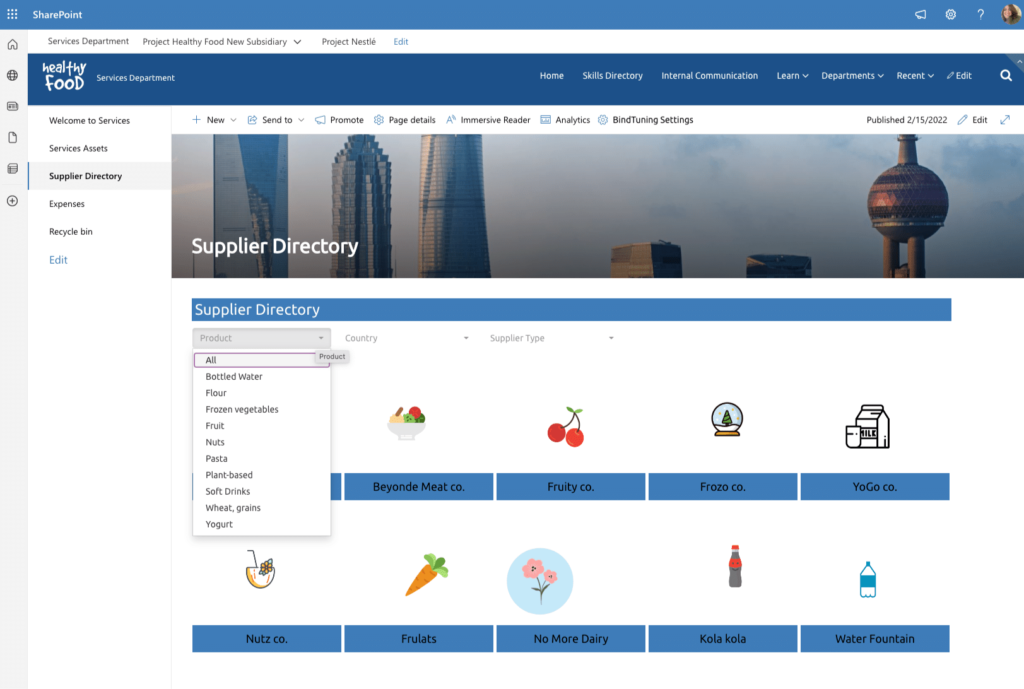 The BindTuning Lists web part allows users to present, format and display content in a way that is not only visually appealing but way easier for the consumption of large volumes of data. It offers many advantages over what is available out-of-the-box from Microsoft. Not only does it support greater flexibility in sourcing content such as content from calendars and/or document libraries, but it provides customized, color-branded layouts and even smart column styles. Users can search (yeah!) and use smart filtering – both indispensable when sorting through large volumes of data. Audience targeting is also available for SharePoint lists - offering the ability to share list data to select users.
[image]
Smart Filtering and Columns
It couldn't be easier to navigate large volumes of list data. Right in the web part panel, define what fields are displayed, how they are ordered. Display them on your SharePoint page as you have defined or give users the power to sort and filter on their own using dropdown, button or panel filtering options.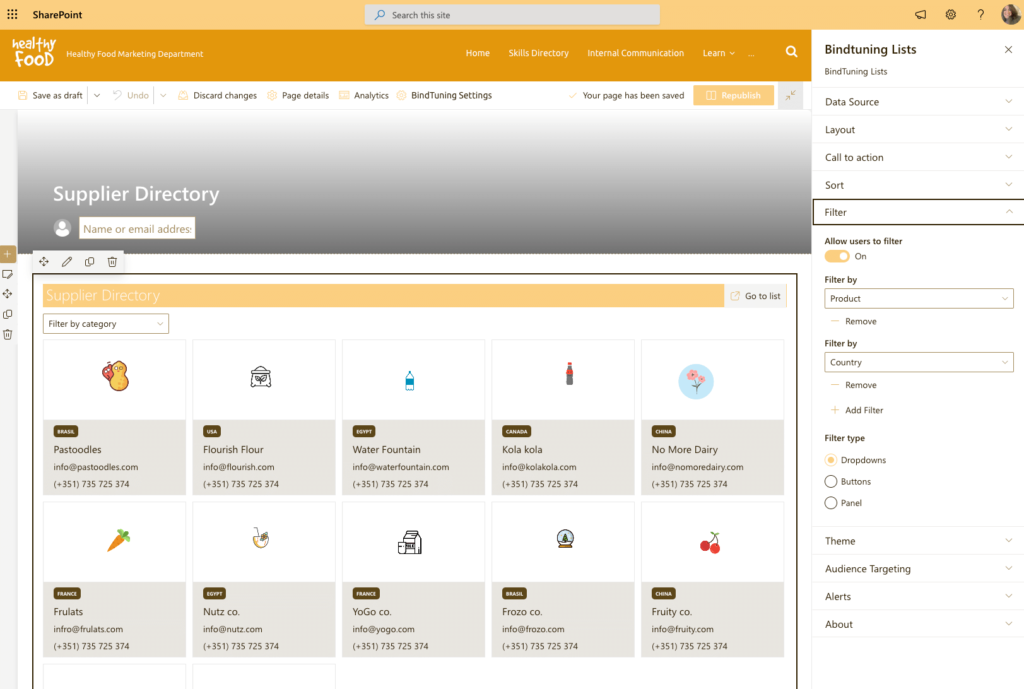 The Lists web part automatically applies styles according to the list metadata and supports any type of column types - calculated, image, etc. For instance, if the data in a column is a date, it will automatically be displayed in date format. If the column type is an image, the web part automatically displays it as a Persona Card.
Does your list contain hyperlinks? Use the call to action setting to allow users to open links in same, new window or modal.
Audience Targeting SharePoint List Views
Now available right inside our Lists web part property pane. That's right, go ahead and set your audience preferences while you are working in the web part. That's something you cannot do with out-of-the-box from Microsoft.
Four layouts are available in the web part to meet your page layout requirements – List, compact list, card and compact card.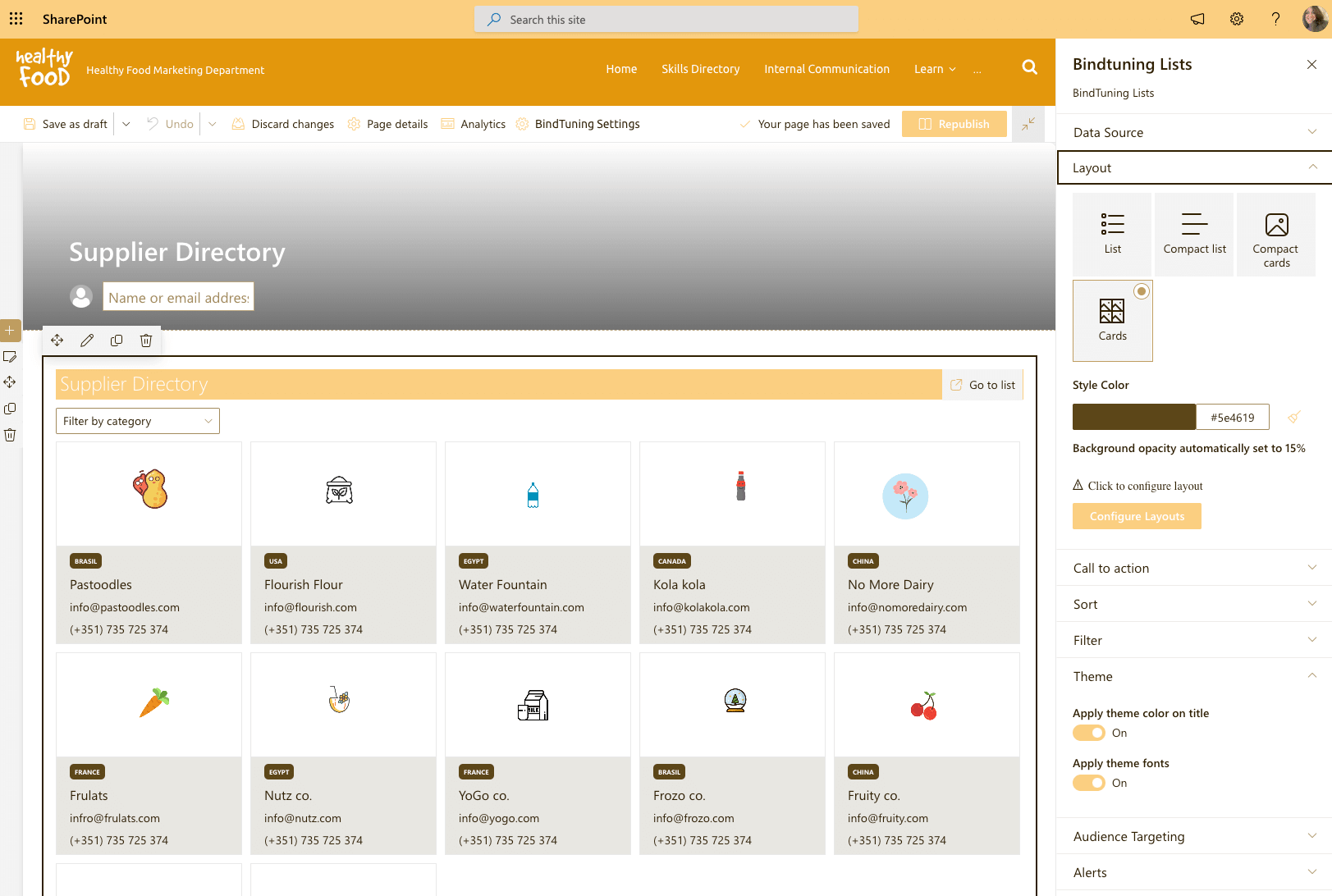 Excel, CSV and Google Spreadsheets, too!
Yes, that's right. Lists is such a powerful web part, that we're expanding that functionality to support data from external data sources, too. No longer limited to SharePoint Lists, you have the option to include Excel, CSV files or add Google Sheets to SharePoint. This functionality will be available later this summer.
BindTuning Lists web part offers clear advantages over the out-of-the-box web part from Microsoft:
6 Layouts (versus 3 from Microsoft)
Custom color SharePoint lists layouts (now you can really brand your pages and data)
No longer limited to sort and filter, you can search SharePoint list data!
Smart Filtering and Smart Columns (based on list metadata)
Audience Targeting directly from the web part panel.
Display content from other (external) data sources.
Future Enhancements
And there are more new features on the horizon:
Make SharePoint more social: Let users comment, like and share content. ❤️ 👍
Content bookmarks in SharePoint: Employees will be able to track what's important to them.
A seamless experience: Natively integrated in the modern M365 experience.
Drag & Drop ordering for web part list items
And so much more!
More Modern web parts
The Lists web part is one of the latest web parts from BindTuning to feature the modern look and feel, updated experience, and brand new features. We are continuing to roll out the modern experience to all of our web parts over the coming weeks. Visit our Build page for a complete list of modern web parts.
Get a demo
---