Enhance the user experience in Microsoft Teams with a template you can add to any existing team. It's the quickest (and easiest) way to improve an existing Team, without having to start from scratch. Let us show you how…
A Microsoft Teams template has pre-configured channels, tabs, and apps, making it easy to build unique experiences for your team. But what if you already have a team? Until now, a template is only useful if you are building a team for the first time. Using the BindTuning App , you can enrich any team with the predefined structure available in BindTuning Starter Kits for Teams. They're just like templates, only a little better.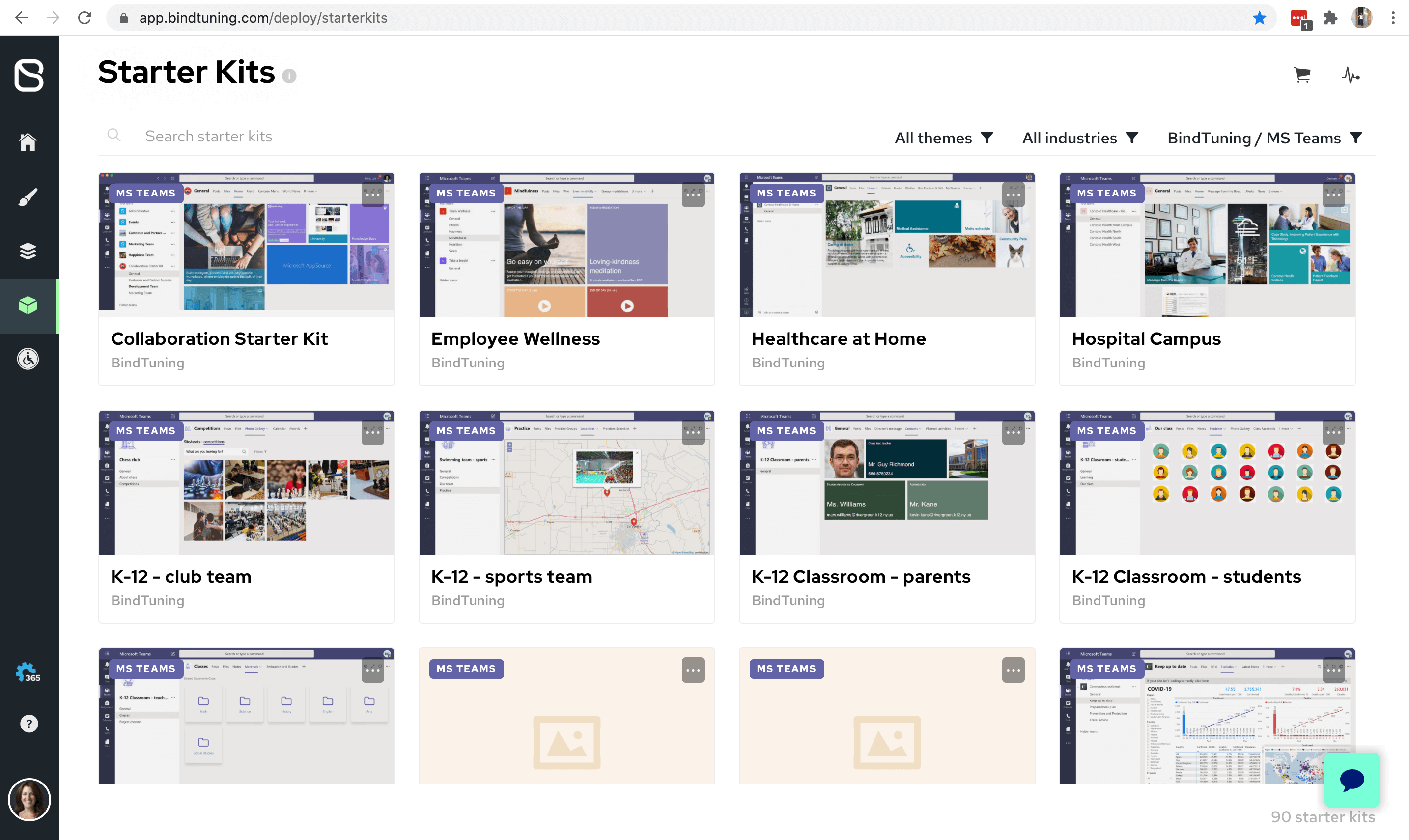 The power behind our starter kits? Our BindTuning App . It offers the flexibility and intelligence users need in both Office 365 and Microsoft Teams. What would normally be a technical, manual or even impossible process (like adding to an existing team), is simplified provisioning and deployment down to a few steps. In the case of enhancing an existing team, the process is so simple that any team owner is capable of doing it.
Let's get started:
Click install
Enter your Office 365 email address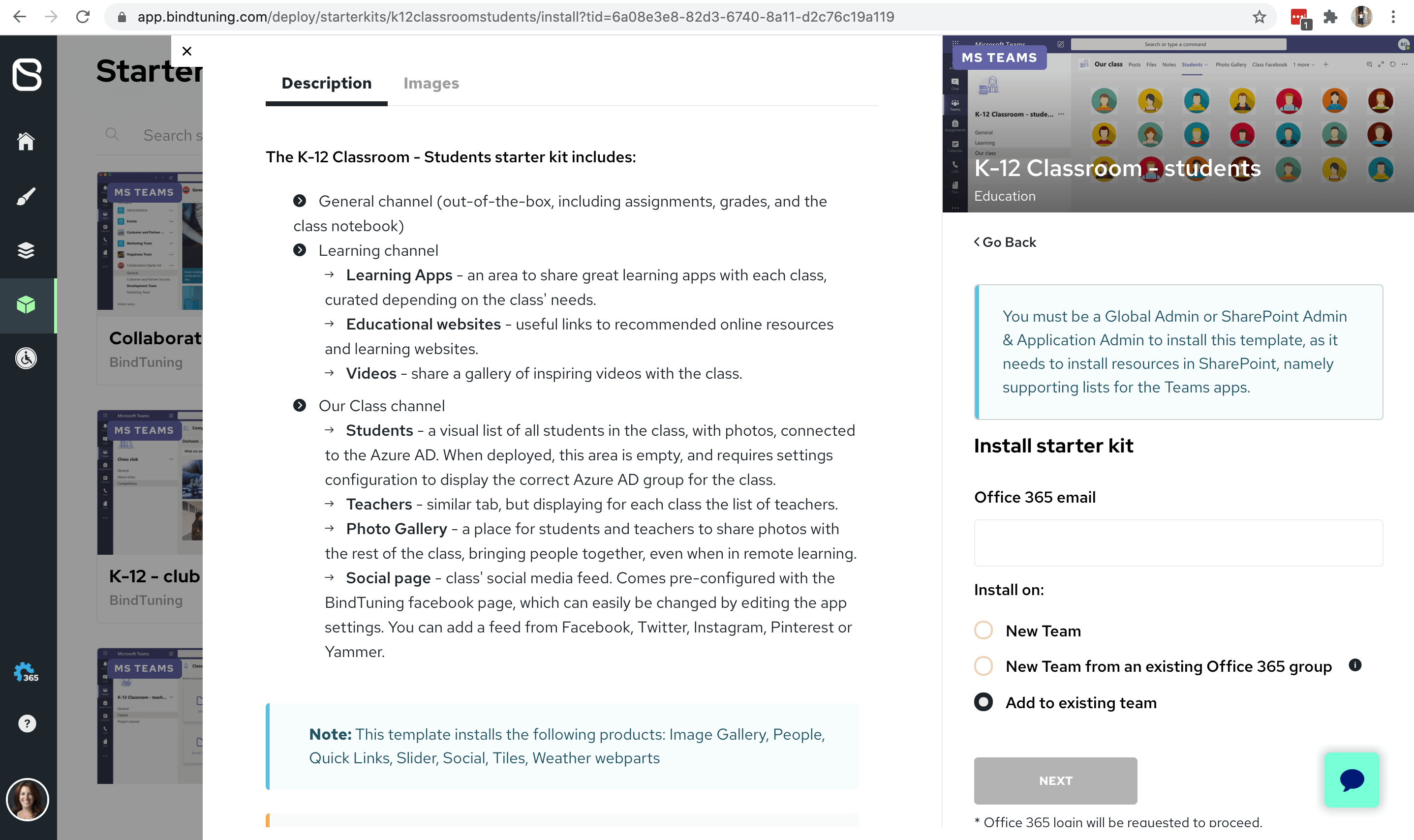 Select Add to existing team
A list of all your teams is displayed. Select the team you wish to enhance.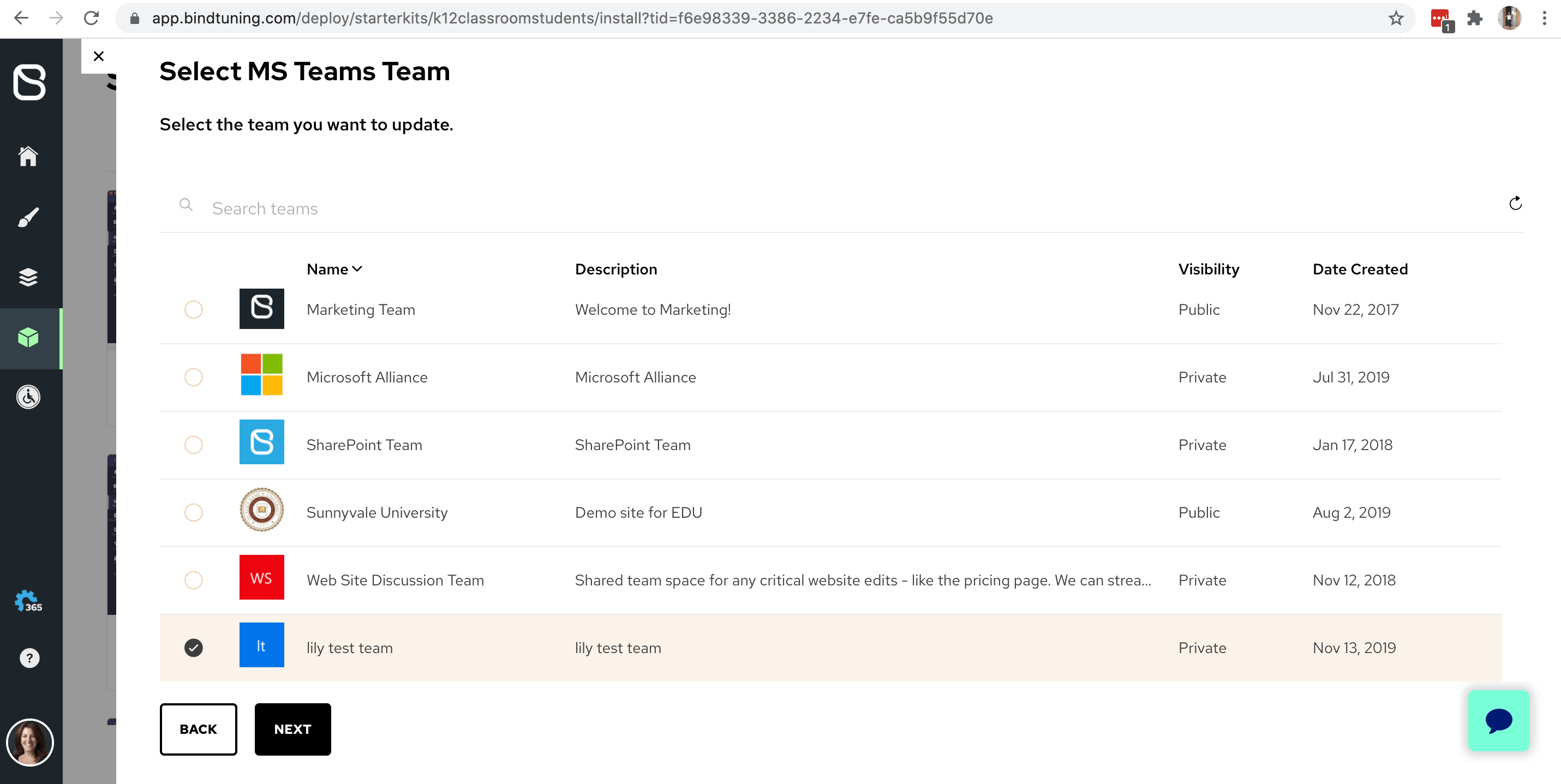 Click Start Installation.
That's it.
Examples of Teams you can enhance with BindTuning
K-12 Classroom Template – Add a photo gallery, social page, teachers tab, student directory and more to any existing class team Hospital Campus Template – Includes a Home Page, alerts, news, employee directory and even training videos to your existing hospital team.
Outbreak Preparedness – All the information your team needs during an emergency right on your existing teams.
Create your own Template – Create a team, save it as a template and then ADD it to any existing team. A powerful product from BindTuning for customers and partners, alike.
FAQ
It is important to note that we have considered the implications of this new functionality to your existing structures and data.
What happens to my existing Team?
Adding a template to an existing Team will NOT overwrite any of your Teams data. During the provisioning, our app will check channels and tabs of your existing channels. If a channel already exists, the new tabs will be added to that channel. Any new channels in the template, will be added to the ones you already have. And, if you have a tab with the same name, a second tab will be added. Remember in Teams you can have only one channel with the same name, but you can have multiple tabs with the same name.
What happens to the backend of Teams in Office 365, specifically pages and list data?
As you know, the back end of any Team is an Office 365 site. When you add a template to an existing Team, it will also update the site. If the template has a page, such as a home page, it will overwrite the Office 365 page of the same name. One way of avoiding this is to rename the original Office 365 page name to avoid it being overwritten. As for list data, when you add a template that shares the same list, the data in both lists will be merged.
We're here to help you get started with confidence. Enhance any existing Microsoft Team using a template. Schedule a call with our team or click on the chat bot and we will be happy to answer any additional questions you may have. We'll help you get started and even work alongside you as you continue to improve the user experience for your Teams.
---