Seaboard Marine is an ocean transportation company that offers regular services between the United States and the Caribbean Basin, Central and South America. Founded in 1983, the Miami, Florida-based ocean carrier is a wholly owned subsidiary of Seaboard Corporation, a global agribusiness and transportation company.
The Challenge
Seaboard Marine used an outdated, 2007 SharePoint intranet for way too long. After a personnel change, the site remained static and was not serving its +600 users with fresh updates, internal communication, organizational clarity, and other benefits that a company's intranet solution needs to offer.

When Seaboard Marine decided to make changes and adopt Microsoft Office 365 to enhance their business operations, it inspired them to rethink how they use their intranet. The organization wanted fast and efficient content delivery within the company and the ability to not require hundreds of different sites used by different departments in their information management. Also, the old intranet solution did not pair with the company's website branding guidelines, so the new directive was to modernize the site with a fresh and modern look and feel.
In 2013, a simple web search brought Seaboard Marine to BindTuning intranet products and after that, everything changed. The brand alignment for the new intranet was just a starting point. The biggest change the company expected was in creating one, cohesive main landing page, from which all departments would source information and disseminate it across geographies and audiences.
SharePoint classic and modern landing pages using BindTuning themes
The Solution: No/Low Coding Required!
For the SharePoint admin at Seaboard Marine, the simplicity of the tools was the biggest advantage, as they were looking for a no/low code solution. The admin did not want to rely on the web developers or programmer teams in efforts to allow for quicker deployment for branding the sites.
"A web search took us to BindTuning's tools for managing SharePoint themes, which enabled us to select, build the theme, and inject our color schemes in just a few clicks. What was very important for us was that no coding was required, and it immediately gave us a preview of how the intranet site could look. It was almost like Microsoft Paint, but for SharePoint. I remember saying to my team: 'Hey, this looks pretty impressive'. With the consensus from our director we decided to go ahead and purchase the solution. Soon after, we integrated Web Parts, starting with Tiles, Accordion and Alerts," said Jaime Soto, MIS – IT Business Analyst / SharePoint Admin at Seaboard Marine.
The solution deployment did encounter slight challenges in the beginning, such as minor formatting issues, but thanks to the highly engaged support provided by the BindTuning team, all problems were quickly resolved.
"With the level of support and commitment received, we were able to modify all the formatting issues, leading to the final look of the site that we have today. That level of engagement is, I believe, one of the reasons why we've been a subscriber of this product for over seven years now," Jaime Soto added.
Department Communication - Transformed
With the newly designed site, Marketing had requested for a specific zone on the landing page of the main site and all subsequent (countries) sites. With this simple layout Marketing is now able to provide critical updates at a moment's notice both locally and globally. For instance, if there would be a sudden incident on a vessel, by utilizing the Alerts Web Part, Marketing can now quickly target all relevant recipients, instead of sending emails. By making these very specific page designs for each country site, with the understanding of countries administering their own site, the flexibility of the Alerts Web Part allows for local administration for local alerts within their region as well.
Seaboard Marine's HR, Accounting, and Customer Compliance departments all use Documents Web Part to filter specific documents based on categories.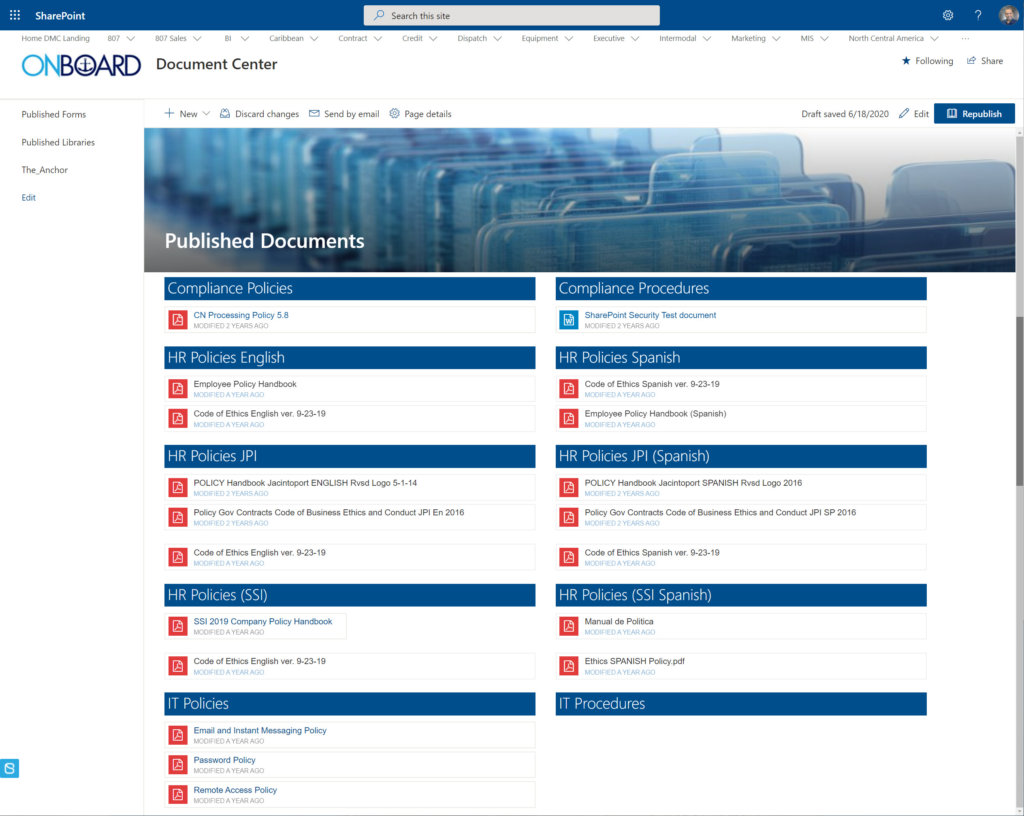 They recently completed migration of all shared folders in shared libraries on a file server to a document library in SharePoint. It is a huge repository of documents and each department is using the Documents Web Part for audience targeting. For instance, HR has medical benefits, and other documents, very specific for two different types of user base in Houston.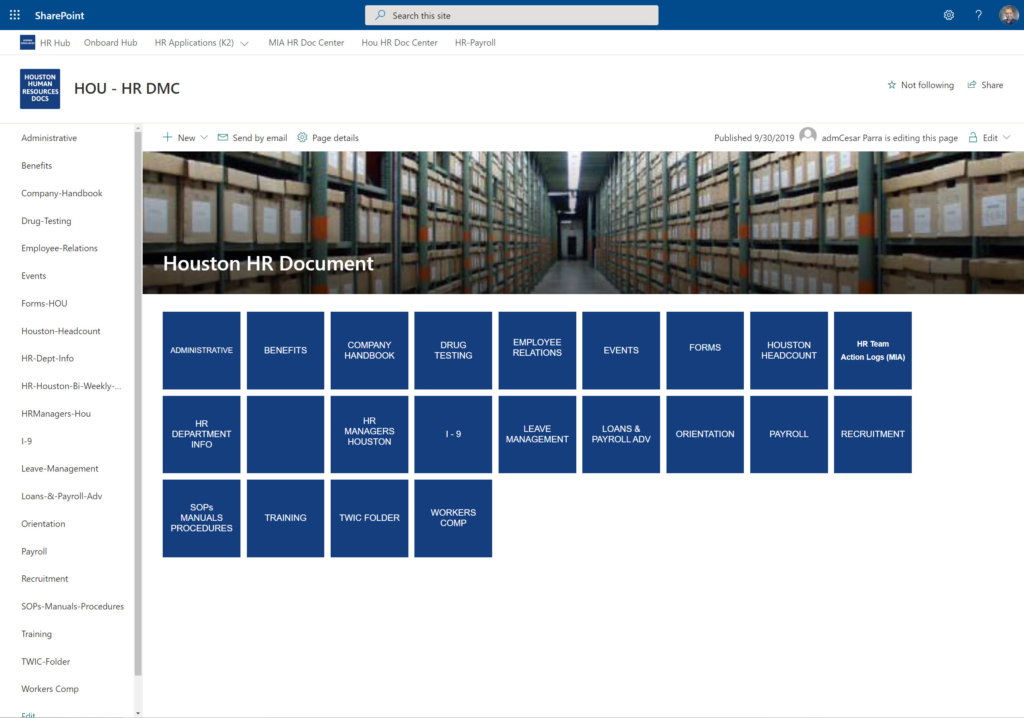 Thanks to Documents Web Parts, there have been significant changes and improvements in how the departments share information.
The use of the Documents Web Part is huge for Seaboard Marine. Highly adopted by HR for disseminating information for all users across the entire company, primarily because of its ease of use in doing so, as well as how the Accounting and Finance departments share information with the executives, regarding quarters' reports, invoices, and similar.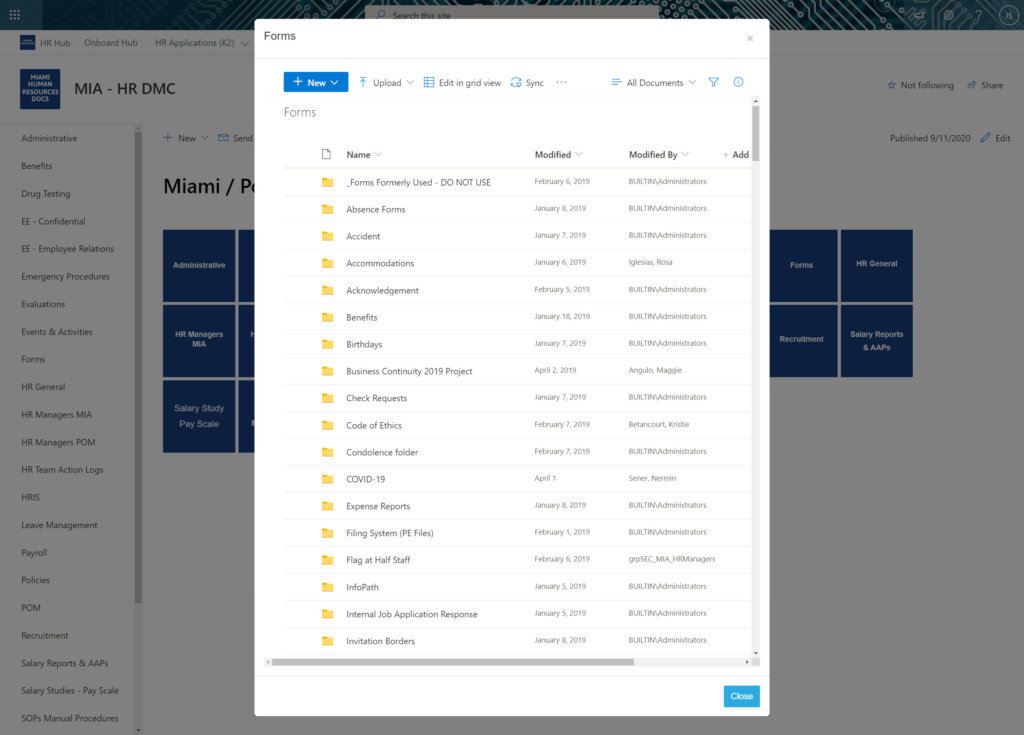 Recently, as a result of COVID, HR was able to initiate an open enrollment of benefits completely online, through SharePoint. The department posted videos in different languages and country-specific targeted documents for the variety of benefits packages available using the Tiles Web Part along with the Documents Web Part. Open enrollment was available to users at their fingertips.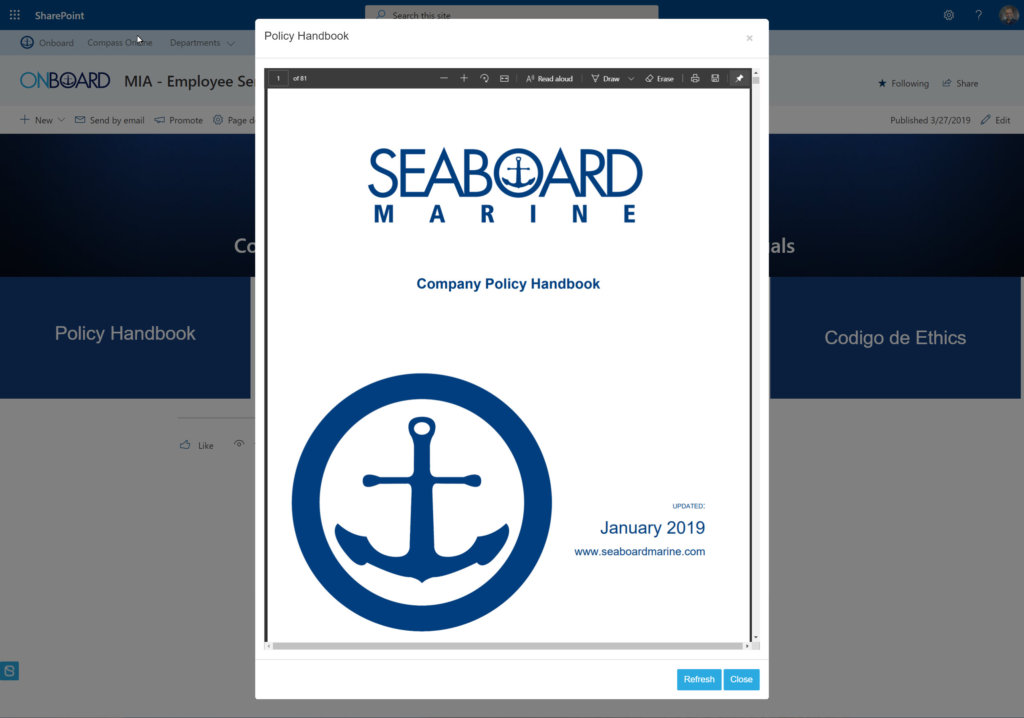 The Results: Targeted Content Distribution
When the Pandemic hit in 2020, Seaboard Marine was already in a very strong position. The new Office 365 intranet meant that, immediately, everyone was able to work remotely.
Here are other benefits that Seaboard Marine experienced after using BindTuning Web Parts:
The new intranet site is transformed from a static site into an engaging, branded, and dynamic content-rich communication tool
Departments such as Marketing, Accounting and Finance, HR, and Customer Compliance, are now fully empowered to keep their content fresh and up-to-date
All content (messages and documents) is targeted to specific audiences
Users across different countries can access content at their fingertips, without the need to drill down to find their location and specific information
An Image library of current and past events is now available with a rich display Image Gallery Web part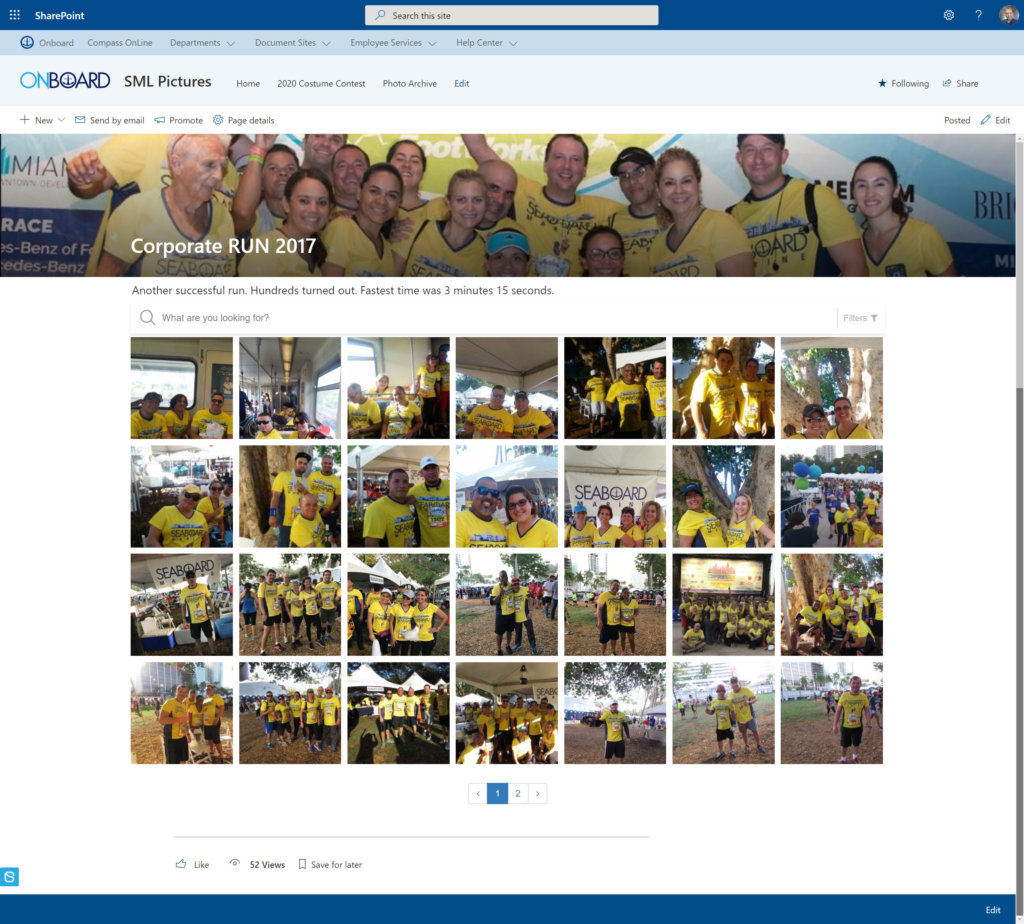 Web Parts by BindTuning not only modernized the company's intranet; it enabled time- and cost-savings across departments.
The savings are great when you can create something as quickly as possible. This is a product that meets all our needs for our low/no code environment. When we looked at the number of developer hours plus maintenance (just for branding of the site) versus the cost of subscription for the Theme and the Web Parts, it's truly a no brainer when we look at how we are using it everywhere across every site. How can it not be a good return on investment when you compare the annual cost of one or two dedicated web developers verse the low cost of the subscription model?
A Look into the Future: Microsoft Teams
In 2021, Seaboard Marine now heavily using Microsoft Teams, is considering extending the use of BindTuning Apps for Microsoft Teams. In addition, they are evaluating and looking towards completing the modern experience of their entire intranet. All of Seaboard Marine intranet sites will be linked together in a hub environment for knowledge and information sharing, while further improving the audience targeting capabilities.
Challenge: A static, outdated, 2007 SharePoint intranet with no communication updates and branding alignment
Solution: BindTuning Web Parts: Tiles, Accordion, Alerts, Documents
Benefits:

Consistent branding experience
Keeping their content fresh and up to date across departments
Audience targeting
Directing the right content to the right recipients, quickly and efficiently
Technologies
Microsoft Office 365, SharePoint Online
---