June 16, 2020: There are a few new updates you'll find in the BindTuning App that will simplify the way you install and manage your subscriptions. Check them out below:
Install products on multiple Office 365 site collections
Because our subscription allows you to install products across multiple site collections, this feature allows you to do it all at one time. Now it's easier than ever before. Simply define the Office 365 Tenant URL and Office 365 User Email and a list of sites where you have permissions to install will appear in the next panel so you can choose the destination of your products.
A faster way to install your web parts
When you install the Build feature or any of our BindTuning starter kits, you also install the associated web parts (also known as Apps in Microsoft Teams) that are part of that template. Now we give you the choice: install/update all web parts at one time, or individually. This is your subscription, and we give you the flexibility to manage it as you wish and for a faster more effective use of our products.
BindTuning Microsoft Teams starter kits installation: changes in product scope
During the installation, we now give you the option of installing the associated web parts (also known as Apps in Microsoft Teams) on either the Site Collection or the Tenant. Note that installing BindTuning starter kits at the tenant level is only available for Bindtuning's Microsoft Teams starter kits.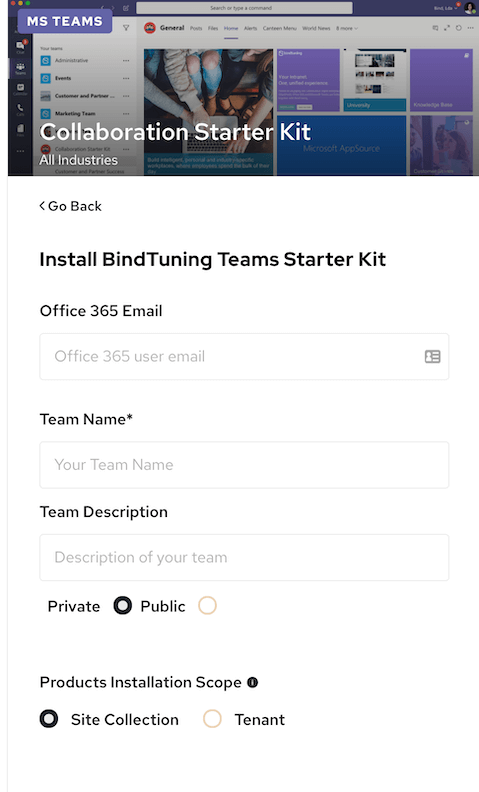 Update to subscription usage dashboard
We have brought back the ability for you to view the web part consumption for your active Build feature. You can consult all the data from where your users are accessing your environment, as well as give them the page view or even the number of single sessions to the pages that use the web parts BindTuning.
Available now.
These features are available now in the BindTuning App.
---