Today we are rolling out a new feature in the BindTuning App – Teammates. Teammates allows you to share one BindTuning account with other users within your organization extending the use of BindTuning products, resources and custom settings to users across multiple departments.
Never before has it been easier to create a seamless experience for users across departments within an organization. The Teammates feature in the BindTuning App lifts the burden from one individual to govern the look and functionality of sites and enables a team approach where sites can be built with confidence using shared templates and tools. User adoption gets a powerful boost when functionality and designs flow seamlessly from site to site.
Benefits across the entire enterprise:
Design and share themes for use across any site in your organization.
Build sites rapidly by extending the full suite of web parts to other teammates within your organization.
Deploy SharePoint and Microsoft Teams sites at scale. Starter Kits (templates) can be re-used over and over again by departments, on demand.
Streamline purchasing, renewals, support issues by sharing access to the account.
Each user you add will have defined roles and permissions, that you, as Team Owner, control. It's easy to set up, let's show you how.
Build your Team
To assign Teammates, go to the BindTuning Account and click on your avatar, located in the bottom left corner of the navigation bar.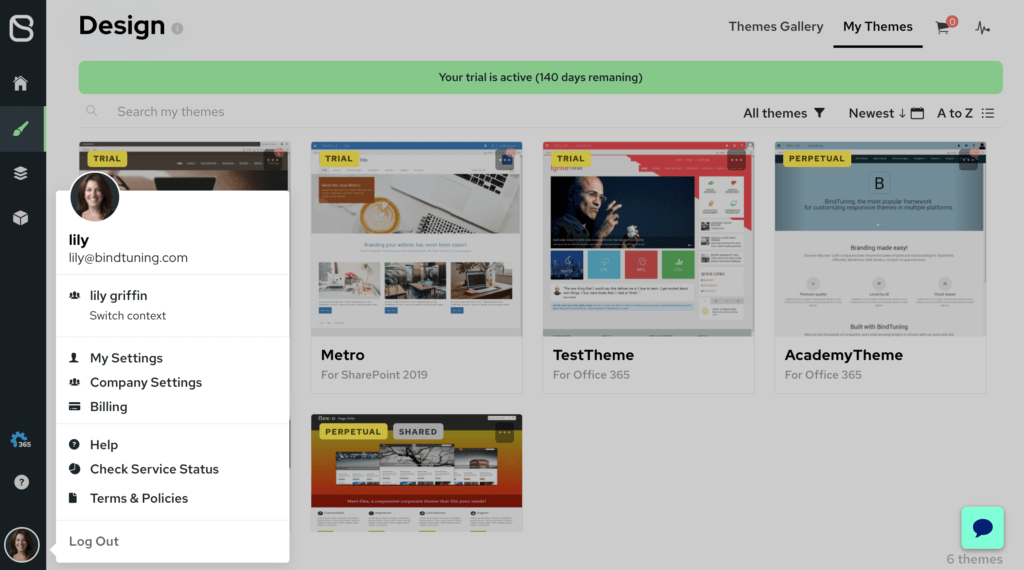 Scroll over to Company Settings and click on Teammates.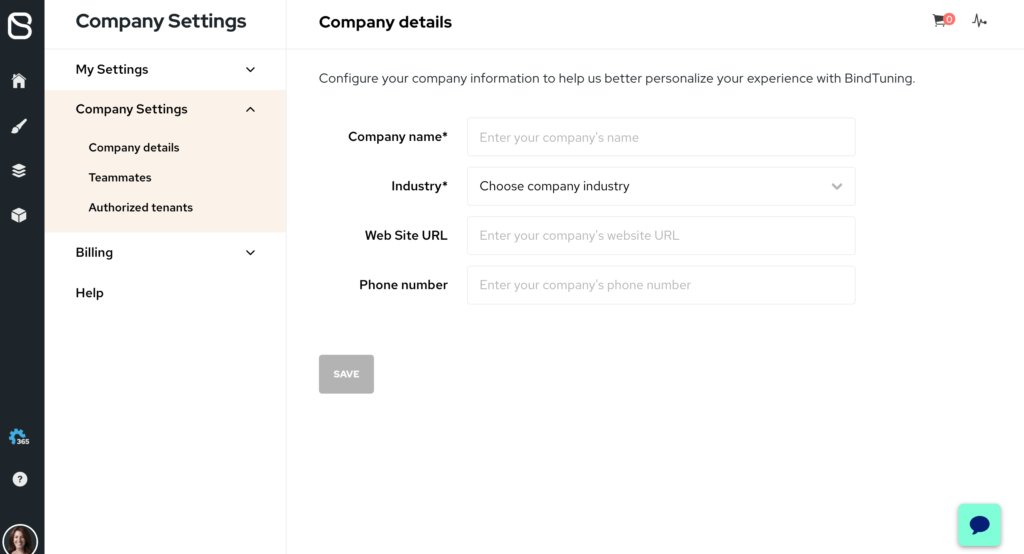 Enter the email address for the user you wish to add. Select their role and permission level.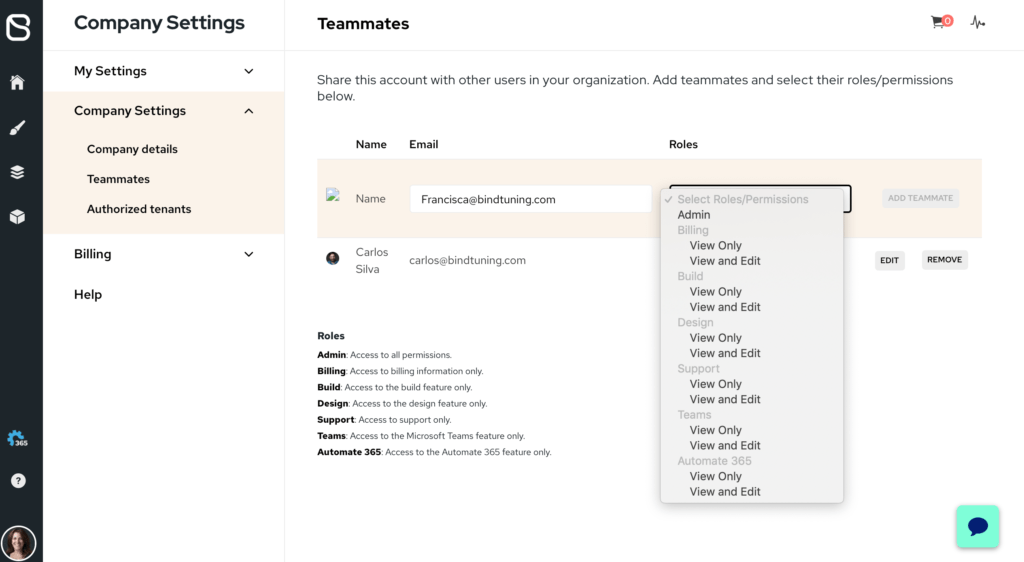 For each role there are two permission levels – view only and view/edit.
Admin – All access.
Billing – Access subscription information, invoices and payments.
Build – Access to the Build feature, which includes our web parts.
Design – Access the Design feature. Re-use or edit Theme designs.
Teams – Access Microsoft Teams apps and starter kits.
Support – Read and/or submit support tickets.
Automate365 - Access to the Automate365 feature.
If the user already has an account in BindTuning, they will be notified via email when their account is added as a Teammate. If you are adding a new user, then the user will receive an email alert that will guide them through the process of setting up a BindTuning account. Their profile will be fully updated once they have created their account.
At any time you can add, edit and or remove Teammates using this same form.
FAQ
Now that I'm a teammate, where do I find shared content?
Shared content will appear in a teammates' app depending upon the subscription AND their role/permission. With a Design subscription, for instance, the team owner will be able to share all themes, even custom ones. Shared themes will be available in the "My Themes" area for all teammates with a design role. Web Parts will appear in the Build section of the app. If a teammate is not granted access to a particular role, they will not see those shared features.
How does a user request access or change permissions?
Teammates access is completely controlled by the Team Owner. A user will need to contact the Team Owner to request access.
Do users see assets for which they don't have permission?
No. User role and permissions will dictate what they see (or don't) in their account.
Gather your Teammates now
Teammates is available now, in the BindTuning App . Get started today.
---