Microsoft 365 workspaces can be a game-changer for companies, but only when done right. In an ideal world, organizations can transform complex processes into simple experiences, take advantage of powerful integrations, seamlessly onboard new colleagues, easily access dispersed resources, and collaborate and communicate efficiently using Microsoft 365. Alternatively, they can enter a nightmare of frustrated employees, abandoned empty workspaces, isolated environments, and broken experiences.
In my previous article, I talked about how Enterprise-Grade Provisioning sets companies up for efficient and streamlined process standardization, user adoption and easy onboarding. Today, we will dive into how you can do it with the only enterprise-grade provisioning tool in the market: Automate 365. This is the beginning of a journey; let's call it Provisioning 101.
In this article:
Start simple: Automate 365 pre-defined templates
Without a doubt, the need for standardized processes is clear - users often create workspaces that they later abandon, either for lack of time or knowledge on how to use them. That's where the power of prebuilt templates comes in.
In my previous article, I introduced some out-of-the-box templates by Microsoft, for different Microsoft 365 apps, but they often prove too simplistic, not suitable for mid to large enterprises. On the other hand, Automate 365 includes an extensive gallery of templates, suitable for many different use cases, which leverage the power of different Microsoft 365 apps.
Beyond simple pages or teams, Automate 365 templates include more complete scenarios, leveraging the power of the Microsoft suite.
Watch the video below and learn how to get started (25 sec).
Create an account with BindTuning. As soon as you "Sign In", a 30-days trial is started. After login, click the "Start" option in the left panel, to access the gallery. In this gallery you will find templates to create sites in SharePoint, streamline onboarding processes, deploy project management scenarios with a site, team and planner, and much, much more. From there, click More Details to start provisioning a template.
Some of these templates deliver more premium experiences, many of which are based on BindTuning's Intranet product. When installing the template these products will also be installed, and they will be active for you to use for the duration of your trial. Regardless of the case, expect to experience time savings when creating workspaces from hours or days to just a few minutes!
Your scenarios: Identifying the ideal candidates for templating
Templating begins with a close examination of the company's existing processes and pinpointing those that require the creation of Microsoft 365 workspaces. Not all processes are candidates for templating...
How to identify enterprise processes ideal for templating:
Consistency in Content and Structure: Take, for example, the procurement process, where each new procurement project necessitates a SharePoint site with a uniform structure. Templating such processes ensures a standardized approach and reduces time spent on repetitive tasks.
Mass Workspace Creation: In scenarios like retail companies, where every store requires a predefined team in Teams, templating allows simultaneous creation of Teams for all new stores opened each month. This streamlines expansion and saves valuable resources.
Integrations with Other Systems: Some processes are reliant on integrations with external systems. For instance, a supplier site can be automatically created in response to new suppliers being added to Salesforce/CRM.
Once a suitable process for templating is identified, the next step is to find or create sample workspaces that embody the company's best practices. These examples will form the foundation for the templates to be made available across the organization.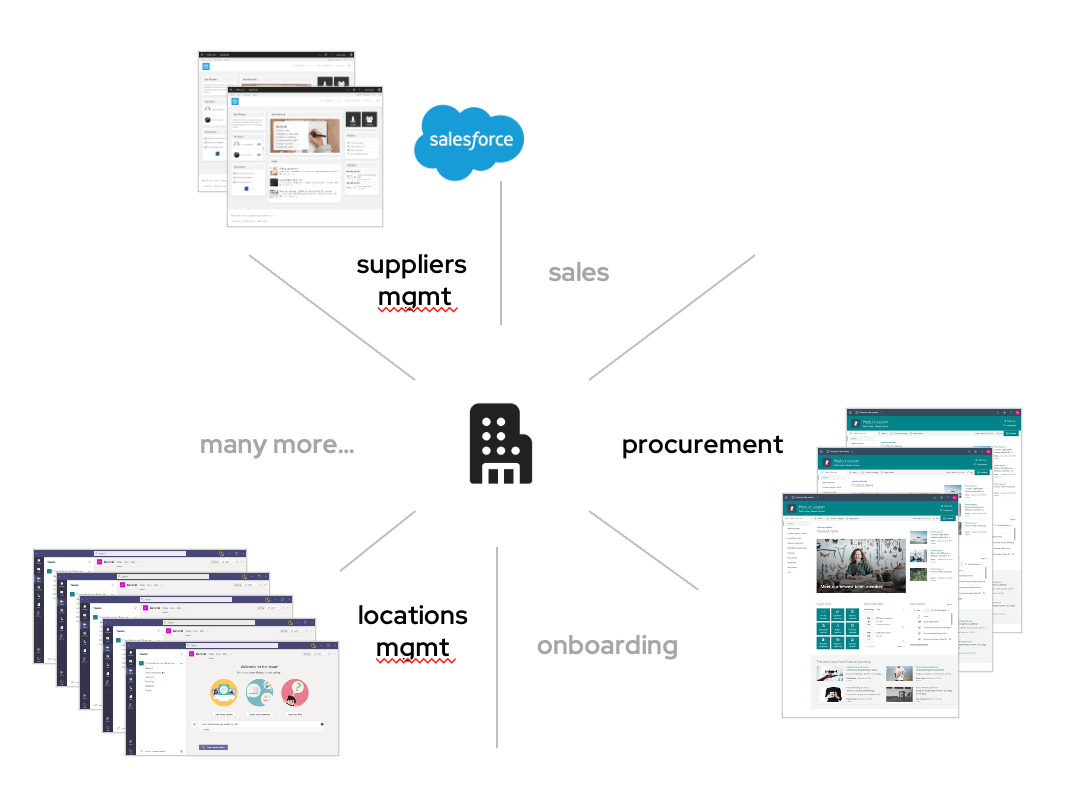 From here onwards, the templating process remains consistent across the entire Microsoft 365 app stack, including SharePoint, Teams, Planner, Project Online, Power App Portal, and Power BI. The approach is straightforward:
Create a Template: Start by crafting a template based on an existing workspace that showcases the desired best practices. This template will serve as a blueprint for future workspaces.
Provision the Template: Whenever necessary or under specific conditions, the template is provisioned, resulting in the creation of one or more new workspaces. This streamlines the setup process and ensures adherence to established standards.
Creating your custom templates
Automate 365 emerges as a standout solution for creating templates, offering unparalleled support for the entire Microsoft stack. From SharePoint and Teams to Planner, Project, Power Apps, and Power BI, A365 empowers users to streamline their workspace provisioning with simple template creation.
The process of crafting a custom template with Automate365 is as simple as it gets, and it's the same for every Microsoft App.
As you create your custom templates, your gallery starts to build up. This is an example of a templates gallery for managing enterprise provisioning processes effectively:
Here are the key benefits of using Automate 365 as your templating tool:
No Code: No more PowerShell or complex coding requirements. With Automate 365, anyone, regardless of their coding skills, can seamlessly create templates, converting processes and best practices into repeatable solutions.
Comprehensiveness: Automate 365 captures every detail of each workspace. From structure to files, from OneNote contents to settings and permissions, everything is included in the template.
Simplicity: The beauty of Automate 365 lies in its consistent methodology. Regardless of the Microsoft 365 app, the process remains uniform and simple. This cohesion not only simplifies the creation process but also accelerates adoption and proficiency.
Centralized Template Gallery: Automate 365 introduces a paradigm shift by aggregating all templates within a unified gallery. This centralized repository grants admins easy access, for efficient workspace provisioning and template management.
Organized for Efficiency: For enhanced organization, Automate 365 empowers admins to categorize templates with detail. Categories and labels enable seamless navigation through the template repository, aligning with specific use cases and preferences.
Now that you know how easy it is to create templates, let's dive into how even easier it is to provision them!
Provisioning a template
Automate 365 ensures that provisioning a template, requesting new workspaces or planning for at scale provisioning, are equally simple tasks. With Automate 365 there are different provisioning methods, tailored to meet diverse needs, each streamlining the transition from template to workspace.
On-Demand: Workspaces can be provisioned on-demand individually or, alternatively, in bulk for existing Microsoft 365 groups.
Self-Service: End-users can directly request new workspaces, based on templates made available to them. Integrated with service tools like ServiceNow, JIRA, Zendesk and others, automated provisioning takes place interconnected with existing request flows.
Data-Driven: Automate 365 extends provisioning capabilities by enabling data-driven provisioning, through seamless integration with internal data sources. This integration ensures that workspaces are provisioned based on real-time data triggers, like data from Salesforce, Excel, AAD, or others.
Scheduled: Workspaces can be automatically created at predefined intervals, enhancing preparedness and streamlining workflows.
Single workspace provisioning
Let's dive into the most straightforward provisioning method – on-demand – reserving a detailed exploration of others for future articles. Let's start with how to provision one single workspace.
Provisioning at scale
But companies have more demanding needs, such as provisioning multiple workspaces at scale. Automate 365 is the only product that can fulfill this requirement. This feature, tailored for demanding business scenarios, allows for the creation of multiple workspaces simultaneously, all connected to Azure Active Directory (AAD) groups.
Imagine the possibilities – provisioning meticulously structured sites for numerous stores or factories simultaneously, distributing educational content to diverse Teams classrooms across an entire district, or orchestrating Planner marketing campaigns with precision across various quarters. Mass provisioning in Automate 365 goes beyond just workspace creation; it amplifies efficiency, orchestrating complex operations effortlessly.
Conclusion
With the power of Automate 365, workspace provisioning evolves from a mere process into an art form. The methods discussed here provide a glimpse into the possibilities offered by Automate 365, revolutionizing the way we transition from templates to fully-fledged workspaces. Stay tuned for upcoming articles where we dive deeper into the other provisioning capabilities that Automate 365 has to offer. The journey has just begun.
Ready to witness the true power of provisioning?
If you are seeking a solution that encompasses all these critical elements, we highly recommend considering Automate365. Speak with our experienced team today to explore how Automate365 can empower your organization. Contact us now for a personalized consultation and demonstration.
Start a full-feature trial of Automate365 for 30 days, no commitment
No installation required!
Get started instantly, no credit card needed
Keep all the workspaces deployed during the trial
Trusted by enterprise customers and top partners worldwide
Take the first step towards streamlining and optimizing your provisioning processes, and experience true enterprise-grade Microsoft workspace provisioning.
Book a demo!
---