The first Accessibility Tool for SharePoint ensures inclusion of all people with visible and invisible disabilities.
In the beginning, I only had a few little signs that something wasn't quite right. For instance, if I was watching a video with strong animation, a blinking GIF, or flashing lights, my eyes would start twitching, and a strong headache would follow. It wouldn't last too long, but it would block my ability to control my mind or body, even at work. For a while, I wasn't sure what was going on until I passed out during my first significant seizure. I was 23 when I was diagnosed with epilepsy.
I have a disability. Without medication three times a day, I can experience temporary but complete disablement during a seizure. This may come as a surprise to my business circles because my disability is invisible.
Invisible disabilities
At some point in our lives, we can all expect to experience some type of temporary or permanent impairment. This can be due to a variety of health issues or simply because of age. It is estimated that around one billion people, or 15% of the world's population, experience some form of disability.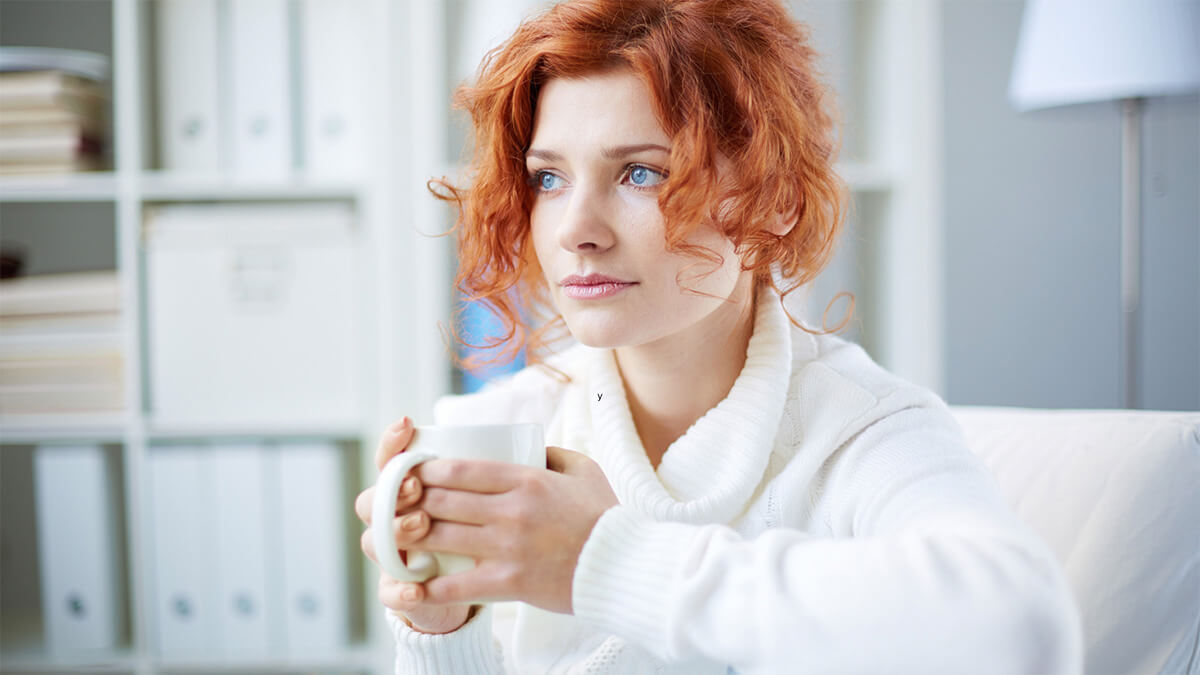 Disabilities aren't always obvious and don't always require the use of wheelchairs, white canes, or hearing aids. Close to one-fifth of the world's population experience significant disabilities, but there are millions of people worldwide with invisible disabilities - an umbrella term for a whole spectrum of challenges that are not immediately apparent. The range of invisible disabilities is so wide that you can be 100% sure that many of your colleagues are experiencing them right now. Conditions such as epilepsy, color blindness, hearing issues, light sensitivities, anxiety, PTSD, and dyslexia, to name just a few.
The good news is that invisible disabilities are finally being acknowledged. Also, assistive technology is empowering more people in the workforce than ever before.
Technology as an ally: How Microsoft does it
Following its leading motto "Empower every person on the planet to do more", Microsoft is a very active supporter of assistive technology solutions that make the lives of people with disabilities a bit easier.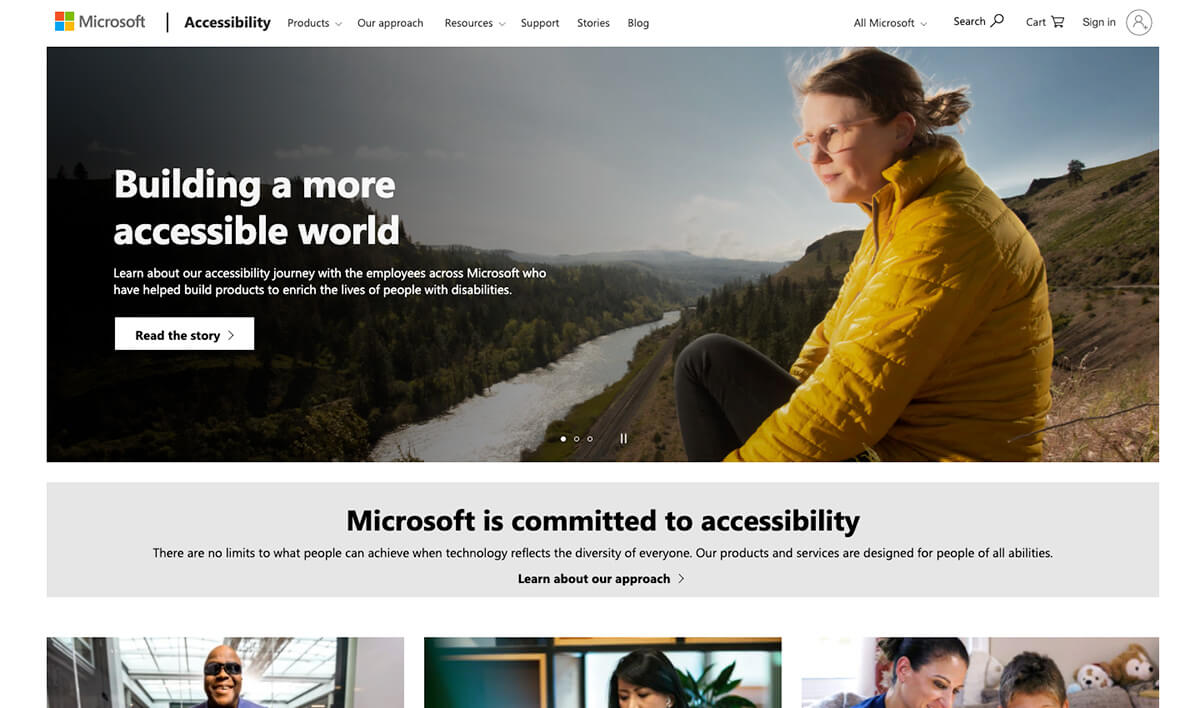 In the last few years there have been many tools and features integrated into the popular Microsoft products that aim to empower people with different types of impairments. Microsoft categorizes accessibility based on these general categories:
Vision
Hearing
Neurodiversity (autism, seizures, dyslexia)
Learning
Mobility
Mental Health (PTSD, etc.)
Microsoft's commitment to meaningful innovation is evident in the assistive technologies available out-of-the-box in Office 365. From screen readers, Tell Me and Office Lens for vision to immersive readers, captioning, and Learning Tools for hearing and neurodiversity. Keyboard shortcuts, dark themes, even subtitles in 60+ languages – all of these various features show a "people first" attitude towards inclusivity and diversity.
However, there has been little from an accessibility standpoint developed specifically for SharePoint-based intranets, which counts millions of users across the globe. Accessibility is nothing new for many web platforms like WordPress, Webflow, or Wix, but to date, there is no similar tool that is installable across SharePoint sites. Until today.
Accessibility for all – SharePoint included
Let me again focus on the people part of this problem. My advocacy for accessible tools within SharePoint is not just because of my own condition.
Going back to 2007, when developing a SharePoint intranet design for Centro de Reabilitação Profissional de Gaia, a Portuguese rehabilitation center for people with functional disabilities. That was the first time I realized how many people with numerous disabilities engage with intranets worldwide. It also made me realize that SharePoint (even though in its very simple form at the time) was a challenging solution for many users.
In 2012, we were fortunate here at BindTuning to work on a project with APD Braga (Portuguese Association of People with Disabilities). BindTuning created the website for the wheelchair basketball team, which we did pro-bono.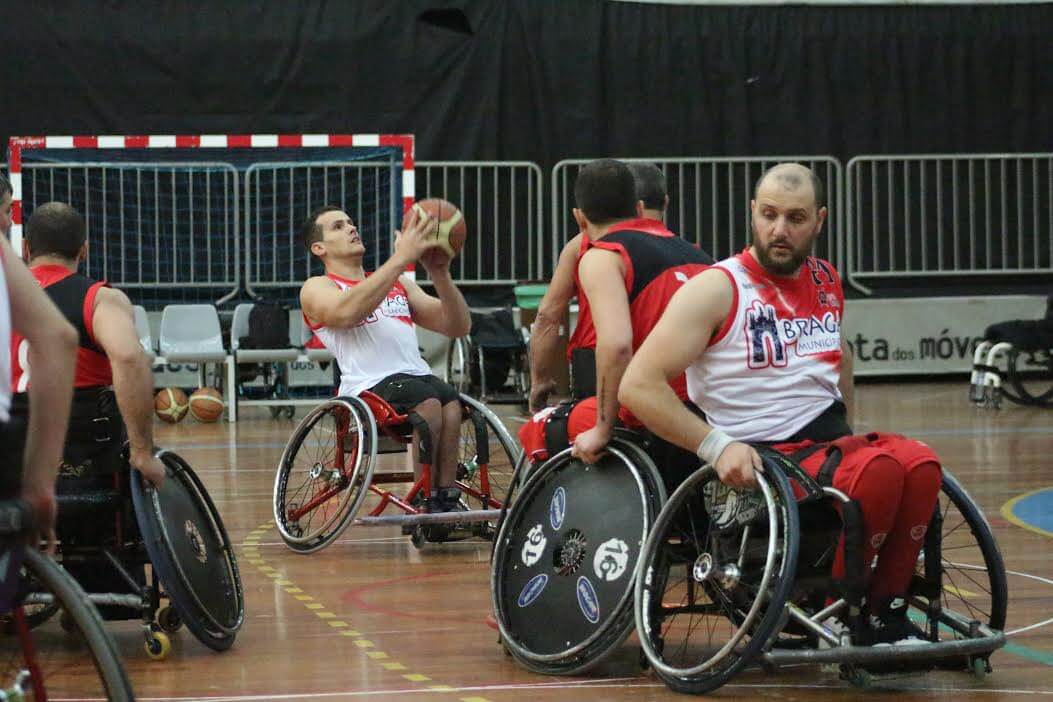 These experiences helped shape our vision and commitment to inclusivity. We knew we were uniquely positioned to fill this gap. Today I am proud to announce that we have launched the first accessibility tool for SharePoint.
The Accessibility Tool for SharePoint
The BindTuning Accessibility Tool features the same easy deployment as our other BindTuning products. A low-code/no-code solution, it is easily deployed to any Office 365 site in minutes via the BindTuning App by a SharePoint administrator. It will make the site, even third-party content, accessible.
The Accessibility Tool for SharePoint adheres to Web Content Accessibility Guidelines (WCAG) 2.0. Once installed, the tool panel is instantly accessible with a click on the icon or a simple "tab" of the keyboard. This expands intranet access to all people in the workforce:
For people with visual impairments, there are options for keyboard navigation, audio screen reader, increased cursor size, adjustments for text size/spacing, and more;
Contrast and color desaturation features address challenges of color blindness and eye strain while the ability to change fonts create a dyslexia-friendly reading experience;
There is the option to mute all sounds, which might be disturbing to those with hearing impairment or those with PTSD or similar issues;
And for people like myself, with epilepsy or that are sensitive to light-flashing and glitching, we integrated an option to pause animations and minimize blinking on the page.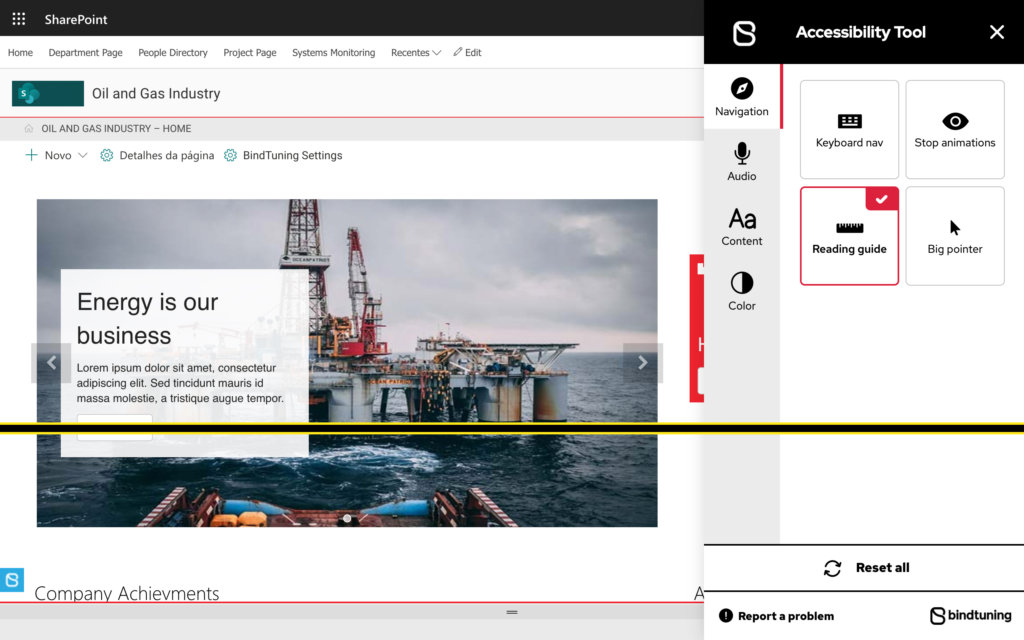 These are just a few of the features that are included in version 1.0, available right now in the BindTuning Accessibility Tool. The initial feedback that we are receiving is phenomenal – over 100 surveyed contributors are very happy that SharePoint is finally getting the accessibility tools it deserves.
Stay tuned for more information from this exciting journey that will hopefully enable millions of SharePoint customers with visible or invisible disabilities to use and create content with ease and without roadblocks.
---