We are a few weeks into 2020 and reflecting on 2019 - what a year it had been! Thank you to those who have kindly supported us during this past year!
Welcome to the new year, a new decade.
This is a monumental milestone and we at BindTuning feel the shift from what was, to what will be. We experienced rapid changes in 2019 and we see more of the same for this coming year. We are grateful to those of you who have kindly supported us during this journey. Let me touch upon a few highlights from the past year and then give you a preview of what we see on the horizon.
2019
The year started off as usual, but the shift was already starting. Microsoft Teams adoption was about to explode, but let's not jump ahead just yet...
We launched a revamp of our Provisioning Engine and several new and updated products, including Video Web Part, Social Feeds, Accordion Web Part, Stocks Web Part plus a brand new Modern UX that includes dark mode and advanced coding in-panel.

While we were busy coding, we made time for our community too. Our CEO, Beatriz Oliveira joined Ana Casaca, Jose de Mello, Ana Sanches in a lively discussion about the opportunities and role of women in technology at Building the Future, Lisbon hosted by Microsoft Portugal.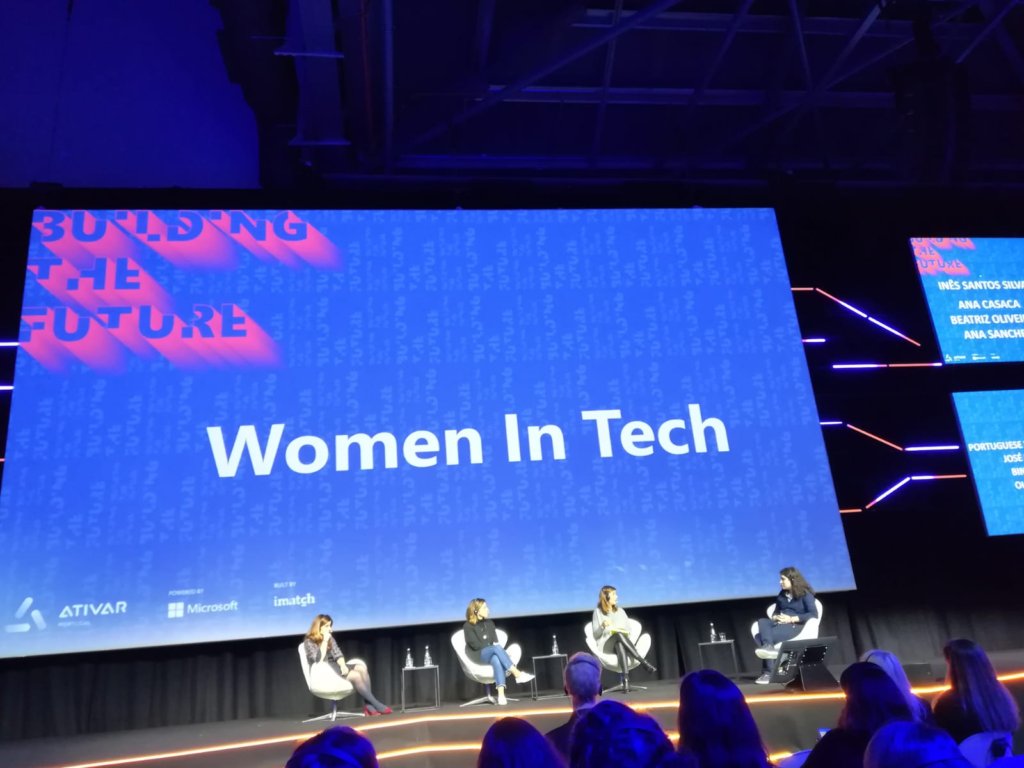 Beatriz also talked about Design, Branding and Customization of the modern workplace with Microsoft MVP Michael Greth as part of the European SharePoint Conference podcast series.
In February, we became a GOLD certified partner for Cloud Productivity and we announced it on our new Instagram Account! If you haven't already, please follow us!
In early May, we took a breather to celebrate our 14-year anniversary. The team gathered at a beach-side resort in beautiful northern Portugal to celebrate, reflect on the past and plan for the future. Taking advantage of the team's fondness for water sports, we literally took a plunge with a team-building activity aboard not one but two giant paddleboards!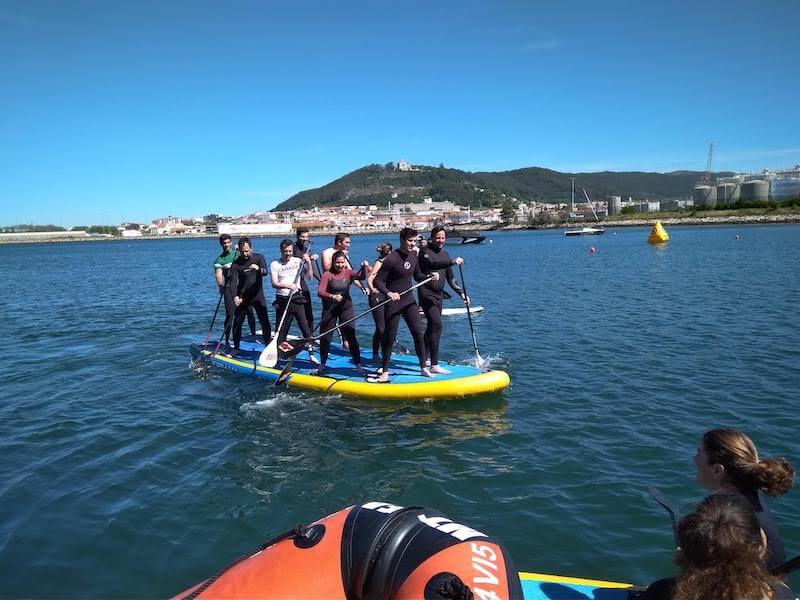 And then it was right back to work with three big events in May – SharePoint Saturday London, Collaboration Summit in Wiesbaden, Germany and the SharePoint Conference in Las Vegas where we announced the launch of our new Microsoft Teams apps and starter kits! Our #bettertogether campaign aligned perfectly with all the buzz about MS Teams and we gotta tell you, people loved our new socks.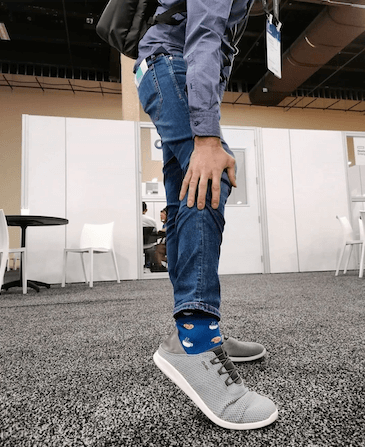 A Busy Summer
By July, BindTuning, along with approximately 13 million other daily users around the world, was making the jump to Microsoft Teams and it changed the way we do business, both internally and externally with our partners and customers.
At Microsoft Inspire, we launched our deployment-as-a-service product - Automate365. Our partnership with third-party solution provider Storyals, opened the door for a new way for SI's and ISV's to automate deployments at scale and reduce the costs of delivering customized solutions to clients around the world.
Speaking of clients around the world, we grew our partner program in 2019 with 21 new partners, worldwide! And we were proud to have our products available on the Microsoft Appsource catalog, too.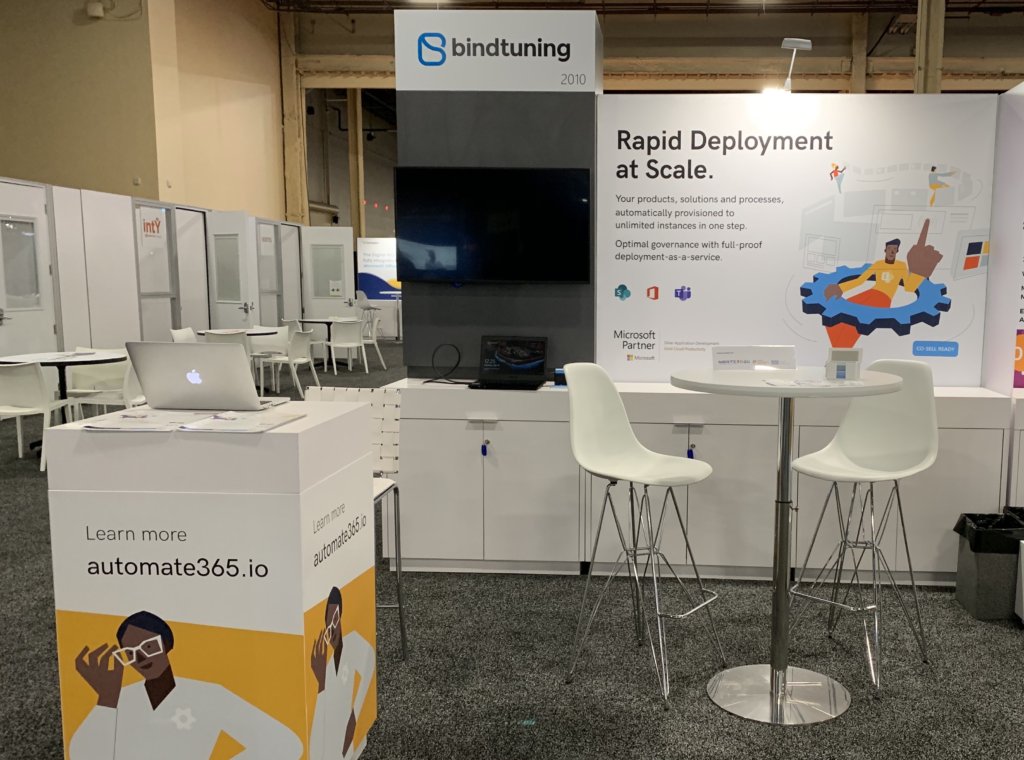 The Record magazine's summer issue featured our customer, Portugal brewing giant Super Bock, in a roundtable discussion about how they created a "future-proof" SharePoint implementation with our team from BindTuning, our partner DevScope and Microsoft Portugal.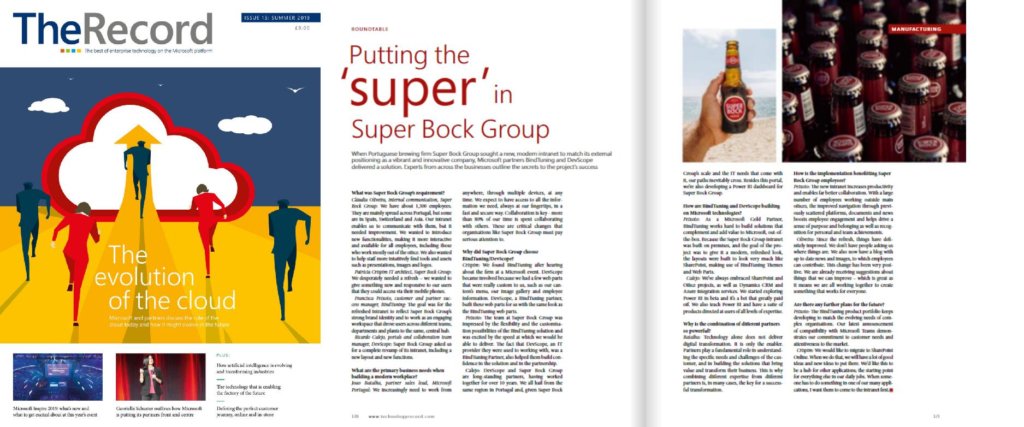 The Record Magazine
Also in July, Beatriz Oliveira was again recognized as MVP for Office Development and also newly named the Microsoft Regional Director for Portugal. A big step for diversity and inclusion of women in tech!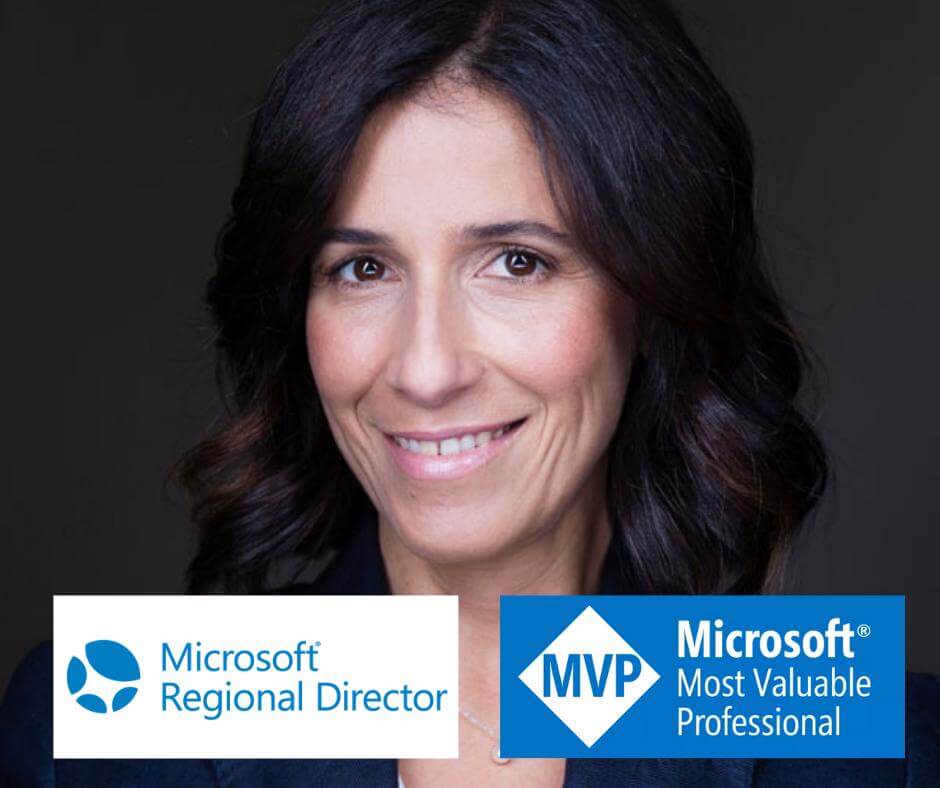 New Beginnings in the Fall
Fall was spent providing much needed guidance on the role of Microsoft Teams and how to best configure the application for optimal usage in organizations. We kicked off a webinar series focused exclusively on Teams, helping our customers navigate the use of Teams and as part of that initiative, we joined Microsoft Teams Principal Technical Specialist at Microsoft, Michael Gannotti, to talk about Easy Creation of Rich Microsoft Teams Templates for his Webcast series.
We travelled to Microsoft Ignite, where we attended a great session by Major Hospital and our partner Dell EMC Services on the amazing digital transformation they went through, which includes a new BindTuning-based intranet.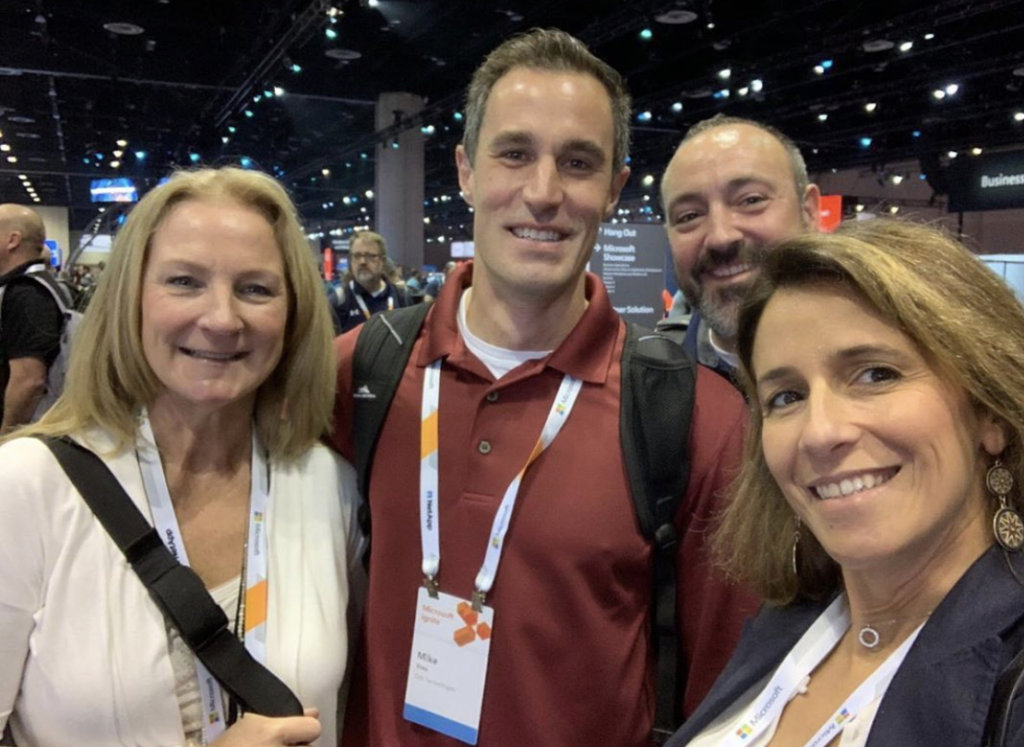 Also in November, we were excited to see Sogrape win Best Intranet at the European Excellence Awards 2019. We were very pleased to work again in partnerhsip with DevScope during this project.
Coinciding with our attendance at SPS Lisbon and the European SharePoint Conference, we launched a new beginning for our customers with a brand new BindTuning app that is propelling our customers into the new decade. A newly launched website, updated BindTuning app and subscription program all ensure our customers #dontgetboxedin.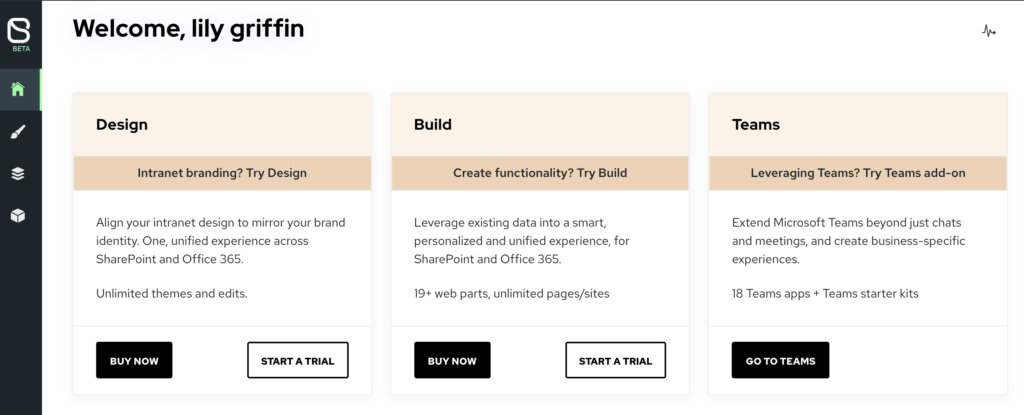 Looking ahead to 2020
One of the last events in 2019, set us on our path for 2020. A meaningful conversation about inclusion in tech with Beatriz Oliveira, our CEO and Dux Raymond revealed a commitment from BindTuning to turn words into action.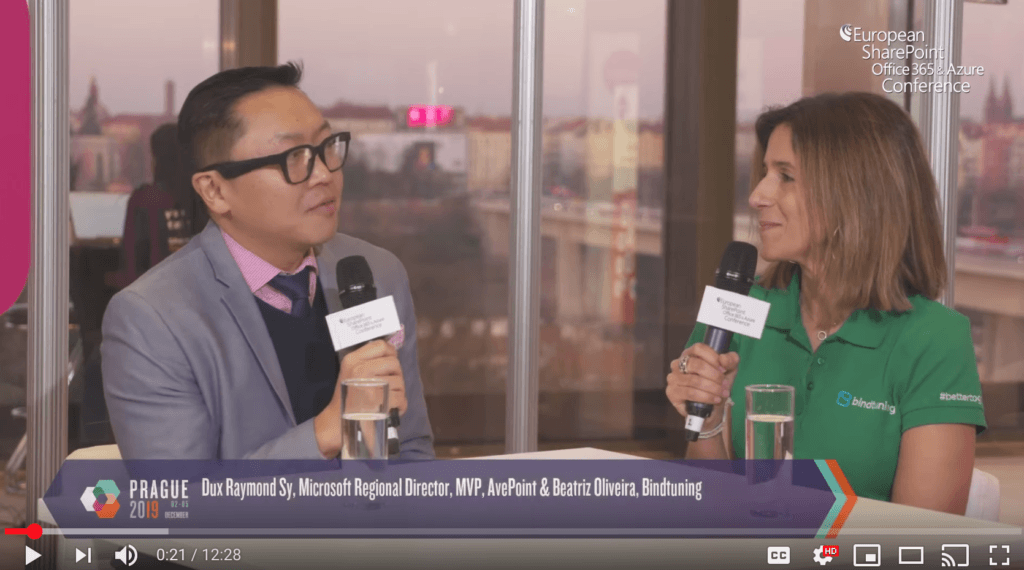 We have kicked off this new year, this new decade with an exciting commitment to make diversity & inclusion a reality in IT. This commitment is a top priority for BindTuning in 2020. As CEO and founder, Beatriz has personally committed to building tools to help people with disabilities perform at their best in their jobs, and not be limited by non-inclusive software. The workplace can't be a place just for some. We have the responsibility to prepare it so everyone can play a productive part in the workforce.
---