Frustrated to learn your colleague's birthday was last week and you didn't congratulate them? There's a quick fix for this - keep track of important dates on your SharePoint intranet!
Celebrations is the first BindTuning web part that introduces an entirely new user experience for Microsoft 365. Since displaying upcoming birthdays and celebrations is a top requested feature, now you can keep track of all of that on your modern SharePoint intranet.

It's easy to use and highly customizable, displaying special dates with a variety of layouts, icons, and themes. Best of all, you can get all this content from the Azure AD (soon), from a SharePoint List, or just add the content to the web part itself. Future releases will open up more data sources.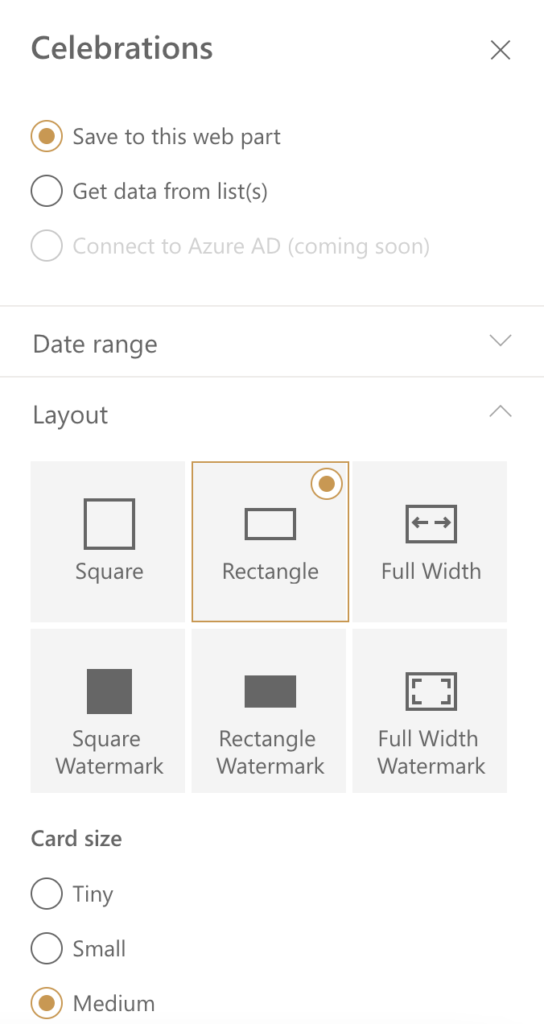 The Celebrations web part includes demo content to help you get started and is built on the same modern UI your users are used to, so everyone can start celebrating right away.
Our customers know that there is always new functionality in the wings. Regular updates to our web parts keep things fresh and Celebrations is no different with these exciting features soon to be deployed:
Congratulate your colleagues on Teams and Yammer;
Get reminders and alerts so you don't miss a thing;
Besides birthdays, soon including work anniversaries and new hires!
A new era for web parts
It's true! BindTuning not only has a new web parts but also a new concept. A modern, native M365 web parts experience has arrived, seamlessly integrated with SharePoint.

Along with the UI/UX redesign, we've implemented new agile development tools and updating the web parts in our gallery. Extending out-of-the-box functionality, we'll include all the features needed for a comprehensive people-first intranet:
Data mashup. Retrieving data from Google Drive, Excel lists, and more.
Social Engagement. Let users comment, like and share content. ❤️ 👍
Content bookmarks. Employees will be able to track what's important to them.
A seamless experience. Natively integrated in the modern M365 experience.
And so much more!
More Modern web parts
The Celebrations web part is one of the latest web parts from BindTuning to feature the modern look and feel, updated experience, and brand new features. We are continuing to roll out the modern experience to all of our web parts over the coming weeks. Visit our Build page for a complete list of modern web parts.
Get a demo
---