You've made the transition to Microsoft Teams, but if all you are using it for is chats and meetings, then you're only using a small portion of the features. Teams is incredibly powerful for team building - way better than Skype for Business. Let's get you started - build these 5 cool team spaces in Microsoft Teams, today.
5 Cool spaces for Microsoft Teams
A BindTuning for Microsoft Teams subscription includes over 18 Microsoft Teams apps and pre-configured Microsoft Teams templates to help you easily take Teams beyond what is available out-of-the-box. Here are 5 cool spaces you can build today in minutes:
1. Company training space
Give your partners easy access to training sessions and important documentation, right in Microsoft Teams. Here at BindTuning, all of our partner news is now in Microsoft Teams, driving our partners to one shared, collaboration space.
When a partner clicks on Training Sessions, they'll see every training recording displayed in tiles, along with the date posted. If you want to do the same, then the Collaboration Starter Kit can help you get started with a pre-configured training tab, ready for customization to your needs.
It is simple to set up and provides:
Customizable layout
Ability to filter training offerings by any number of metadata-based filters
Link to video recordings, YouTube or blog content, really anything
Fresh content available and accessible to users on-demand
2. Corporate image gallery
No more pixelated images, when your corporate logos are accessible in Microsoft Teams. Users can quickly access your company branded images, in the size and specifications they need when you have an easily accessible image gallery. Building it in Teams is effortless with the Collaboration Starter Kit .
Cool features of the image gallery include:
Display thumbnail images of logos, photos, and more
Built-in AI search capabilities, providing contextual in-image search
Filtering capabilities
Access to all image metadata, including photo location
3. Cafeteria daily menus
A dynamic accordion list can be used to display the company's weekly cafeteria menu. The Accordion app is incredibly useful for any kind of FAQ's, like new product announcements, information about mergers/acquisitions, or to address students questions and concerns in an educational scenario. The Collaboration Starter Kit includes a cafeteria menu tab, ready for you to customize to your needs.
You can use the accordion app to:
Consolidate and organize large volumes of information
Find the right information effortlessly, using the embedded search bar
Create visually-rich repositories, by using HTML and images
4. Corporate team space
Give your corporate team access to everything they need in Teams. Team members require daily access to information like:
A user directory, with the ability to send an email, start a phone call or chat right from Teams
Urgent alerts and notifications in Teams and Outlook
Company and world news
Corporate calendar
Events photo galleries
Easy access to productivity apps
Live stock market conditions
Get a running start with a pre-configured user directory ready to be customized in the Collaboration Starter Kit . Everything you need to get started is ready with sample data, that you can adjust to your needs.
5. Corporate news space
Still sending a monthly email newsletter? Put an end to long emails with a short shelf-life. Instead, put your company news where your audience spends the bulk of their time – in Microsoft Teams. Consolidate industry and corporate news for your team, even pull in external news sources. With numerous alternative layouts available, the News app is easy to scan and even easier to access. Again, it is all configured and ready-to-go in the Collaboration Starter Kit.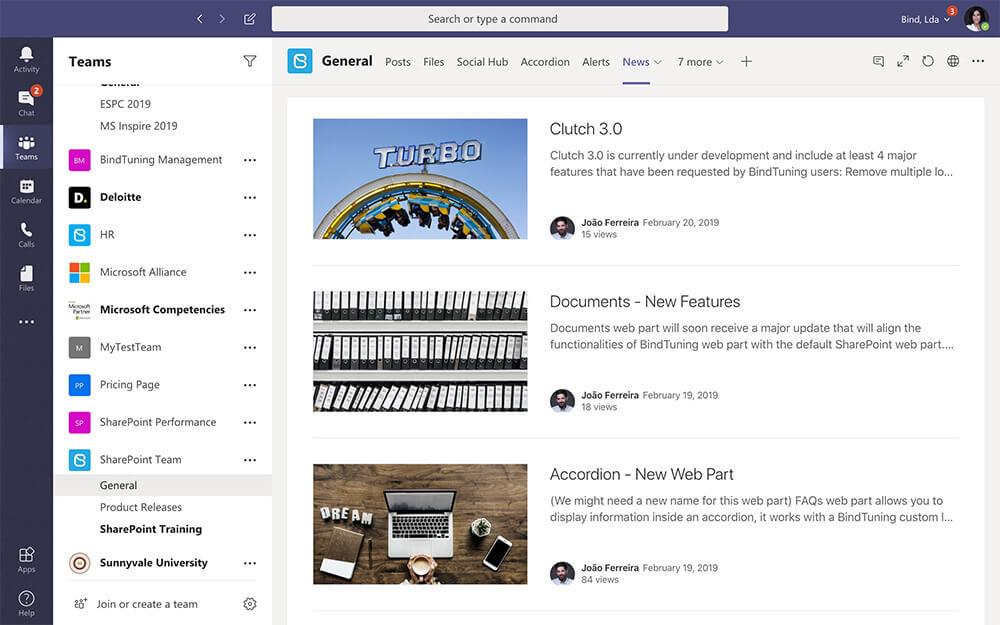 Get started building cool team spaces
Boost the usage of Teams with ready-to-go examples that you can install, tweak and use in minutes. Build really cool team spaces that empower remote workers and connect organizations, partners and cross-functional teams. What kind of cool spaces do you want to build? Get the answers you need with a quick call with our team.
Get started
---