We are excited to announce a new partnership with Storyals that opens the door for refreshing Microsoft 365 learning pathways educational content and for a refreshing new way that content is automatically delivered to users.
Better Together with Storyals
Storyals Lite provides organizations with a new, modern way of educating employees on how to work smarter using Office 365. Their story-based training modules enable tech-savvy end users to quickly learn, adapt and optimize their experiences with Office 365 using rich, YouTube-like stories, not lengthy tutorials. Behind the scenes, Automate365 from BindTuning acts as the underlying provisioning engine, automating the delivery of this content to Microsoft 365 learning pathway, released yesterday in Beta Preview at the North American SharePoint Conference in Las Vegas. The resulting Storyals Lite offers exciting educational content for Office365 that is effortlessly delivered and refreshed, creating an optimal environment for user adoption.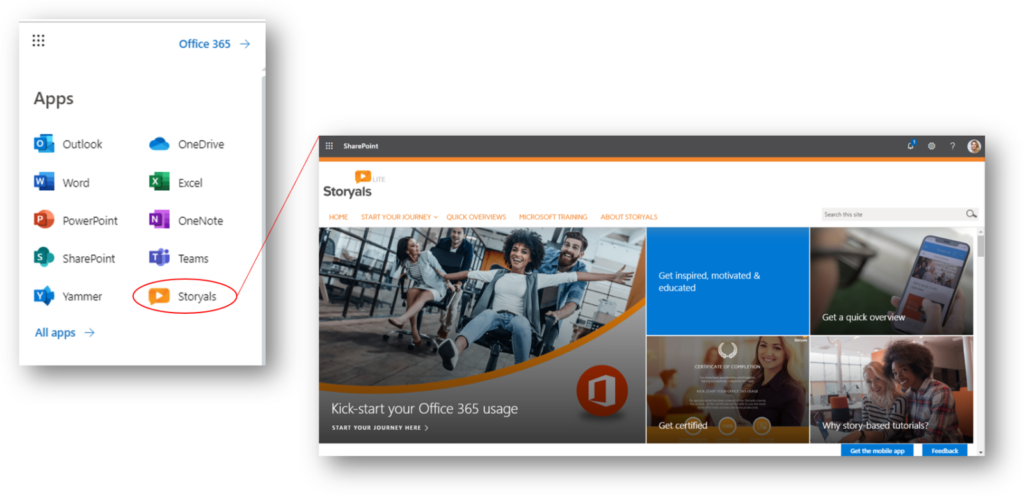 The Full Story
Building upon content in Microsoft 365 learning pathways, Storyals Lite is a story-based tutorial solution that provides structured, experienced-based training content that is automatically installed and maintained fresh with new content. Utilizing a pre-populated SharePoint communication site, users have immediate access to all the Storyals Office 365 content with Storyals Lite. They can watch videos on demand, take quizzes, even attain certification in the product.
The delivery and maintenance of this content couldn't be easier. Each Storyals Lite subscription is quickly deployed to Office 365 using Automate365. Not only is the solution effortlessly deployed across any number of site collections, but the administration of new content is automatic, with fresh content delivered in minutes. More than just the initial deployment, Automate365 guarantees that all future updates to Storyals are easily re-deployed across all their customers effortlessly, for an evergreen solution. To learn more about Storyals Lite, visit www.storyals.com. Read the full press release.
Automate365
Automate365 is available now. Any third-party ISV solutions or custom scenarios such as Storyals Lite, can be provisioned to SharePoint, Microsoft Teams or Office 365 using Automate365 by BindTuning. Automate 365 is a Deployment-as-a-Service (DaaS) where our expertise in understanding your problem areas, business workflows create a working solution. That solution is packaged, deployed and fully tested prior to going live as a finished template you can deploy over and over again. Third-party solution providers such as Storyals are excited to integrate this technology to automate deployments at scale and reduce the costs of delivering their solutions to clients around the world. End users such as Nokia, have been using the same provisioning technology to deploy hundreds of project portals during client on-boarding, in minutes. Each client portal adheres to their governance standards, meets their internal communication needs, but is customizable for each team, project. To learn more about Automate365, visit Automate365.io.
Join Us
Storyals and BindTuning will be hosting a live webinar to discuss the ways Storyals, utilizing Automate365, is able to support the deployment of their learning solution to Office 365 customers around the world. The webinar will take place on Wednesday, June 12, 2019. Registration is free,
sign up here
.
---