Welcome to the first in a series of blog posts on 6 Key Pillars for a Successful Intranet. Beginning with this post, we will unlock the power of each of these 6 pillars and elevate our employee experience to new heights starting with Culture & Purpose.
6 Pillars of a Successful Intranet
In the era of quiet quitting and remote work, the concept of employee experience garnered significant attention. But with discussions around employee experience becoming commonplace, there is a growing need to explore fresh perspectives and revitalize the conversation, translating concepts into actionable strategies for organizations.
Driven by advancements in consumer technology and the desire for more streamlined and efficient experiences, people have increasingly high expectations around technology in the workplace and how they can drive productivity, support learning, foster collaboration, back work-life balance and incentivize employee recognition – factors perceived as employee satisfaction drivers, essential to ensure retention in an ever-changing work landscape.
By providing concrete examples, this blog post aims to shift the conversation from mere acknowledgment to implementation, demonstrating how companies can easily leverage the power of technology to create a user-friendly and inclusive intranet platform that positively impacts employee experience and organizational culture.
6 Key Pillars for a Successful Intranet
It is essential to start by understanding and nurturing these employee experience key pillars, exploring how each contributes to a fulfilling and impactful journey for employees within an organization. This will ensure that any chosen technology, features, and functionalities align with the needs and priorities of employees. Let's get started...
Culture & Purpose
Cultivating a strong organizational culture that aligns with core values and purpose creates a sense of belonging and shared identity among employees. When employees have a clear sense of purpose, and find meaning in their work, they are more motivated and engaged, understanding how their contributions align with the broader goals and mission of the organization.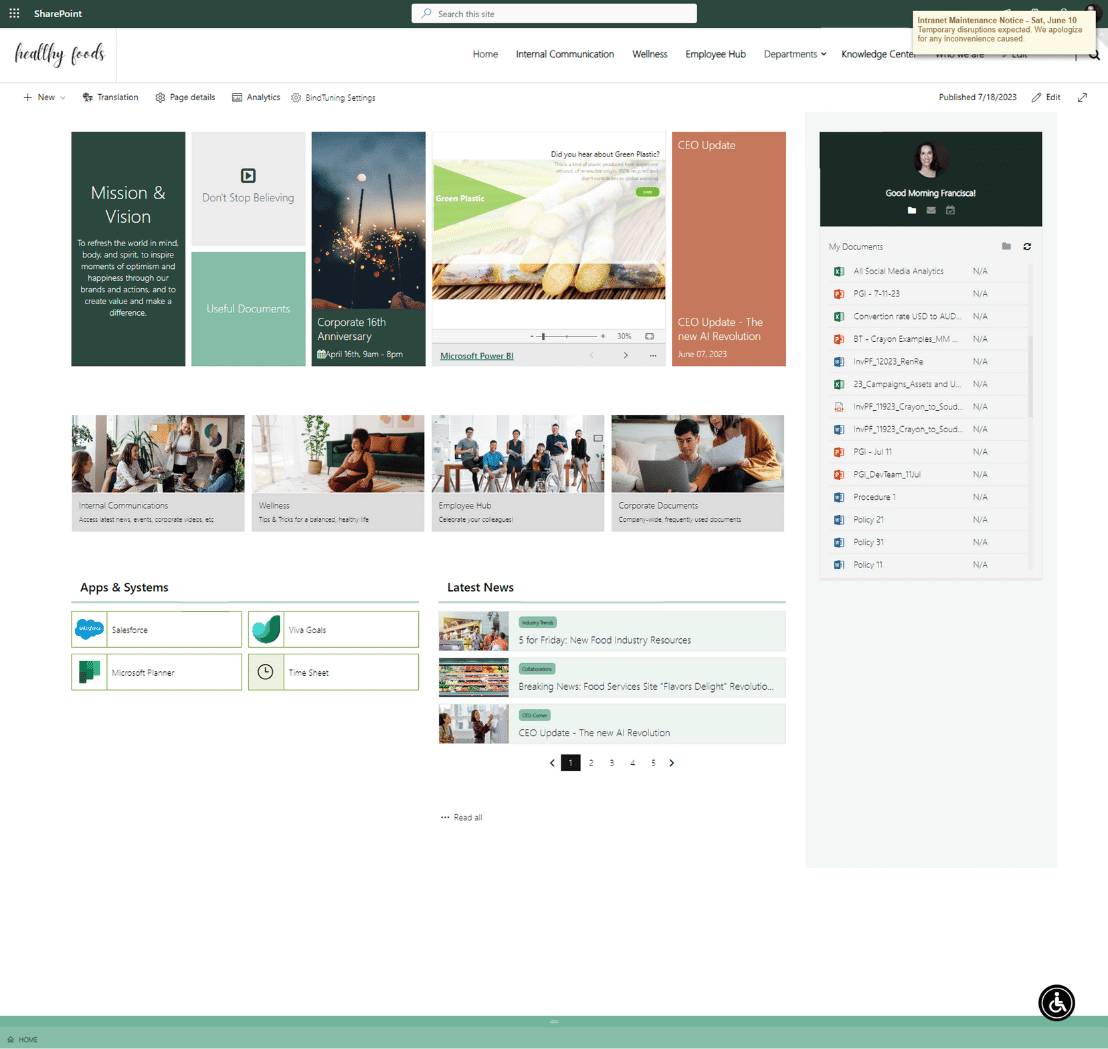 Intranets can help emphasize the company's mission statement, vision, and values. Place these front and center on your landing page, accompanied by inspirational videos, updates from the Leadership Team or cross-organization event announcements, such as team-building activities or town-halls.
Purpose can also act as a lighthouse, helping employees focus on what truly matters, setting goals and prioritizing tasks. Add real-time progress dashboards to your landing page, encouraging employees to align their priorities with the organization's goals.
You can also create a dedicated area within your intranet to dive deeper into not only your company's mission, vision, and values, but also its history, leadership, and global presence.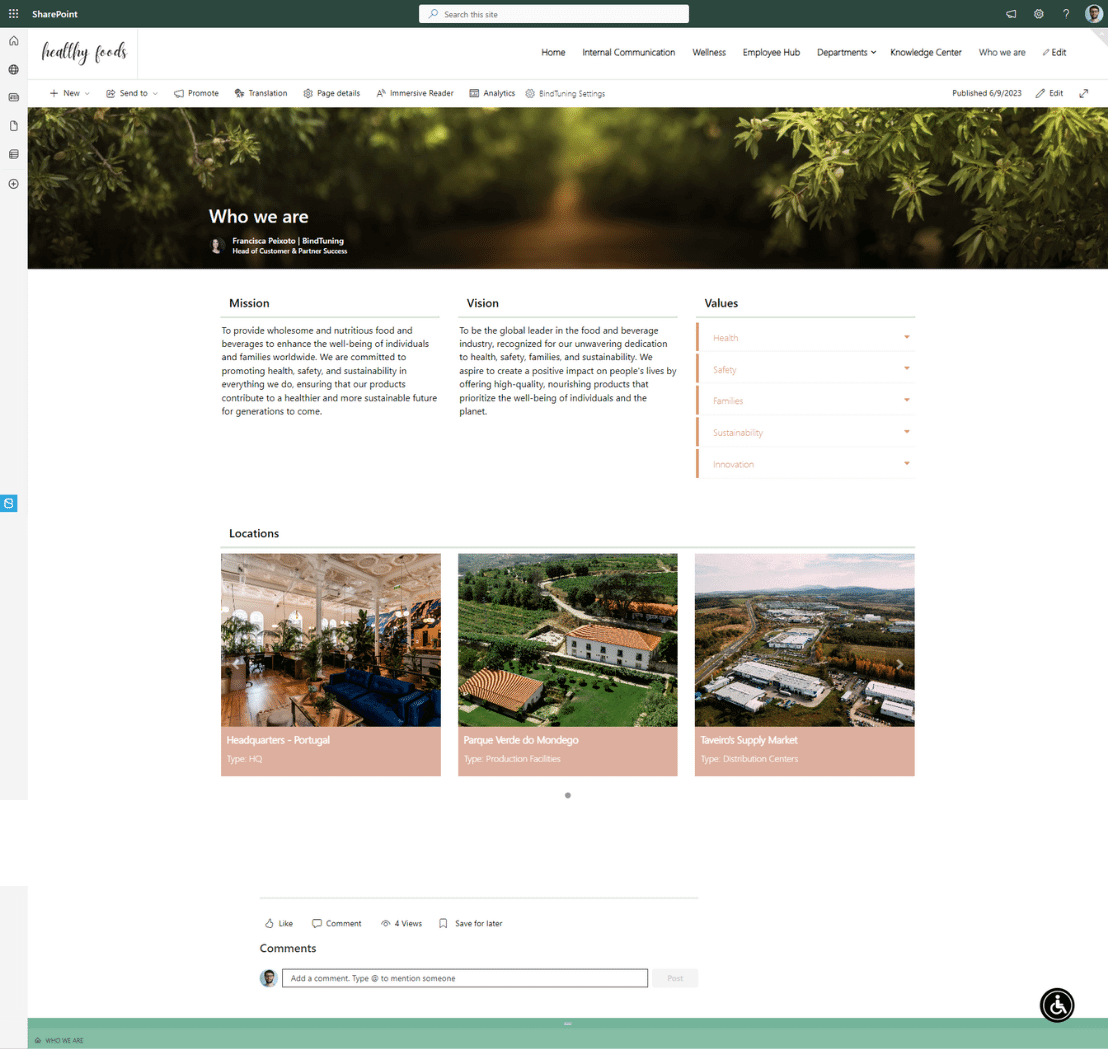 Highlight the global impact and cultural diversity of your company, to foster a sense of pride and belonging - make sure you list all locations in which you have a presence.
Next up: Learning & Development
In Part 1 of our blog series, we embarked on a journey to explore the first of six key pillars that contribute to an exceptional employee experience. We began by understanding the significance of culture & purpose, where we discovered how cultivating a strong organizational culture aligned with core values promotes focus, alignment, and motivation. Next up... Part 2, Learning and Development.
Unlock the full potential of your intranet.
Ready to foster a strong organizational culture and sense of purpose within your organization? We invite you to install the Intranet Landing Site Template. A complete, fully functional intranet site template with demo content for context. It offers you the quickest way to foster a meaningful atmosphere that promotes your company culture, empowers learning, fosters well-being, amplifies recognition, enhances teamwork, and boosts efficiency. The Intranet Landing Page Template incorporates all of the best practices presented in this blog series:
Company Culture
Learning & Development
Employee Well-being
Employee Communication & Recognition
Corporate Documents & Employee Directory
Personal & Inclusive Workspaces
Install Template Now
About the 6 Key Pillars for a Successful Intranet Series
Organizations that prioritize employee experience through their intranet platform are more likely to attract and retain top talent, foster a positive and engaged workforce, and drive overall organizational success.
By embracing the six key pillars of employee experience - culture and purpose, learning and development, work-life balance and well-being, recognition and rewards, teamwork and collaboration, and productivity and efficiency - organizations can unlock the power of technology to create an exceptional employee experience that sets them apart.
Don't miss out on the opportunity to elevate your employee experience and unlock the full potential of your intranet.
---