We continue with our blog series on 6 Key Pillars for a Successful Intranet. In this second post, we will unlock the power of Learning and Development in an engaging intranet.
6 Pillars of a Successful Intranet
In the era of remote work and quiet resignations, the employee experience has gained attention, but there is a need for fresh perspectives and actionable strategies. Companies are expected to leverage technology to enhance productivity, incentivize learning, promote collaboration, support work-life balance, and employee recognition. This blog post provides concrete examples of how organizations can create a user-friendly intranet platform to positively impact employee experience and foster a strong organizational culture.
6 Key Pillars for a Successful Intranet
It is essential to start by understanding and nurturing these employee experience key pillars, exploring how each contributes to a fulfilling and impactful journey for employees within an organization. This will ensure that any chosen technology, features, and functionalities align with the needs and priorities of employees. Let's get started...
Learning & Development
The importance of structured and shared knowledge cannot be overstated: it contributes to skill enhancement, career advancement, adaptability to change and innovation, offering meaningful and fulfilling opportunities for growth that eventually lead to higher employee engagement. Learning opportunities signal that the organization values employee growth and invests in their long-term success. In return, employees develop a strong sense of loyalty and commitment to the organization - engaged employees are more likely to stay with the company, reducing turnover and associated costs.
On a different note, encouraging employees to explore new ideas, acquire diverse perspectives, and learn from industry experts, fosters a culture of innovation - employees feel empowered to contribute with innovative solutions, leading to improved problem-solving, increased competitiveness, and organizational growth.
An intranet can serve as a central hub for organizing learning resources. It can provide easy access to training materials, course catalogs, documentation, videos, and other learning assets. Employees can:
use keywords to search lists of frequently asked questions, organized by topic;
browse and search for relevant resources based on their learning needs, interests, goals and skills.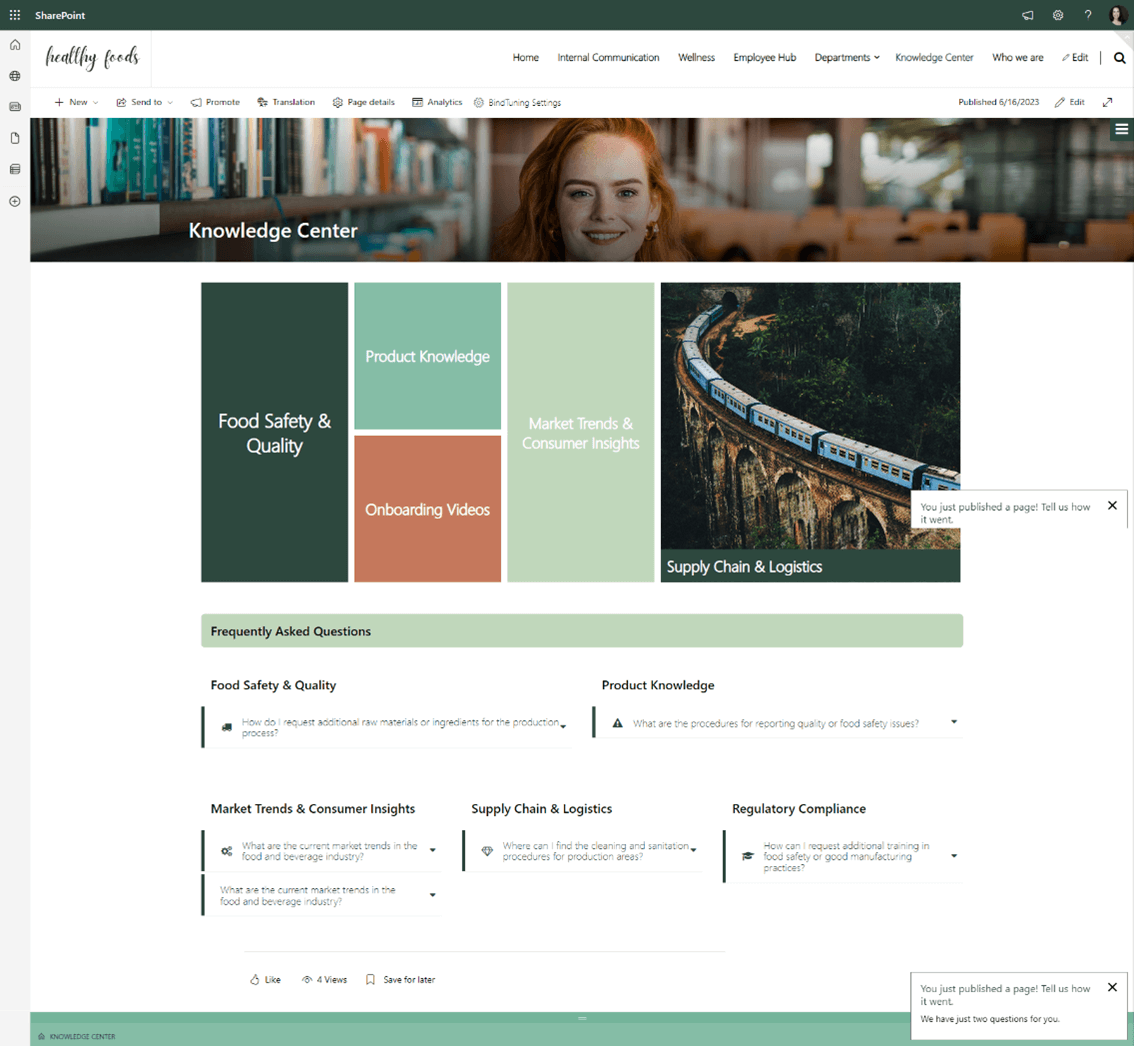 Next up: Work-life Balance & Well-being
In Part 2 of our blog series, we embarked on a journey to explore the six key pillars that contribute to an exceptional employee experience. We delved into the world of Learning & Development, uncovering the transformative power of providing meaningful learning opportunities that enhance skills, promote career growth, and drive innovation. Stay tuned for Part 3, work-life balance and well-being.
Unlock the full potential of your intranet.
Ready to foster a strong organizational culture and sense of purpose within your organization? We invite you to install the Intranet Landing Site Template. A complete, fully functional intranet site template with demo content for context. It offers you the quickest way to foster a meaningful atmosphere that promotes your company culture, empowers learning, fosters well-being, amplifies recognition, enhances teamwork, and boosts efficiency. The Intranet Landing Page Template incorporates all of the best practices presented in this blog series:
Company Culture
Learning & Development
Employee Well-being
Employee Communication & Recognition
Corporate Documents & Employee Directory
Personal & Inclusive Workspaces
Install Template Now
About the 6 Key Pillars for a Successful Intranet Series
Organizations that prioritize employee experience through their intranet platform are more likely to attract and retain top talent, foster a positive and engaged workforce, and drive overall organizational success.
By embracing the six key pillars of employee experience - culture and purpose, learning and development, work-life balance and well-being, recognition and rewards, teamwork and collaboration, and productivity and efficiency - organizations can unlock the power of technology to create an exceptional employee experience that sets them apart.
Don't miss out on the opportunity to elevate your employee experience and unlock the full potential of your intranet.
---