Welcome to another Microsoft 101 article. I'm here to help you with the basics and today I'm talking about shortcuts. The search bar at the top of Microsoft Teams gives you much more than just search functionality, it has some great 'shortcuts' and command options. I'll go over all the options you have available at your fingertips - update your status, go to a specific channel, show your recent files and saved messages, and more.
Shortcut Basics
Here at BindTuning, we make great products to help you get the MOST out of Microsoft Teams. But today we are talking about the basics. Let me walk you through shortcut basics, and then i'll share my favorites.
First, let's give you the shortcut key to get to the search bar: CTRL+E (Windows) or CMD+E (Mac). Then type '/'. Instantly you'll see all the commands available to you! Most work standalone, but some work with apps. You can also type '@' to see a list of users (atmentions), followed by app commands. The apps will require installing and setup on first use, but it's very quick to do.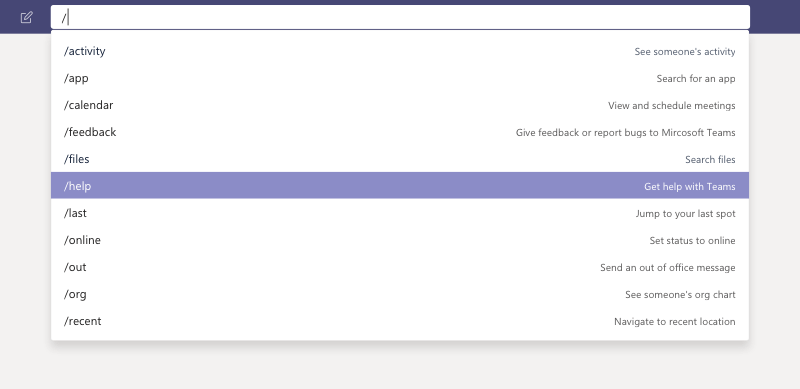 So back to the command bar...the shortcuts here can be really useful and let's face it they are only going to grow and get more useful as time goes on. They are available for everyone using Teams, but if a certain command isn't working, it could be because your organization has disabled a feature central to the command. For example, if chat is disabled for your organization, chat-based commands won't work.
My Favorite Shortcuts
/whatsnew – This has to be the most useful one given the speed that Microsoft release changes these days. This takes you to the release notes tab in the T-Bot channel. It is worth a regular check!
/goto – If you have a lot of teams or channels or spend a lot of time, as I do, chatting in Teams, then this is good way to hop straight to your destination.
/files – Shows your recent files and allows you to search and go to the file you want rather than having to click around in Teams.
/keys – This is a shortcut to your shortcuts! It's a nice quick reference for the Microsoft Teams keyboard shortcuts.
/call – This allows you to type the first few letters of the person you want to call and select them to call. In large organizations, this could be huge timesaver!
/help – Pretty self-explanatory and simple. A really good quick way to ask a question of the Teams help via the T-Bot
/saved – This takes you straight to your list of saved messages.
As you can see these are just a few of my favorites, however there are an ever growing list to take advantage of. Here are more:
/activity - See someone's activity.
/available - Set your status to available.
/away - Set your status to away.
/busy - Set your status to busy.
/dnd - Set your status to do not disturb.
/join - Join a team.
/mentions - See all your @mentions.
/org - See someone's org chart.
/testcall - Check your call quality.
/unread - See all your unread activity.
/whatsnew - See what's new in Teams.
/who - Ask Who a question about someone.
/wiki - Add a quick note.
The Microsoft Teams developer team is updating the command library all the time, so keep checking the menu in the command box to see what's new. (Just type /whatsnew). Good luck - hope this series of Microsoft 101articles is helping you make the most of Microsoft Teams.
---