BindTuning Accordion web part is one of the most popular web parts with our customers and we totally understand why. It´s easy to configure, it helps to display text dynamically, no code is needed to add colors, links, images and it always looks good. In this article we will explore 5 great ways you can use Accordion in Microsoft Teams.
Get the most value from Teams
This past year, we all have seen the increased usage of Microsoft Teams, not only for communication between teams and third parties but also for collaboration, and this trend will continue to grow. In July 2021 alone, Microsoft reported having 250 million monthly active users.
Supplementing Microsoft's offering, BindTuning can help you get the most value from this platform and to improve collaboration within your organization. Our Build subscription can provide you with the most different web parts for all of your requests and needs but today, let's start by looking at the Accordion web part...
#1 Build a Frequently asked questions (FAQ) list

Make sure your team has access to the responses to the questions most frequently asked by adding them to the accordion. Every time a new question comes up, you just need to add a new entry. You are always able to change the layout and colors or to update the questions you already have.
#2 Organize internal processes

Share with your team the steps of a process, like a process of onboarding a new customer. Outline all of the steps using the Accordion and you can ensure your team has access to this important information before starting a new onboarding.
#3 Create organized Lists & Inventories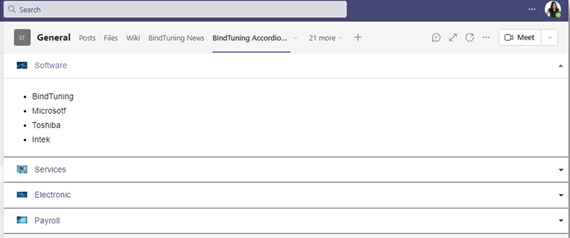 Use the accordion for lists of all types, inventories, and any other information with a lot of items and content. Use the Accordion to share a long list of vendors, sorted by topic or specialty, you are actively working with.
#4 Wellness Tips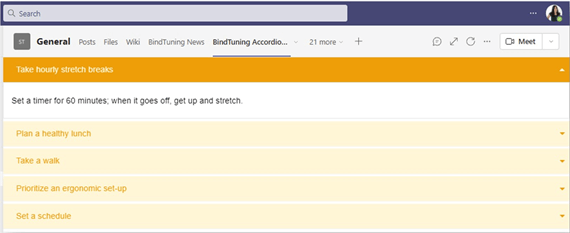 Employee wellness programs have become a priority for all organizations. Promote healthy ideas, tips, activities through the accordion.
#5 Relevant Links

Share the most important links in a dynamic way and make them easy to find. You can create distinct topics and add the links referent to that specific department, process, or project.
Let us get you started
Improving collaboration and making information easy and available for all, is absolutely essential to organizations. BindTuning has not only the tools but also the training to help you do it.
Schedule a meeting with our team and we'll show you even more reasons to choose BindTuning. We'll give you a quick demo and help you understand how you can do more than what OOTB has to offer.
---