As coronavirus continues to affect our normal lives, governments, companies, and schools all over the world are relying on remote work and remote learning in Microsoft Teams. For many organizations, this change is driving an enormous level of stress, and showing they are not fully ready for it. If your school is in this situation, keep reading – we can help.
Over the past weeks, schools worldwide have suddenly been faced with the need to provide remote learning tools to teachers and students. The change is not easy for most schools. With rare exceptions, the majority are still deciding how, or improvising new processes and testing different options. Microsoft Teams for Education may be the right way to start.
Setting up Microsoft Teams for Education in your school
This article is not about installing Teams. You will find several great posts and tutorials online for that. Nevertheless, if your school hasn't started with Microsoft Teams, let me share a few resources with you. This is how you can get started today:
So, Teams is set up. What next?
There is more to a school than classes
Out-of-the-box, in Teams for Education, teachers can immediately start scheduling online classes, sharing resources, and setting assignments. Nevertheless, there is more to a school than that. The success of remote learning depends on the school's ability to keep everyone engaged, involved and informed.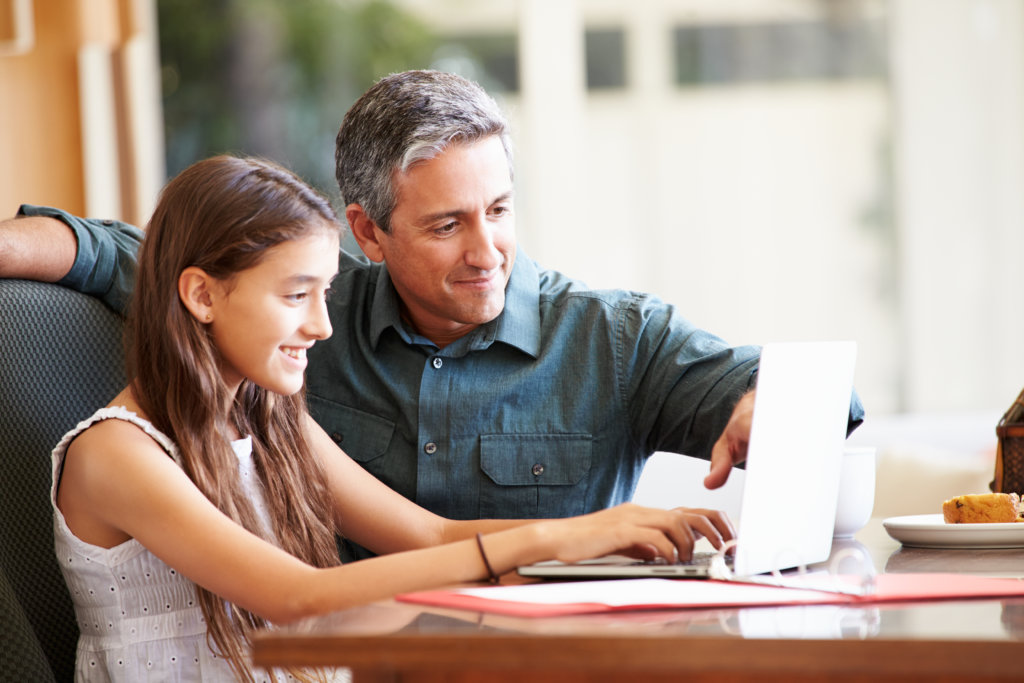 On a remote learning situation, it's also crucial to:
Promote normal classroom day-to-day life.
Provide students with useful external links, learning apps, and relevant information. Easily send them important alerts and notifications.
Keep parents informed and engaged.
Share the activities calendar, send important notifications, share useful contacts and keep them up to date to school news.
Promote teachers peer-to-peer collaboration.
As in school, teachers need to share resources with their peers and drive communication. Keep in mind this team can be customized to match your specific teaching and collaboration methodologies.
Keep clubs and societies alive.
Clubs can easily be overlooked during this period. Make sure to promote continuity of club activities by having its members engaged in a team.
Support sports teams.
Lastly, it is important to ensure that sports teams have all the resources they need to keep working. Sharing information in a timely manner, keeping everyone motivated and engaged, are all crucial for success!
BindTuning just released 5 templates for remote learning in Microsoft Teams for Education, one for each scenario described above. These templates are pre-packaged solutions that can automatically be deployed to your Teams tenant, using the BindTuning App [link]. Each deployment will create a team with relevant channels, tabs and pre-populated content.
Let's take a deep dive into each of these templates.
Classroom team
First and foremost, the students. Maintaining the class team spirit is not easy, with everyone being physically apart. This is the template to be used when creating new classrooms, which allows teachers to submit assignments and grades, but also adds additional features. These include:
General channel (out-of-the-box, including assignments, grades, and the class notebook)
Learning channel

Learning Apps - an area to share great learning apps with each class, curated depending on the class' needs.
Educational websites - useful links to recommended online resources and learning websites.
Videos - share a gallery of inspiring videos with the class.

Our Class channel

Students - a visual list of all students in the class, with photos, connected to the Azure AD. When deployed, this area is empty, and requires settings configuration to display the correct Azure AD group for the class.
Teachers - similar tab, but displaying for each class the list of teachers.
Photo Gallery - a place for students and teachers to share photos with the rest of the class, bringing people together, even when in remote learning.
Social page - class' social media feed. Comes pre-configured with the BindTuning facebook page, which can easily be changed by editing the app settings. You can add a feed from Facebook, Twitter, Instagram, Pinterest or Yammer.
Add a Classroom team to my tenant
Parents team
Ever since Microsoft Teams was announced, schools requested the ability to ask parents to join a team. This is now more relevant than ever. Teams is the perfect tool to bring educators together, so they can stay updated on all activities. Note that, being external to the school, you will need to add them as guest users. Read more about adding guest users to Teams.
Contacts - very important for any educator is to know who to contact and how, for questions and assistance.
Director's message - welcome or informative message from the school's director.
Planned activities - a calendar with all planned activities (online or in-person) as well as parent's meetings.
Alerts - teachers can manage a list of alerts, to highlight important information parents must receive.
Up next - an area to share flyers or announcements.
Add a Parents team to my tenant
Teachers team
Teachers can perform at their best when working together. You can promote peer-to-peer collaboration by creating groups for teachers in Teams. Teachers can discuss class activities as a group, share materials, promote discussion, and even enrich online teaching practices. A centrally organized digital portfolio created by teachers, for teachers, with all the information they need to succeed.
General channel (PLC assets, plus the below)

Students - Same view as deployed in the Class team. For lower school grades, with less teachers in a class, the former may be sufficient.
Teachers - Same as previous
Calendar - Global calendar view, which can aggregate events from multiple calendars to include regular meetings, evaluation meetings, meetings with parents, and many more. You can set this up according to the way your school works.

Classes

Materials - File view aggregation of documents shared by all teachers. Unlike the normal "Files" tab, where all documents are located in the same location, this view can query and filter documents located in different directories. This way, each teacher can share only the information they consider relevant to the group.
Evaluation and Grades - Same as previous, the original files may be located in each teacher's personal folders, and only relevant files be shared to this centralized location.

Project (sample channel) - For schools working with interdisciplinary learning methods, it may be recommended the creation of Project channels, based on the on-going projects for each classroom. This channel is just a placeholder, as an example of such structure.
Add a Teachers team to my tenant
Club team (for clubs & societies)
Every school has them! Art, Drama, Science, Math, Literature, Coding, and many more. Clubs are an integral part of every schools' life, even while in remote learning. In many cases, activities can be organized, content can be shared, and sessions scheduled, using Microsoft Teams. Take a look at some suggested channels and content to keep your club members engaged.
General channel

News - latest club news about competitions, new members, activities, and more.
Members - list of students that are part of the club.

Competitions channel

Photo gallery - a gallery to share photos from competitions, activities or even home activities. A great way to promote the group spirit!
Calendar - make sure everyone is up-to-date on the scheduled activities, being those in-person or online.
Awards - share the club's accomplishments with an awards section.

About channel

Memorable games - a video playlist to watch inspiring video content. You can show memorable games, but also inspiring projects or events.
Useful links - list useful links to sites with tips, ideas, strategies, and more.
Why? - an FAQ-style section with benefits related to the club or the activity.
Add a Club team to my tenant
Athletics - Sports team (for games & sports)
The shutdown of schools worldwide, during the coronavirus pandemic, has been keeping students aways from their classroom, their friends, but also from other activities like sports. Either if your school is still closed, or re-opening, it's important to bring everyone in the school's athletics programs back together. Microsoft Teams can play an important role for this purpose. Even when life is back to "normal", we can rethink team collaboration and information sharing in a much easier way. One where sports teams members are actually able to maintain and update the content and info that is being shared. Let's take a look at how this can be done using Microsoft Teams.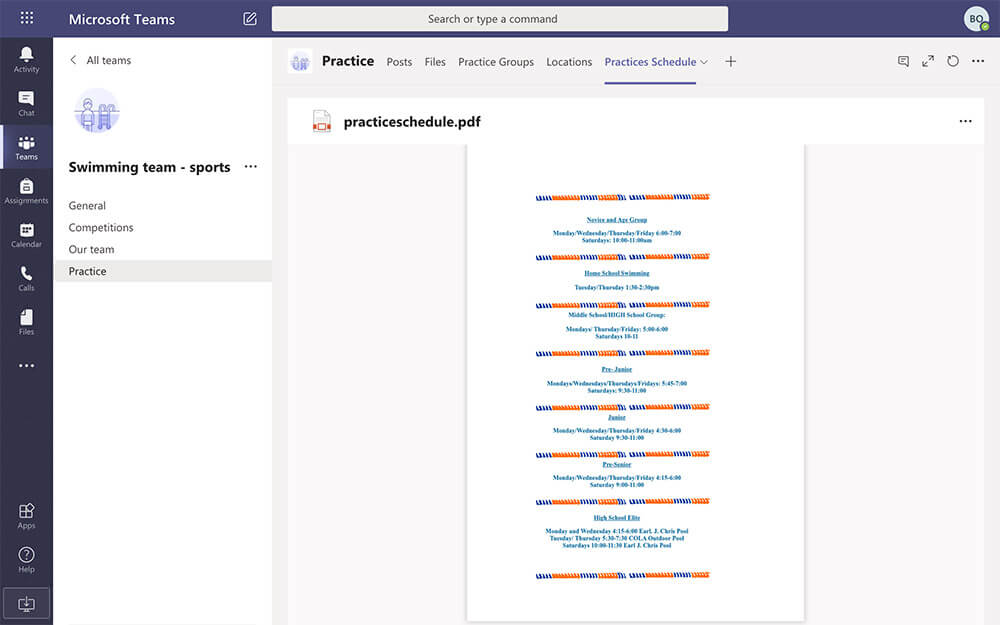 Competitions channel

Team Schedule - calendar displaying all upcoming competitions.
Stats - an area to share easily updated files, with the latest stats and scores.
Photos - a photo gallery, to share competition photos, with AI-powered image content search.

Our Team channel

News - latest news related to this sports, including competitions, accomplishments, new athletes.
Roster - all athletes in the team, in sync with the Azure AD.
Coaches - team coaches, also retrived from the AD.
Website - if the team has a public facing site, it can also be easily accessible right within Teams.

Practice

Practice Groups - information on the different practice groups.
Locations - super useful map, with all the locations where prcatices take place.
Practices Schedule - info on the full schedule for practices.
Add a Sports team to my tenant
---
Remote learning in your K-12 school, with Microsoft Teams
BindTuning, in partnership with Microsoft, can help you speed-up and scale the delivery of remote educational environments to Microsoft Teams. These solutions are available and ready-to-deploy today, but if you have more specific requirements, or would like to create your own Microsoft Teams education templates, our team is ready to help.
---