We are constantly striving to bring the WordPress-like design experience to the everyday users of SharePoint. As part of that effort, we have streamlined our pricing to tiered plans that offer flexibility, convenience and complete pricing transparency. We have bundled common tools but also understand that not all organizations can afford the most comprehensive plans, and for that reason, we also offer a simplified, starter offering.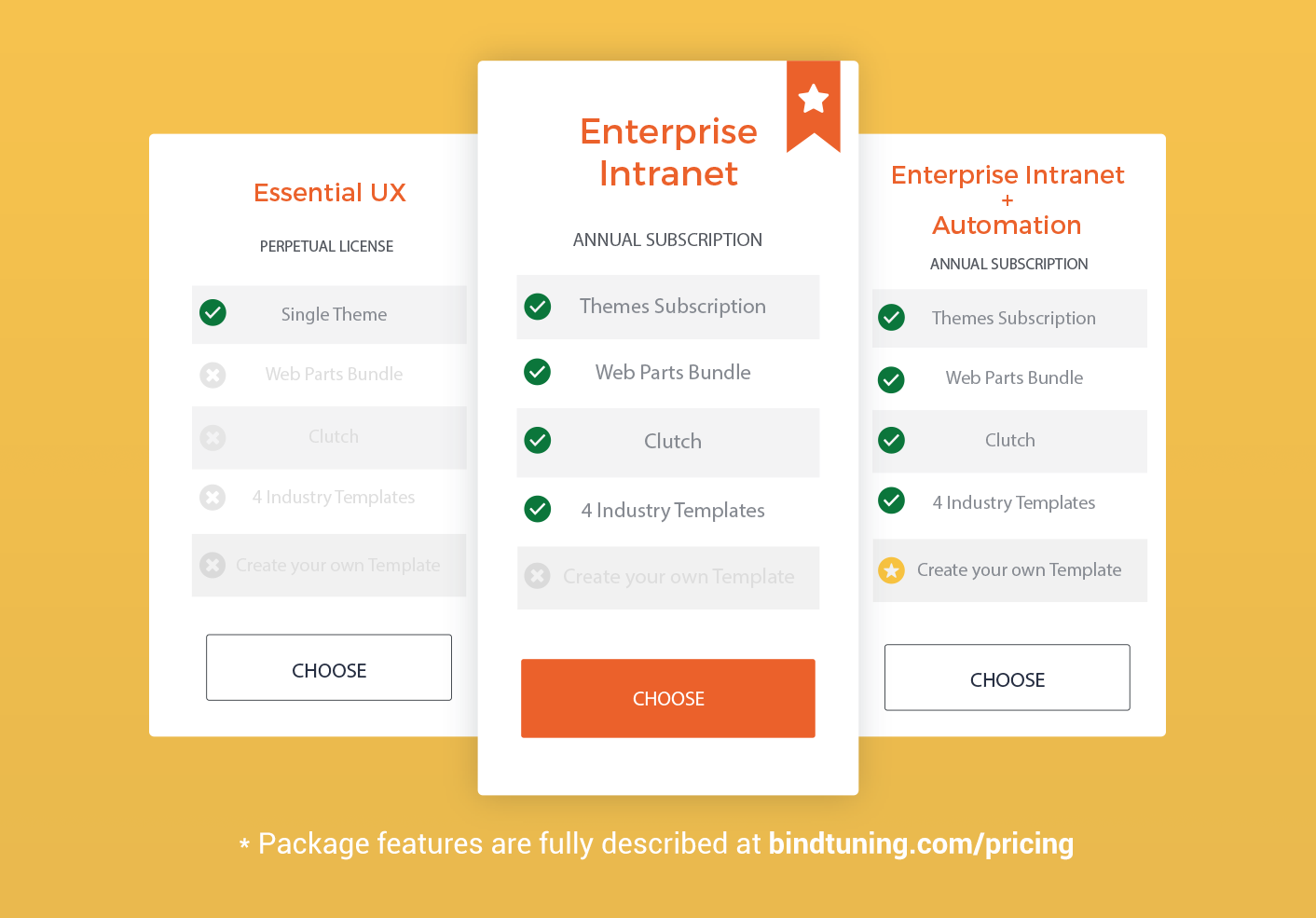 Let me introduce our plans:
Essential UX
An engaging modern workplace starts with a theme. It's where BindTuning got our start – with designs that organizations around the world have relied on to make SharePoint engaging. As they will tell you, one of the very first steps in making SharePoint your own is branding. Adding your corporate identity to what would otherwise be a plain, vanilla site.
The Essential UX is the perfect place to start:
One, customizable theme that can be used across multiple site collections,

Over 25 + responsive and customizable themes from which to choose,

Change every detail and visually customize everything with just a few clicks (no design skills are needed),

Branding consistency throughout your organization.
Enterprise Intranet
Everything you need to engage, empower and connect your employees in a manner that is uniquely yours and unique to your industry.
The Enterprise Intranet Plan includes:
Responsive and customizable themes,

Comprehensive bundle of web part components,

Pre-configured industry templates

The engine driving the deployment of all our products -- Clutch desktop app.
Dynamic, engaging intranet sites featuring your corporate brand and geared to your industry can be deployed in minutes with no coding.
Enterprise Intranet + Automation
Boost development and productivity with the power of intranet automation at scale. Create, deploy and re-use customizable site templates in minutes that dramatically improve customer productivity and employee engagement.
Our most comprehensive plan, the Enterprise Intranet + Automation Plan is built for scale. It includes:
Everything in our Enterprise Intranet plan (see above) PLUS

The ability to create your own site templates and deploy them over and over whenever needed.
Use an existing site or design a new one. Either way, you have a consistent, custom template you can deploy in minutes. The applications for this are endless:
Client Onboarding
Launch a new client portal in minutes using their logo/colors. Team contacts, contract documents, tasks, are in the same location across all your clients, dramatically improving productivity and engagement. Because all client portals use the same template with the same functionality, management can roll up data for reporting and KPI data with ease.
Project Sites
Your organization manages hundreds of projects. Kick off a new project in minutes. Again, each project has its own variations, but the design and functionality across your organization is consistent. Productivity gains are immense not to mention the time you save in configuring each project site. Just ask our client
Nokia Networks
.
Of course the engine driving the deployment of EVERYTHING is Clutch desktop app. This plan really gives you the power to effect radical change and realize a modern workplace.
Learn More
Visit our updated pricing page to get started. If you have any questions, please reach out and we will gladly help you pick the right plan for your organization. We can set up a demo or a call if you wish to start there. It's up to you.
By the way -- If you are a Not For Profit (NFP) please let us know and we will discount our product by 5%, educational (.EDU) institutions qualify for discounts and additional tools in addition to our NFP discounts.
---