If you want to install the latest SharePoint look book templates (for both Office 365 or Microsoft Teams) announced at Microsoft Ignite with zero technical skills, then you've come to the right place. Learn how to install all the free Microsoft templates quickly and easily and get access to many other cool templates, all in one place. Let's get started!
Microsoft look book and Teams templates
Until now, when looking for new templates to install on your Office 365 or Microsoft Teams, you had to visit each and individual template galleries out there to find out the most suitable option for you. However, that task can be not only exhausting but also quite time consuming when following their installation instructions.
One click install
The easiest way to get around this is by using the BindTuning App . This is a multi-platform where ALL Microsoft Teams and Office 365 look book templates are available for free with the advantage that they are all ready to be installed in just one click - no need to follow long technical instructions or be an IT guru. PLUS, if you want to try out different templates without the burden of creating new Site Collections or Subsites on your Office 365 - or even without compromising the content you have already on your site collection - on this App you can directly do it. You feed two birds with one scone ;)
It's a pretty intuitive resource where you can explore galleries with themes, web parts, BindTuning's templates (aka. Starter Kits) and also templates for SharePoint on-prem, Office 365 and Microsoft Teams. There is a wide variety of templates (over 80!) available, offering you great designs with sample content and images. It's all in one place, at your fingertips...
Besides this, unlike the one-page templates provided directly at Microsoft, at the BindTuning App your favorite templates for Office 365 sites will be installed with multiple pages per template. Regarding your favorite templates for SharePoint, they will automatically create every single necessary structure for its full functioning on SharePoint.
Pro tip: These templates can easily be filtered by department, vertical sector, and by platform version. Use the filter on the top right corner of the page to find exactly what you need.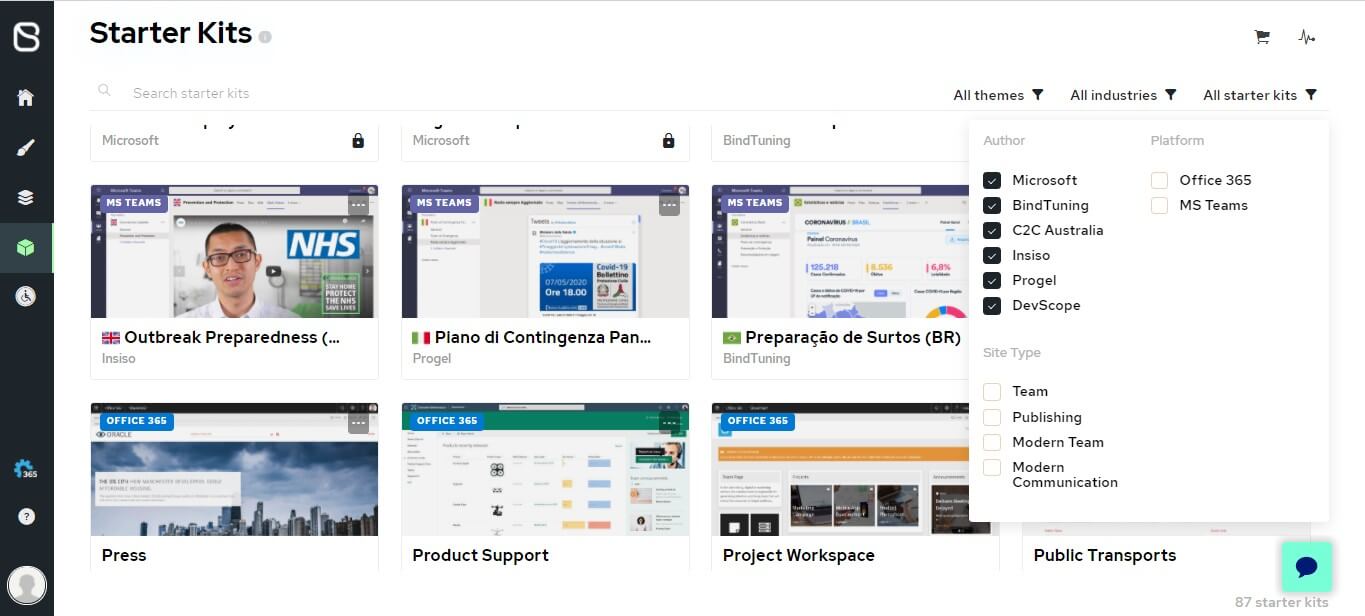 How to download Microsoft Teams and look book templates
A picture is worth a thousand words, right? Learn how to do so in this step-by-step video:
As mentioned earlier, on the BindTuning App there are over 80 templates from which to choose the all-new templates announced at Microsoft Ignite this past fall:
For Office 365 new Page templates:
- School home page (pending Provisioning version)
- Staff home page
- Class home page
For Office 365 Site template
- New Employee Onboarding Hub
For Microsoft Teams templates:
- Adopt Office 365
- Collaborate on a Global Crisis or Event
- Collaborate within a Bank branch
- Coordinate Incident Response
- Manage a Project
- Manage an Event
- Onboard Employees
- Organize Help Desk
- Quality Safety
Your business has more specific needs? We got you!
Meet all your templatization needs and deploy your templates in scale with Automate 365. This tool will help you give a nice personalized branded touch to your public (and private!) channels on Microsoft Teams.
If you have any other questions, please feel free to schedule a call with our experts - let's talk! We will be more than happy to help you succeed.
Schedule a call
---