Today we released another Microsoft Teams starter kit, this one specifically designed for the healthcare industry. The Healthcare at Home template helps improve patient care by providing care coordination and communication between first-line healthcare workers.

Home care is a critical component of our healthcare industry. In light of the current COVID-19 outbreak, technology is critical to fulfill the needs of these mobile teams.
The "Healthcare at Home" starter kit provides home care workers the benefit of information at their fingertips, so they can quickly access schedules, swap shifts or check patient records. For example, these can include medication schedules, medical records or exam results. Deploy it today to create a coordinated home care system, from one centralized hub.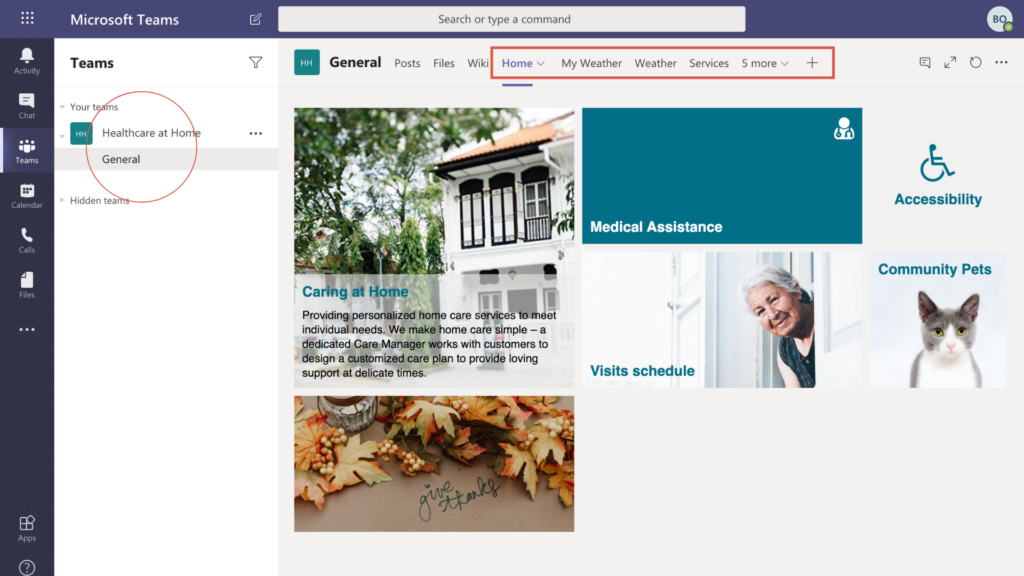 What's included in the "Healthcare at Home" starter kit?
The starter kit includes important features so workers can focus on collaboration and care, rather than technical aspects. Additionally, installation is fully automated and completed in less than 20 minutes. Since deployment starts within the BindTuning App, you must create a BindTuning account before you start.
Easy access to information and applications
This healthcare template for Microsoft Teams includes the following tabs, not available out-of-the-box in Teams:
Home - a rich, visual dashboard that can be customized to provide quick access to dynamic content like schedules, videos, news, timesheets and more.
Best Practices and FAQ - an accordion-style section with answers to common questions to help home care workers.
Medical Apps - an easy and intuitive access to all external apps necessary for their job.
Services - meaningful tiles, providing direct links to critical care services.
Quick Links - a targeted list of links to external resources and websites.
Direct support to teams on the field
Field teams can manage their patients list and work routes for the day, checking the weather in Teams before leaving for work.
Patients - the full list of patients with quick access to important details such as contact information, dietary restrictions, allergies and more. Workers can call or email patients directly from this tab.
Routes - an interactive map showing patients locations, allowing for easy definition of routes.
Weather and My weather - easily customizable to display the weather in the cities where patients are located, to prepare for visits accordingly.
Compliant with healthcare regulations
Microsoft Teams meets all security and compliance requirements for healthcare organizations. Built on the secure and compliant Microsoft 365 cloud, it ensures HIPAA compliance and is compliant with standards such as HITRUST, SOC 1, SOC 2, GDPR, and more.
Start with the healthcare template for Microsoft Teams
You're one-click away from improving your home care team's needs. Get started today.
Need more information? To see a complete presentation of this starter kit watch the home care webcast, hosted by Michael Gannotti, Microsoft Teams Principal Technical Specialist at Microsoft.
---