Five days after Portugal declared a state of emergency, Claranet Portugal went to work approaching customers with the commitment to help them set up their digital workplace - in less than 12 hours. Read on to learn how Claranet Portugal accelerates Microsoft Teams adoption.
With an extraordinary number of companies forced to transition to remote work overnight, the offer of a timely, turnkey solution complemented by long term support of a team of experts, was a sign of trust for customers during a time when it was most needed.
Leveraging the free, 6-month Microsoft Teams subscription offer from Microsoft, during the COVID-19 pandemic, and based on a Prosci certified methodology and change management projects experience, Claranet Portugal wanted to help customers to accelerate Microsoft Teams usage as their main productivity and collaboration hub.
Best Practices, Collaboration Tips
Claranet Portugal's initial idea was to include a set of best practices and collaboration tips to support successful technology adoption through self-learning, manually built, in each customer tenant in Microsoft Teams. Addressing not only Microsoft Teams and OneDrive, but also content on remote work, the team would have several channels and tabs, with documents, video content an Office 365 Virtual Assistant, and a support chatbot that would serve as Claranet Portugal's first-line support team.
The scalability of the solution, however, was a hurdle: building this team manually in all customer tenants would be time-consuming under circumstances where time-to-market was critical. To address this need, Claranet Portugal turned to BindTuning for automated content provisioning to Microsoft Teams.
Automated Provisioning
Using BindTuning's deployment-as-a-service product, Automate 365 , Claranet Portugal was able to save their "ideal team" as a Microsoft Teams template. Featuring 4 channels, several tabs, documents, videos, links to external websites and a chatbot, this template is available to the Claranet Portugal team in their private gallery of starter kits, accessible through their BindTuning account. Installed in one-click, a team can be ready for any client in less than 15 minutes.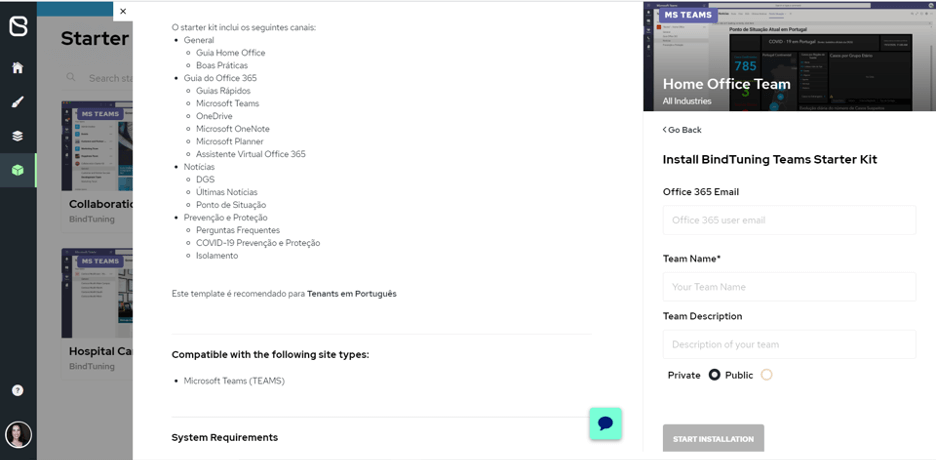 Inspired by BindTuning's Outbreak Preparedness Starter Kit, the Claranet Portugal template also includes two informative channels, with news from Portugal's main national newspaper and the National Health Authority. It also features a prevention & protection channel, with health & safety recommendations for the Portuguese community.
"In this COVID-19, it became highlighted that "the need" is the main driver to adopt this kind of collaborative technology. Technological evolution has brought about some changes, and change is now the new constant in every organization or industry. As Workplace Transformation is our focus, in Claranet we truly believe that is essential to ensure the involvement and comfort of people during technology adoption, so during this period there were three major objectives for us, to guarantee the technological setup, to promote the adoption of technology and to provide continuous support to our customers. Automate 365 from Bindtuning was indeed an accelerator and scalable tool in this process."
While focused on helping their customers meet the short-term consequences of the pandemic and the rapid shift to remote work, Claranet Portugal anticipated the need to future proof their solution.
"Claranet Portugal, through the partnership with BindTuning, can now effortlessly manage future updates to their template, which will be critical as the technology continues to evolve, but also to meet the evolution of best practices for working remote. For any managed service provider, system integrator or ISV, this sets the groundwork for an on-going, long-term relationship with customers, an absolute must-have in the technology industry"
About Claranet

Claranet is Europe's largest independent provider of managed services, delivering integrated IT solutions in hosting, networks, cloud, security and workplace areas.
More than 6.500 corporate customers rely on Claranet to design, implement and operate their critical business applications, data and websites, 24x7.
For more Information go to www.claranet.pt
---