If you are running SharePoint on-premises, then you know the dilemma: you've made the decision to stick with SharePoint Server for business or regulatory reasons, but your users really want the look and ease of use of modern site pages. They want the look of Office 365 sites they see all over the intranet, but how do you do it? Well, the short answer to the question of whether classic and modern pages can co-exist in your on-prem environment is yes!
With an increased demand placed on IT departments to provide remote workers better communication and collaboration tools during the pandemic, your intranet is suddenly getting much more use (and scrutiny). Your biggest concern (until recently) was user adoption - getting users to use your intranet.
Yet, here you are with a rapid onslaught of remote workers demanding an intranet with a "modern" look. For a multitude of reasons - mostly due to heavy integrations or regulatory restrictions, migrating to the cloud isn't an option. Let's be clear: SharePoint on-premises remains dependable and in-use worldwide. While there have been 7 versions of it, SharePoint 2013 (supported until 2023) still maintains quite popular. Well, the good news is just because you choose to remain on-prem, it doesn't mean all your pages need to retain the "old look".
Harmonious co-existence
On-premises, online and even hybrid - you can create a seamless corporate brand with a modern user experience across SharePoint - even classic sites. BindTuning themes give you the ability to BRAND your intranet site to perfectly match to your corporate image. SharePoint "out of the box" does not provide that capability. Furthermore, our themes feature the tools to extend the default layout of SharePoint on-premises and online to create a seamless UI between modern and classic SharePoint - something that SharePoint does not provide by default. Even the look of our web parts are customized to the theme - you can't ask for a more polished user experience.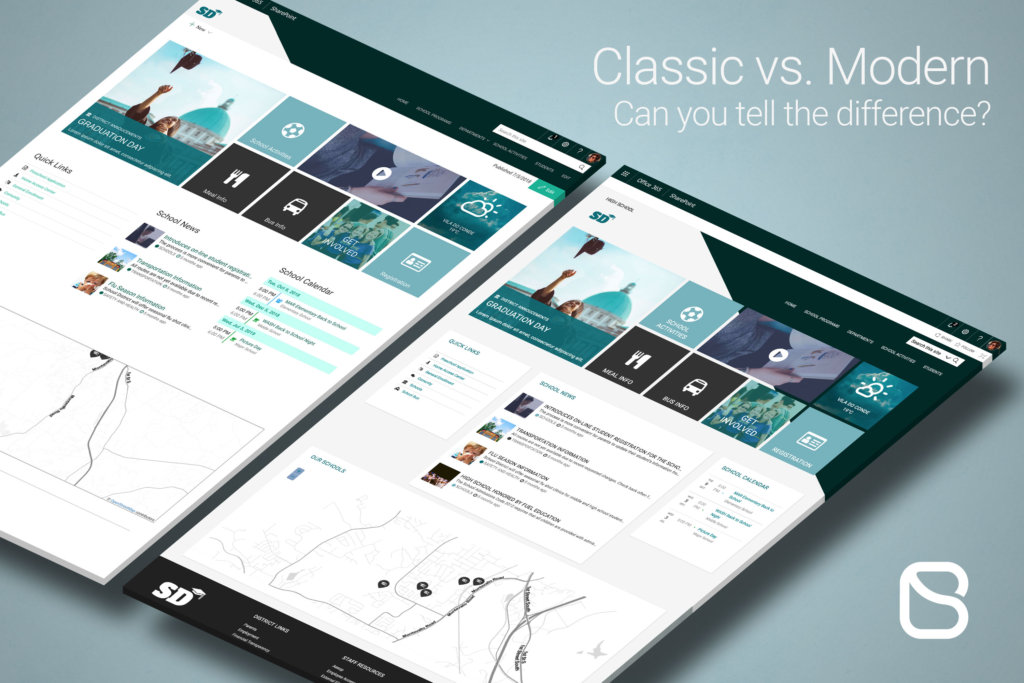 BindTuning Themes offer a seamless, branded and modern look to ALL versions of SharePoint:
SharePoint 2013 and 2016. Classic-only pages get a branded, modern look.
SharePoint 2019. Create a seamless, fully-branded look across classic and modern pages
Office365. Fully-branded modern pages
And if you are running a hybrid (SharePoint on-prem AND Office 365) environment, you get that same consistent, fully branded look, too.
Get started customizing classic or modern SharePoint
Simply pick a base design from our themes gallery. Because all of our themes are completely customizable, find a look that mirrors the structure most closely aligned to your needs. Don't worry about colors, fonts or navigation just yet. Once you have a theme selected, go ahead and select "Brand this Theme". Now the fun begins...
Before you download the theme, you have the option to apply design customizations to it. This is incredibly helpful if you aren't exactly certain if a particular theme is right for you. The design panel is intuitive, allowing anyone to customize a theme design in minutes that looks professional and matches your brand colors exactly - with no coding. But if you want to apply custom CSS, you have that option, too. Change every detail to reflect your brand's identity and navigation needs.
Once your design is finished, apply this new design to your classic as well as modern pages with a one-click install. One integrated design across all of your sites. Because our theme subscriptions offer you unlimited use and unlimited edits, you can re-use the same theme across any of your sites - classic or modern. Or pick another theme, customize it, and start all over again. We give you the flexibility to design what you need.
Free 30-day trial
One, unified experience that accurately reflects your brand across every version of SharePoint and Office 365. Both classic and modern. Simply create a BindTuning account and pick any theme, apply any customization during the trial period. Want to take it up a notch? Try our web parts for free, too.
Start your Design trial
---