Take the tour →
The all-new Theme Settings Panel
It's a beautiful day for BindTuning themes! We've overhauled the themes settings panel, creating intuitive controls designed to align to the conventional look of Modern SharePoint. Let's take a closer look at the new features and see how it will benefit you.
UX tool gets a new UX
Our top selling UX tool gets a new UX! Open up the settings panel and you'll immediately notice the panel is now on the right side of the page, following the Modern SharePoint convention. While you are working on the theme design, you can detach the panel and move it around, like a window on your OS. You can also dock it, similar to what the customizer does, to reveal the whole page. Oh, and did we mention there's a dark mode?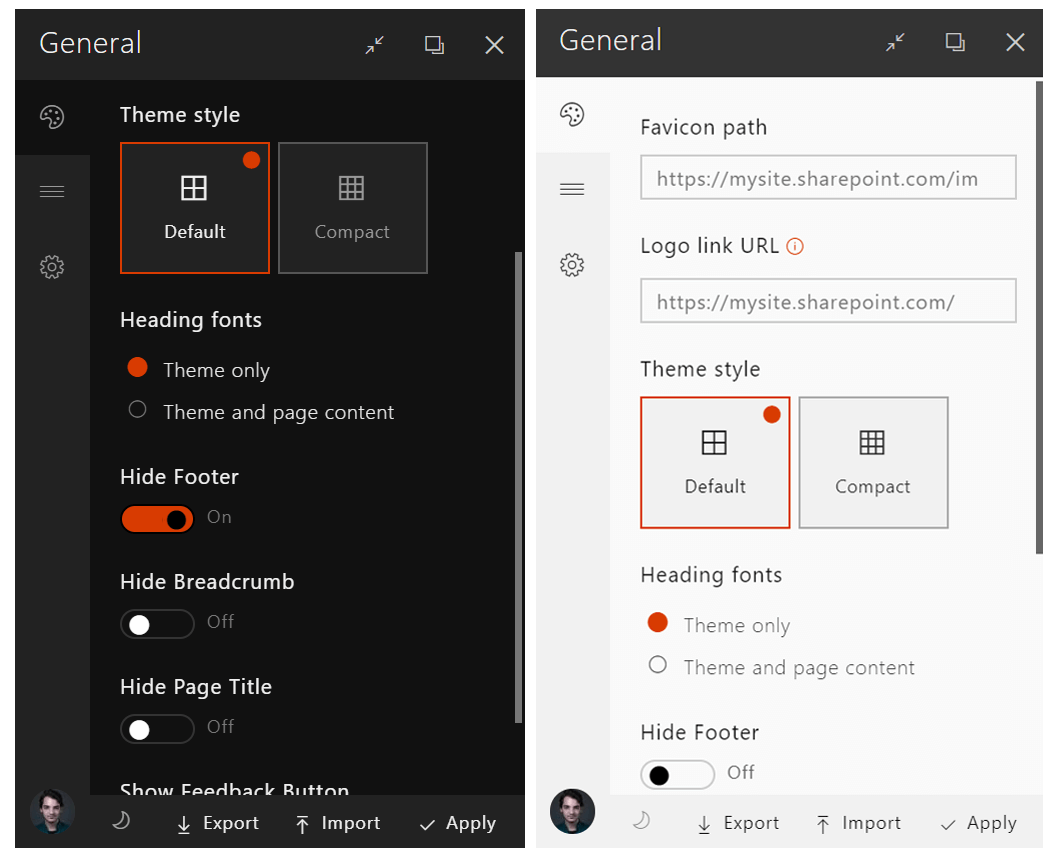 Real-Time Troubleshooting
BindTuning has taken a leap forward not only in the look but also in the validation process. Users can analyze, validate and troubleshoot potential set-up problems in real-time. A new 'Additional Files' section checks the kind of file you are adding and attempts to fetch it, ensuring the file actually exists. How's that for a heads up?
New Navigation Provider
To make the navigation more flexible and feature-rich we've created our own navigation provider. This allows us to bring the tried and true robustness of our BindMENU 2.0 (in full production for Classic themes for the last 2 years) to the Modern environment.
Why did we do this? We noticed that when using term set navigation in Modern pages (inherited from a parent site) there could be some strange results. To get around this problem you can now define the term set you want to use directly into the new settings panel. Completely bypassing SharePoint's navigation provider gives you an additional layer of flexibility. Of course, you can always revert to the old "legacy" provider, but you won't be able to access all the navigation features provided by BindMENU 2.0 when using it.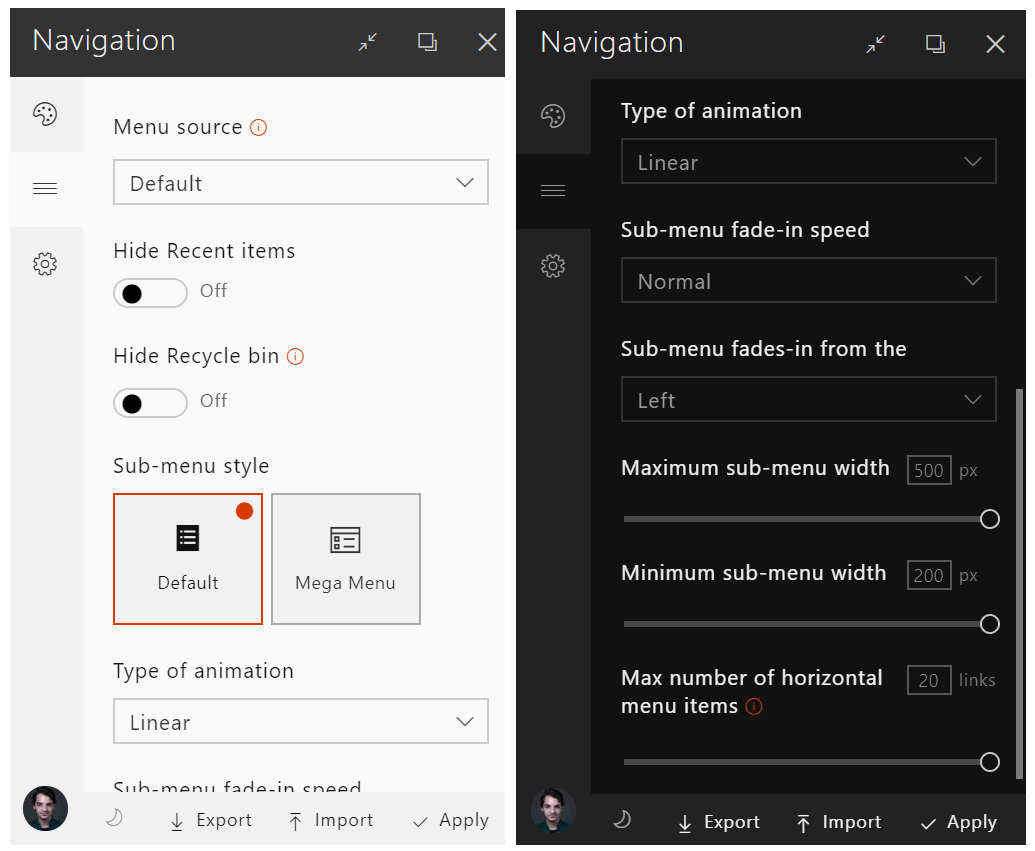 User-friendly Shortcuts
To give the user easy access to all information, we've added shortcuts to the panel where you can quickly click thru to your theme documentation, changelog, product licensing and to your BindTuning account (My Account). You'll also get a visual notification when your theme has an update, along with a direct link where you can regenerate and download it. We plan to extend this area in the future, further bridging the gap between our site and the products, creating a unified experience where we can use the power of our platform to feed relevant information right to you.

Advanced Coding (for developers)
As a fellow developer, it would be fair to say that I feel we've made the greatest strides with our advanced section. The Modern experience has opened the window of possibilities but closed the door of flexibility to developers. Unless you're willing to use the SPFx framework to create a custom web part or extension, you really have no way of changing the environment.
With this release, we give you back some of the Classic SharePoint functionality. What we have provided with our custom CSS field, we've now extended to custom scripts and the ability to add entire JS and CSS files. The input fields for custom JS and CSS scripts can be maximized, giving you the entire real estate of your screen while coding.
Load an entire framework if you wish to do so. The scripts will load synchronously, one after the other. Custom scripts (code added to the text area) load after the individual javascript files are added in the Additional Resources section. You'll be able to use resources from "file X" inside "file Y" as well as within the custom scripts field itself. You should be cautious, however, in your adventures with these features, since Microsoft frowns upon directly affecting the page structure, which is why we kept our hands out of it ourselves.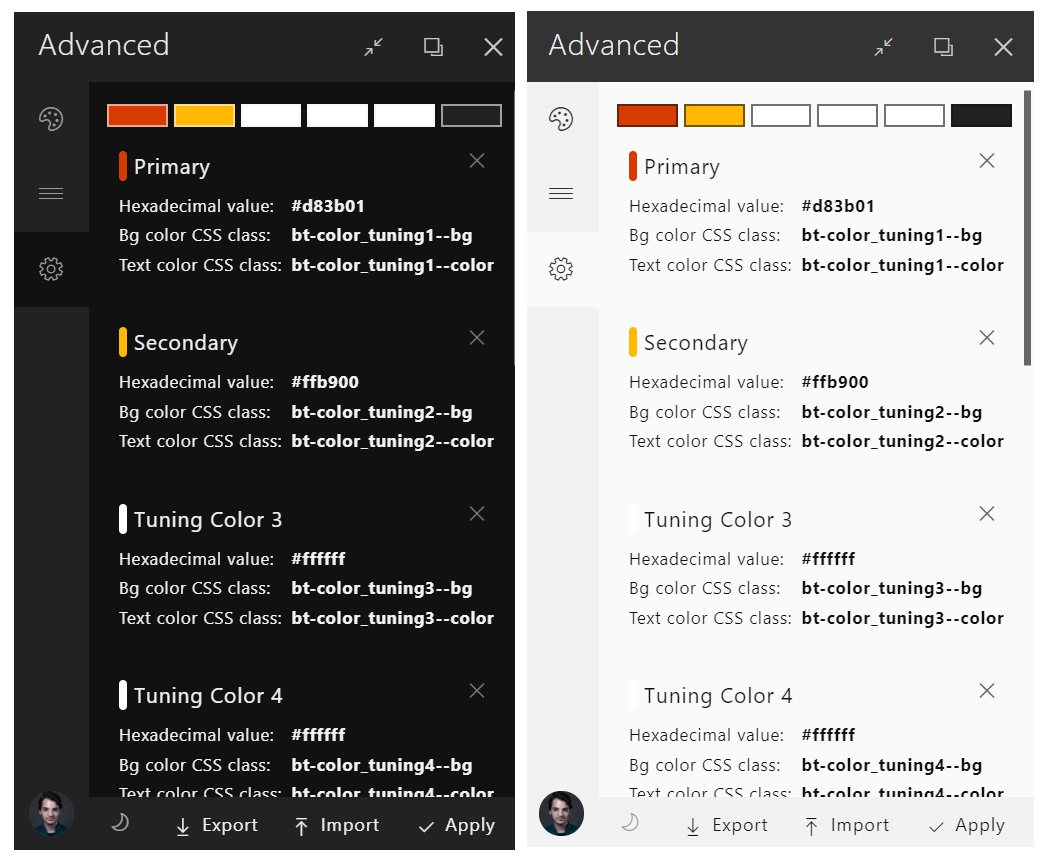 To further assist you, we've exposed the main colors coming from your customization, giving you easy access to the hexadecimal values and class names allowing you to set text and background colors directly from the panel. Beyond this, we're releasing an article to expose to you the "guts" of your theme, with CSS classes as well as JavaScript objects to help you build the perfect solution.
Get the New Themes Panel NOW
The new settings panel is available now for all BindTuning themes in the Modern SharePoint experience at no added cost. You can start expanding your branding options by selecting our Essential UX plan for Office 365, that includes a theme of your choice.
If you already have a subscription, you only need to update your theme, following the detailed instructions in the BindTuning Help Center.
---