You are about to start your Expo Hall adventure at Microsoft Ignite 2016. You are excited to check out all the new stuff, bring home a few cool freebies and grab a few t-shirts along the way. But with 1000 plus booths, how should you know where to start or what to visit? Here are 5 reasons why you should start with booth #2270.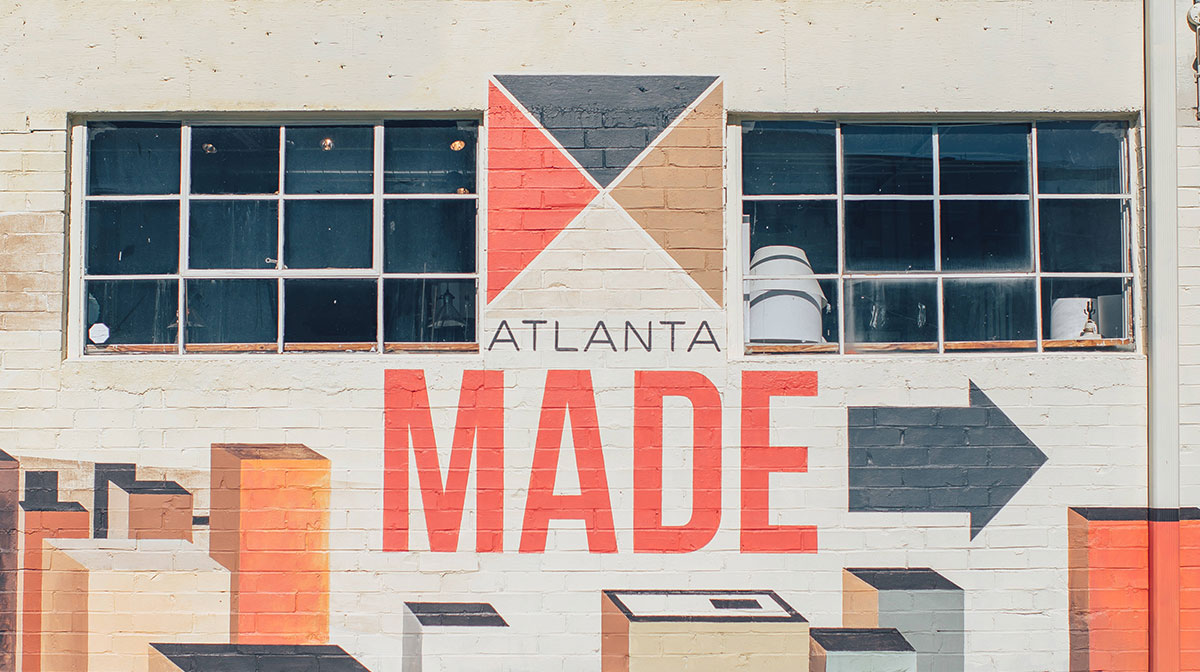 Important notes:
Make sure to pass through check in first. And have breakfast.

Bring supplies and a map. The Expo Hall at Microsoft Ignite is quite big. You can get lost in the mix of all the shortcuts and corners.

These reasons are not by order of importance so feel free to cruise around as you want.
Reason #1 - Meet the new News Web Part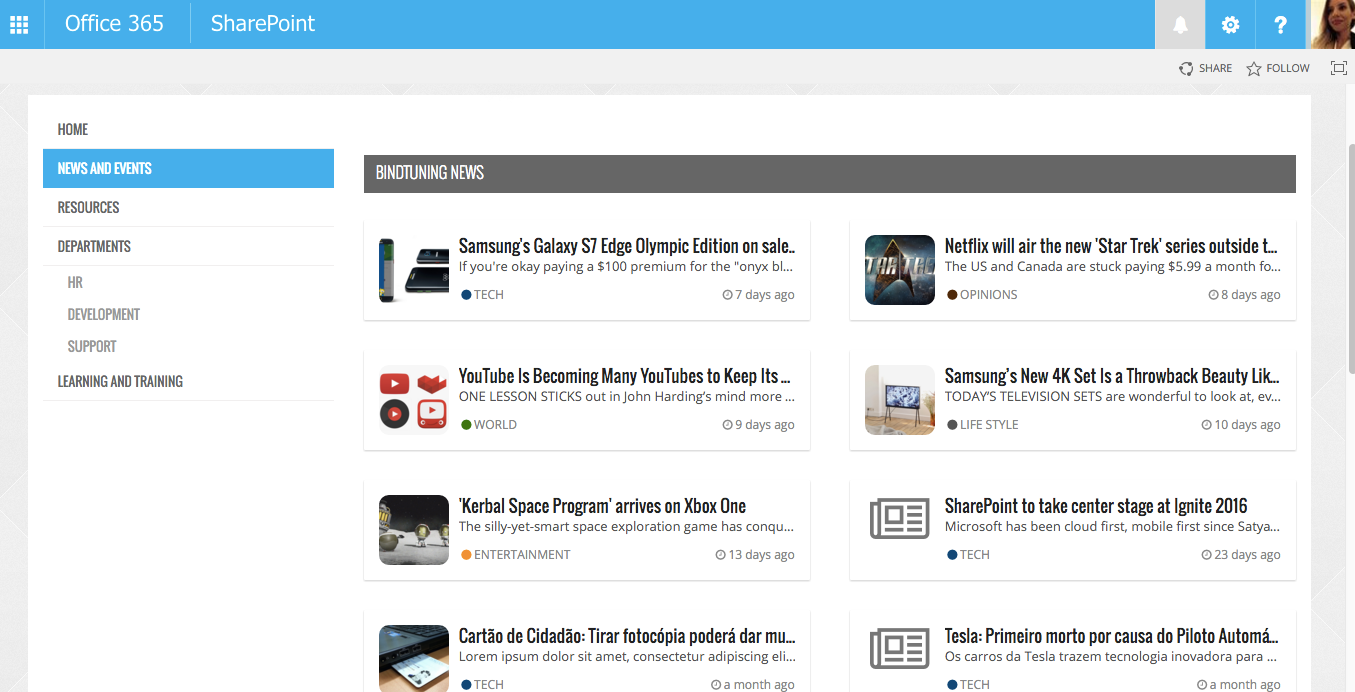 The News Web Part has been under development for the last few months, and we're really excited to share it with you at Microsoft Ignite!
With the News Web Part is all about making the process of customizing a news section much more flexible. Along with other cool features, we have put out 5 different templates and 2 different layouts that you will get to try out live during Ignite. 🎉🎉
Reason #2 - Grab one of our cool freebies
Microsoft Ignite 2015: Power Banks

Microsoft Ignite 2016: ?
Last Microsoft Ignite the BindTuning power banks were a massive success, so this year you better keep an eye on your BindTuning freebie. They fly out fast.
You can find them at #2270!
Spotted one of our power banks at #MSIgnite afterparty! :) #SharePointBrandingExperts #MSIgnite pic.twitter.com/b1Fw2gLAdr

— BindTuning (@bindskins) May 8, 2015
Reason #3 - Be on top of the latest updates since Microsoft Ignite 2015
We've given the BindTuning Web Parts a major overhaul! Since presenting the first BindTuning web parts during Microsoft Ignite 2015, we've release fixes, improvements, new features and we can't wait for you to check them out...
We've also launched 7 new web parts, including Maps, Filters, Quick Links, Responsive Video, Calendar and Documents!
Reason #4 - Try out the new "Ribbon Hide" add-on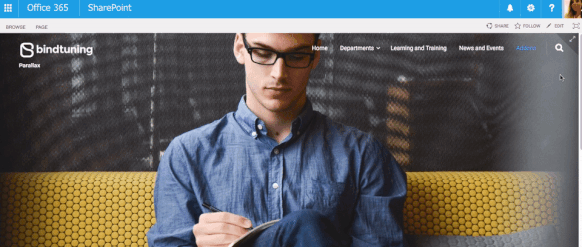 The Ribbon Hide is part of our new collection of Add-ons for SharePoint, a group of small extras with extra functionality for your website.
With Ribbon Hide, you can hide any Ribbon with a single click. And every time you need the Ribbon you can click again to make it appear.
But wait, there is more...
Reason #5 Try out two more add-ons: Parallax and Blur
We will be launching two additional add-ons, Parallax and Blur. These two are the perfect finishing touch for any website design and we made them available for SharePoint.
Parallax is the perfect finishing touch. It blends with your website design, creating an engaging user experience.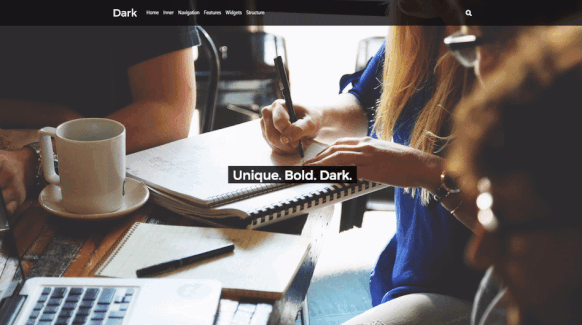 And with Blur you can add readability to your titles and taglines, easily make foreground elements stand out – a thoughtful design that leads to a better and exciting UI experience.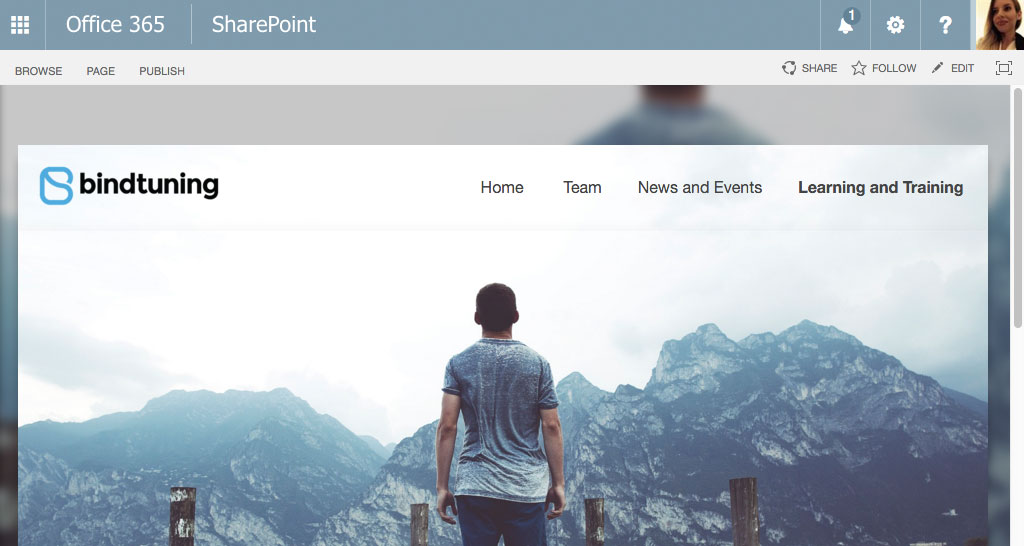 As for the other amazing stuff we have planned out to show, you will have to swing by our booth #2270 to find out.
In case you're not sure where to find us, we will be at B1 Hall.
See you all in Atlanta at #2270. ✈️
---
Let's meet up at Microsoft Ignite?
If you want to know more about BindTuning or find out everything about the branding solutions we have available, let's schedule a time to meet up.
Yes, let's meet!
---