Enabling your Teams to respond to Covid-19.
At BindTuning we're doing our part, delivering resources to get your teams up-to-speed in no time, when working remotely in Microsoft Teams.
Templates for Microsoft Teams
Ready-to-go templates, automatically deployed in minutes, to get your teams working and collaborating remotely. Carefully crafted by scenario and industry, so you can focus on people, not processes, in these challenging times.
Outbreak Preparedness
A template for Microsoft Teams to help enterprises share information, best practices and company-specific information in addressing the coronavirus outbreak.
Read more
Remote Employee Wellness
An extensive set of resources for companies to promote remote employee wellbeing, facing the covid-19 pandemic. Covers fitness, nutrition, mindfulness and ergonomics.
Read more
Hospital Campus
Collaborate and communicate with staff across your hospital. From the main campus, to wards and offices dispersed across various geographical locations, your entire team remains connected.
Read more
Healthcare at Home
Provides coordination and communication between first-line healthcare workers, fulfilling the needs of mobile care teams during Covid-19 pandemic.
Read more
K-12 Education
A set of templates designed to speed-up the adoption of Microsoft Teams in K-12 schools in remote learning, supporting students, teachers and parents.
Available soon.
Outbreak Preparedness
Starter Kit
A template to distribute company-wide information on preparing the workplace for the novel coronavirus pandemic. As the situation varies greatly from country to country, and from one industry to another, you can easily adjust it to your specific guidelines and response plans.
* Create a BindTuning account to start a 3-month free subscription
Information & training
Share up-to-date Power BI statistics, news feeds, curated social media feeds, training videos and other informational content.
Company guidelines
Areas to share policies documents, meeting/training calendars, control team members, as well as links and travel advice.
Localized versions
Some BindTuning partners created localized versions of this template, so you can imediately deploy country-specific data.
Remote Employee Wellness
Starter Kit
Drive a culture of wellbeing throughout your newly-remote workforce, during the pandemic. This template includes tips, checklists, videos, guidance, calendars, and more, to help your employees cope with the challenges of working remotely.
* Create a BindTuning account to start a 3-month free subscription
Your remote wellness plan
Support your remote workforce to stay healthy and more productive, by addressing fitness, nutrition, mindfulness and ergonomics.
A global sense of belonging
Promote company values and reinforce a sense of belonging even working remotely, with group workout sessions and meditations.
The company at home
Provide a place for employees to share a little bit of their homes with teammates, by creating shared photo galleries in Teams.
Hospital Campus
Starter Kit
This template facilitates accessible, hospital-wide information across campus and remote locations. Share messages from the board, alerts, industry news, a staff directory, training videos and campus maps. Each satellite location has its own channel for collaboration at the local level. Not just for hospitals, this starter kit is suitable for use by large, multi-location medical practices and physician groups.
* Create a BindTuning account to start a 3-month free subscription
Multi-use apps
Give your multi-disciplinary teams a rich experience, unique to their needs. Staff directories, video libraries, tiled home pages are easy to configure.
Support various locations
Create a hospital-wide comms hub, while also providing collaboration and communication at each remote location.
Regulations compliant
Built on the secure M365 cloud, it ensures HIPAA compliance and is compliant with standards (HITRUST, SOC 1, SOC 2, GDPR, and more).
Healthcare at Home
Starter Kit
This template provides home care workers the benefit of information at their fingertips, so they can quickly access schedules, swap shifts or check patient records. These can include medication schedules, medical records or exam results. Deploy it today to create a coordinated home care system, from one centralized hub.
* Create a BindTuning account to start a 3-month free subscription
Access info & applications
Give workers access to best practices, FAQs, quick links, as well as easy access to medical applications and internal services.
Support teams on the field
Field teams can manage their patient lists and work routes for the day, checking the weather in Teams before leaving for work.
Regulations compliant
Built on the secure M365 cloud, it ensures HIPAA compliance and is compliant with standards (HITRUST, SOC 1, SOC 2, GDPR, and more).
K-12 Education
Starter Kits
Schools worldwide are being faced with the urgent need to transition to remote learning. Out-of-the-box, Microsoft Teams for Education is an amazing tool to schedule online classes, share resources and set assignments. But there's more to a school than classes.
BindTuning is preparing a set of 4 Teams templates, to promote remote engagement with students, parents and between teachers.
To be available soon.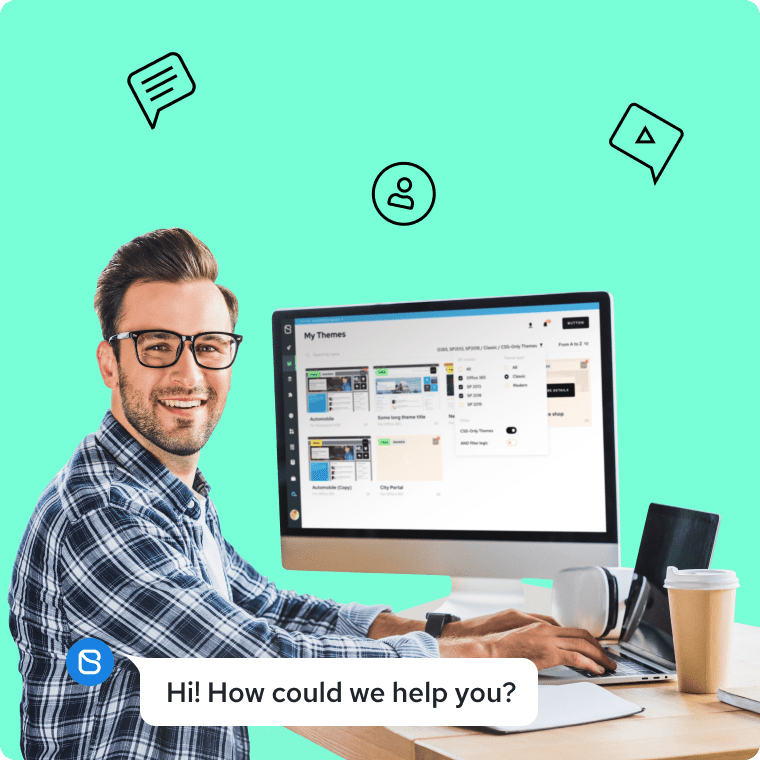 Teams Assessment Consultation
A team of BindTuning experts is ready to assist you in this transformation journey. To help your organization speed up the transition to remote work/learning, we are offering a free Teams assessment session.
Our team will learn more about your current collaboration processes and understand your challenges and requirements. We will outline possible scenarios so you can make the most out of Microsoft Teams and Office 365 in these demanding times.
Redefine your digital workplace experience
Join the growing list of brands that are successfully using BindTuning to transform their digital journey.