November 1 - 3, 2023. BindTuning will be a speaker and silver sponsor at the Operational Excellence & Business Transformation World Summit 2023 in Miami, Florida.
In the dynamic world of modern business, Microsoft 365 has become the cornerstone for organizations, empowering their teams and enhancing productivity. Yet, many find that Microsoft's default provisioning tools struggle to meet the intricate demands of large enterprises. Enter Automate365, the ultimate solution for delivering secure, compliant, and efficient enterprise-level provisioning, governance, and lifecycle management. Join us at the Operational Excellence Conference to explore how Automate365 is shaping the future of enterprise productivity and operational excellence.
Don't miss our speaking session | November 2, 2023 at 11:30 am:
Unlock the Full Potential of Microsoft 365 in Healthcare with Automated Governance and Provisioning
Join us for an insightful discussion on how automated governance and provisioning can revolutionize how the Healthcare industry manages Microsoft 365 processes. Discover: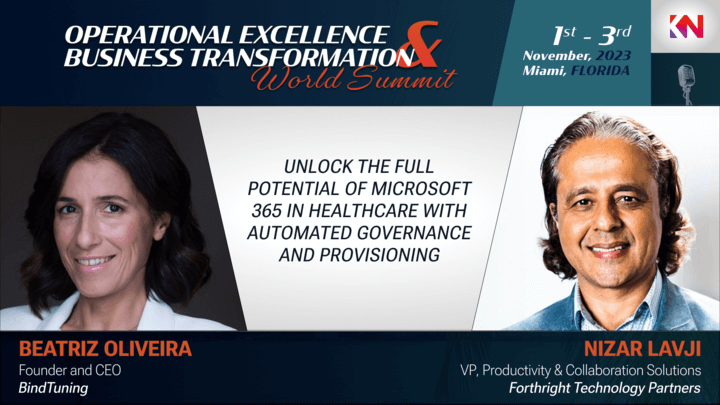 The vital role of automated governance in the healthcare sector.
Real-world case study: Insights from a national healthcare network.
Benefits: Cost and time reduction, efficiency, security, and user experience.
Don't miss this opportunity to uncover the transformative power of automated governance and provisioning in healthcare. Join us and unlock the full value of Microsoft 365.
Speakers:
Nizar Lavji, Forthright, VP, Productivity & Collaboration Solutions,
Beatriz Oliveira, BindTuning, CEO & Founder, Microsoft Regional Director, Former President IAMCP Portugal and Diversity and Inclusion Advocate
Talk to Us!
Why attend Operational Excellence & Business Transformation?
Learn from global companies at the forefront of operational excellence;
Effectively align people, process, and technology to drive continuous improvement;
Increase employee engagement to increase agility and operational resistance;
Capitalize on emerging technologies to achieve flexibility and productivity.
---