Over the course of the last few years, our World has witnessed the evolution of the traditional workplace model to a distributed workforce. Suddenly faced with the COVID-19 pandemic and the need to ensure business continuity, this evolution turned into a massive migration to remote work. Among other issues, business leaders are now faced with the urgent need to ensure the physical and mental wellbeing of this newly remote workforce.
Today, more employees than ever before are working remotely. According to a survey recently published by Gallup, employee wellbeing is a key factor in a company's success. Low wellbeing levels are reported to affect not only job performance but also their health status and even an employee's intention to search for a different job.
Overall wellbeing – physical, mental, emotional and spiritual – is influenced by several different interconnected factors, many of which are challenged when working remotely.
The fact that employees don't have to commute, or even move around the office, takes away a significant part of their active "exercise" time. With the onset of the pandemic, this is even more exacerbated. Working from home reduces the opportunity of social interactions with colleagues and friends, increasing the probability of depression or anxiety. These and other factors end up contributing to sleep disturbances, or sleep deprivation. Not to mention stress. The cycle is endless.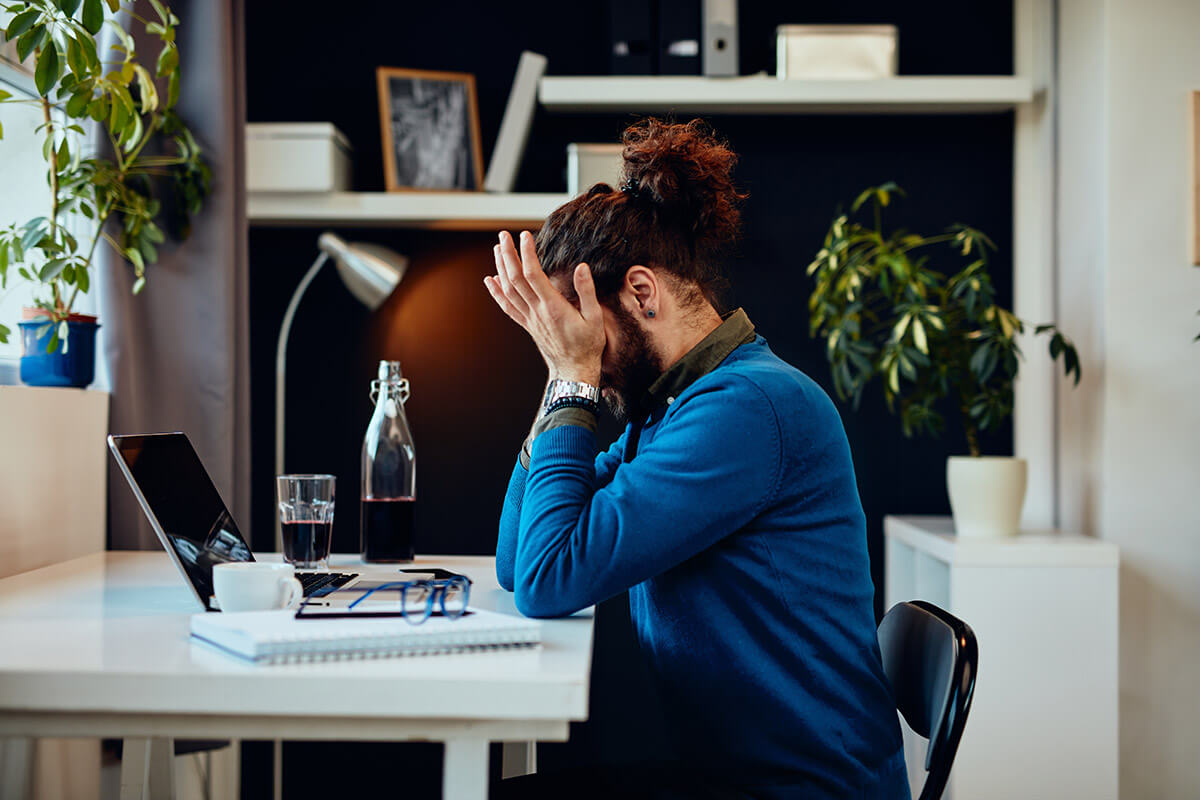 Adding up to this, working remotely causes an additional issue. It is harder to ensure workers feel connected to their company and their colleagues. Consequently, organizations have the challenge of communicating company values and ensuring a global sense of belonging.
So, how can you drive a culture of wellbeing throughout your remote workforce?
In a time when most of the connections are made during remote meetings, Microsoft Teams may be the answer.
Promoting remote employee wellness through Teams
As mentioned, different aspects affect our overall wellness, amongst which:
Fitness
Nutrition
Mindfulness
Ergonomics
As a business leader or team manager, you can start promoting improvements in all these areas today. Creating a dedicated Microsoft Teams team, with specific channels and curated content, can bring your people the support they need.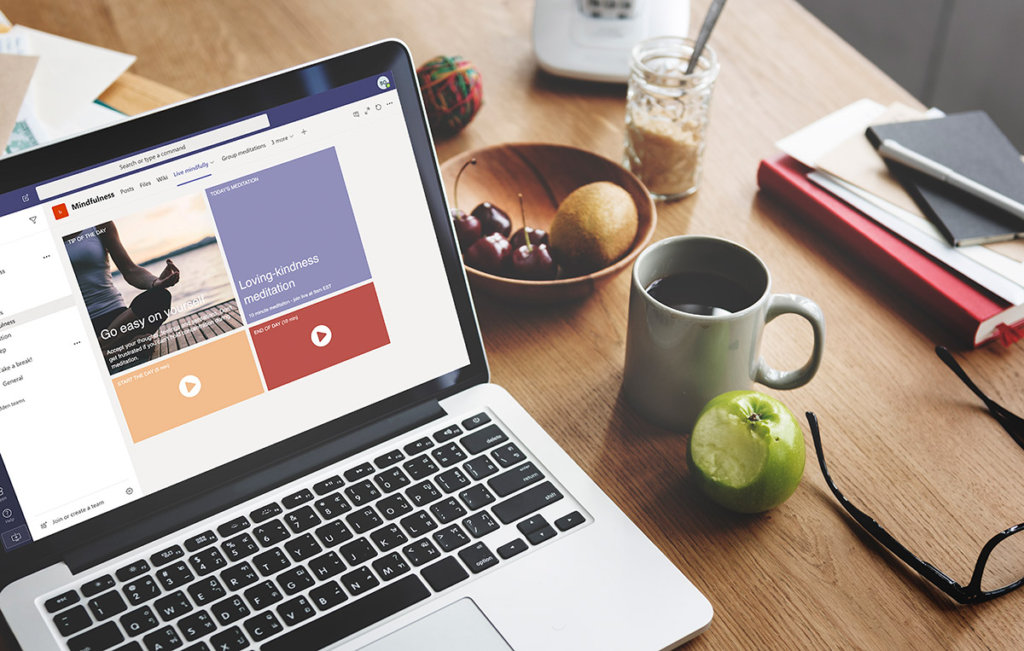 Read along to learn our tips for each area. Alternatively, you can start right away, by deploying our free Employee Wellness Starter Kit for Microsoft Teams.
Fitness channel
Hours and hours of sitting at a desk or looking at a computer take a toll on employee's physical health. It's no secret that regular exercise boosts energy levels, but it can be hard to find the right motivation while at home. Promote a fitness channel to involve and encourage employees. It will pay off.
The fitness channel can include:
What's up dashboard - Keep everyone up to date on the company's fitness initiatives. Share tips and info on upcoming workouts.
Live workouts calendar - Organize online sessions, so the team can work out together. Hire professional trainers or count on some of your colleagues. There is always someone who is great at Zumba, dance, yoga…
Video recordings - Record all sessions, so others can workout at different times. Keep a curated list, with sessions for different levels and workout types.
Photo gallery - Promote belonging and group spirit with an area for sharing home workout photos.
Recommended apps - Curate a list of training apps. Some apps have group features, which can be used to create weekly or monthly challenges.
Nutrition channel
It is easy to fall into bad eating habits when working from home. Too often, people will turn on their computer and grab a coke and donuts for breakfast or jump to the kitchen every 15 mins for a snack. Being productive and focused greatly depends on the quality of the food we eat. Creating a nutrition channel can help promote not only better nutrition habits, but also provide a place to share healthy, productivity-friendly recipes and tips with your team.
Include in the nutrition channel:
Eat strategically – this dashboard can include daily recipes and tips.
Productivity recipes – share a curated list of recipes, for different meals, all targeted at improving brain activity, stamina and productivity.
Shopping list – many people have a hard time figuring out how to buy healthy when shopping for groceries. Share a suggested shopping list, with ingredients to cook healthy "work from home" meals.
Inspiration – share additional inspiration from popular nutrition social media feeds.
Mindfulness channel
In times of stress, when everything is expected to be ready yesterday, few realize the importance of living the present. That is the wisdom behind mindfulness. One of the pioneers in globalizing this practice stated:
"I define mindfulness as the practice of being fully present and alive, body and mind united"
Mindfulness practices have been widely promoted in recent years at the corporate level, to improve performance and productivity. The benefits of mindfulness and meditation for remote workers are equally impactful, if not more.
Use Teams to promote mindful and meditation practices:
Live mindfully – Add a tab to share short, easy meditations to start and end each day.
Group meditations – Promote live group meditation sessions in Teams; share a calendar so everyone knows when to join.
Guided meditations – keep a gallery of guided meditations, filtered by goal (reduce anxiety, relief stress, …) so employees can meditate at their own pace.
Photo gallery – Create a space where team members can share photos of their meditation home settings. That will surely inspire others to join the movement!
Beginners FAQ – Help beginners getting started faster, by answering common questions, providing a useful FAQ section.
Ergonomics channel
Working from home presents another challenge – where employees do their work. Improper lighting, seating, desk heights, and noise levels all contribute greatly to employee health, safety, and sanity. Employees with disabilities are especially vulnerable without a proper environment for work. Helping employees set up proper home office ergonomics not only dramatically improve wellness but also have a direct impact on employee health and productivity.
Help your employees identify the proper setup of a safe workspace at home in a Teams channel:
Ergonomics at home - Useful, up-to-date assets, like checklists, ergonomic video guides, and more.
Stretching routine - Give employees a daily stretching routine to offset fatigue and stress, multiple times a day.
Workspace guidance - Provide several tips and advice on what to take in consideration when preparing a home workstation.
Start now with the Employee Wellness template for Teams
At BindTuning we did all the heavy-lifting for you. Based on our BindTuning apps for Teams, all the above team, channels, tabs, and demo content are available for you to deploy today, in minutes, to your Microsoft Teams tenant. Once deployed, all content can be adjusted to your specific corporate and team needs.
---