We don't build functionality that is already available in SharePoint OOTB but we ADD to it. Based on knowledge accrued over 10 years of working with customers worldwide, we know that people simply need a better way to reuse content and collaborate with their teammates. Let me introduce to you a better document library, with BindTuning.
One particular source of frustration can be the management of content, specifically documents. Documents can be a real pain point for many organizations, for several reasons:
The sheer volume of documents being created, edited and stored,
Finding the right document can be difficult and cumbersome,
Unable to access documents that are stored in other sites.
For these reasons, we create solutions that bring you much more control, customization, organization and independence for users than what's available from SharePoint document library OOTB.
The OOTB Document Library web part
The OOTB Document Library web part configuration panel is limited in scope to the documents in that one site. In addition, the OOTB document library web part offers few options for display. You get the whole library, or by adding the Recent Documents or File Viewer web parts, you get a few more. The Recent Documents is an intelligent web part that displays the most recent documents specifically for each user, independent of the current site collection. The File Viewer shows a preview of one previously selected document. Overall, the user experience can be fairly limited and flat.
A better document library
Now, let's compare it to the BindTuning Documents web part, included in the Build subscription. It conveniently includes 19+ other web parts as well.
With the BindTuning Documents web part, you can source documents from across all of SharePoint instead of just one site collection. Imagine being able to access the right document (not a copy of a document). Stored (and maintained current) in their respective site collection, but accessible in a unified manner for users where they need it.
Beyond that, the BindTuning Documents web part offers you 3 visually appealing layouts – tile view and 2 list views, for which you can also define the number of rows and columns. And with the built-in CAML query editor available on all BindTuning web parts, the admin can quickly filter content for display.
Documents are enhanced even further with colorful icons, based on file types. This kind of customization gives your library a more polished look and easier identification of documents.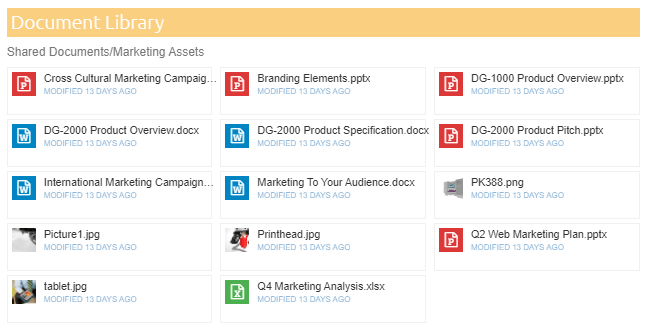 What's also different from the OOTB and extremely helpful is the ability to find any document you need using a very helpful search bar. Search is not available in OOTB, but is available in the BindTuning Documents web part. The Documents web part features an integrated filtering tool, defined by the admin based on criteria predefined as columns in the original document library. Filtering allows a user to narrow documents based on a specific property such as "author", "type", etc. resulting in greater efficiency at work.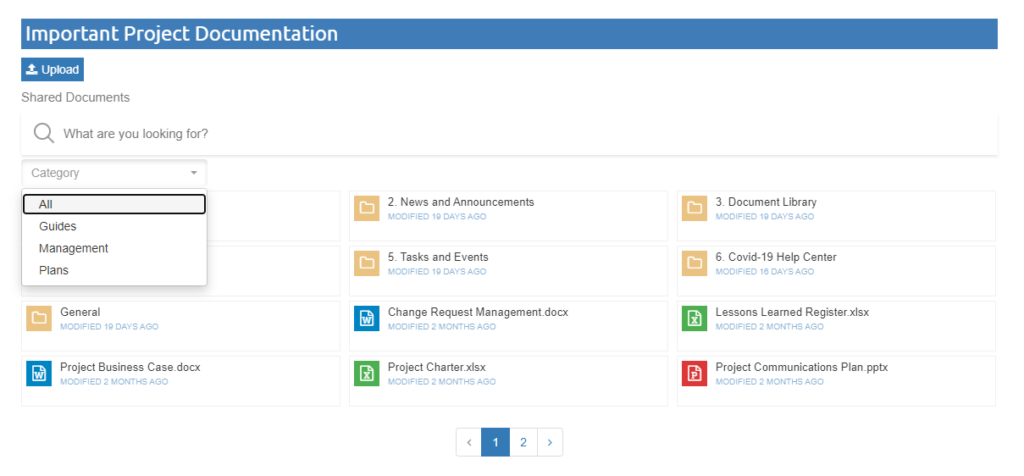 And if uploads and downloads are a problem, you'll be happy to know that this web part makes it so easy to do so. Users can upload/download using a simple button, drag the file to download or download from the preview pane.
We understand that optimization is the key, and this web part gives you the ability to preview and edit any document without having to leave context, in a modal. How efficient is that?
Any site, any version
As with all BindTuning web parts in the Build subscription, the Documents web part works across all site types with the flexibility to support classic, modern and on-prem SharePoint.
Imagine the possibilities for document libraries:
A parent portal for your school, where parents can search and filter documents. Content is aggregated across departments, admissions, academic and athletic sites into one document library.
A Human Resource document library, color-coded by division or region and filtered based on employee location or division,
A corporate marketing assets library with logos and other corporate documents, but also division marketing campaigns,
A procurement library with purchasing AND legal documents all in one place.
Let us get you started
BindTuning won't leave you struggling with incomplete solutions for your documents. Schedule a meeting with our team and we'll show you even more reasons to choose BindTuning. We'll give you a quick demo and help you understand how you can do more than what OOTB has to offer.
---