#WorldCupSharePointChallenge #WorldCupRussia2018 #Office 365
Build a World Cup Team SharePoint Site in less than 24 hours? With one of our SharePoint Templates it is absolutely possible!
The World Cup officially begins TODAY, June 14 and runs through July 15. Inspired by our partner Happy Wired's Facebook post yesterday, we have challenged ourselves to create an Office365 SharePoint Sports Team template, that we are customizing for our own team - the Portuguese soccer team.
But get this - we are making this template available for FREE for other sports FANATICS to create their own team sites! Simply apply the free template with a trial version of our new provisioning engine, Clutch and then you can customize it to represent your team in the World Cup, or Stanley Cup or World Series!
Brainstorming started today at 2:00pm and we'll have it completed before the first match, tomorrow! Follow along today and when the template is ready, we will provide you with a link so you can download the sports team template for FREE!
Jun 14 / 2:00 PM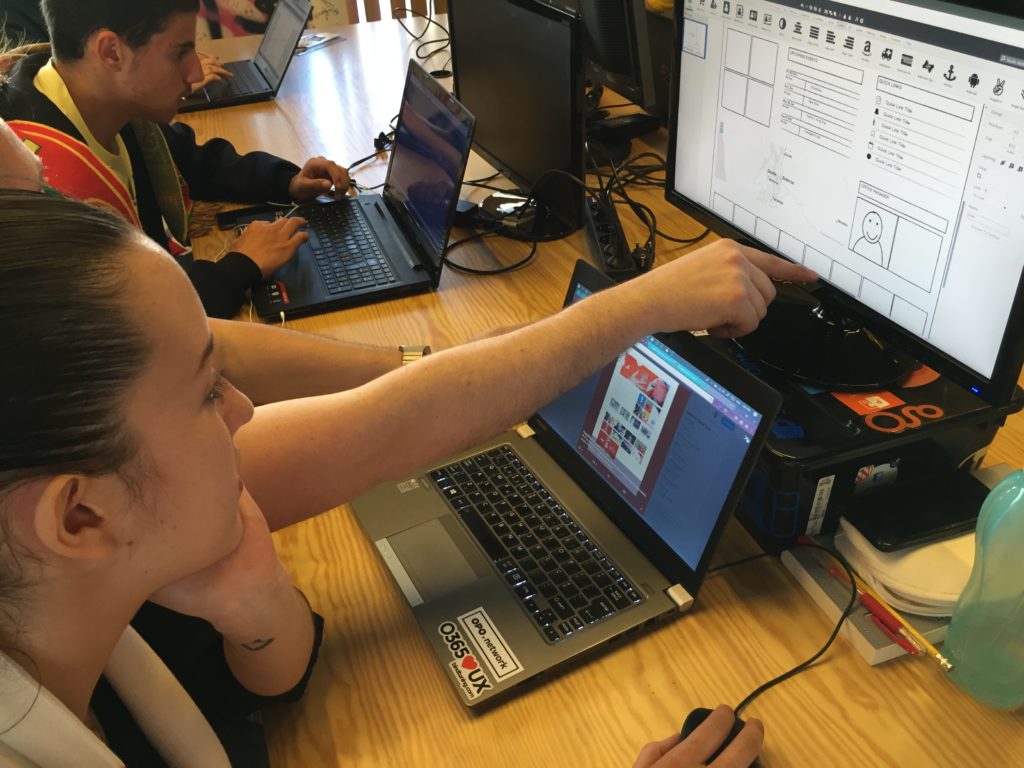 Jun 14 / 4:00 PM
Kicking off the project with the Zeus theme and used the Builder to customize our site with Portugal's team colors and a great font.

Jun 14 / 6:00 PM
Now that team colors are set, let's add data!
First up – players data source is uploaded to the Filters web part which allows users to quickly find player stats like who has the most league goals.
Of course, that would be Cristiano Ronaldo! ⚽🏆

So, while the data loads….Marco takes a break.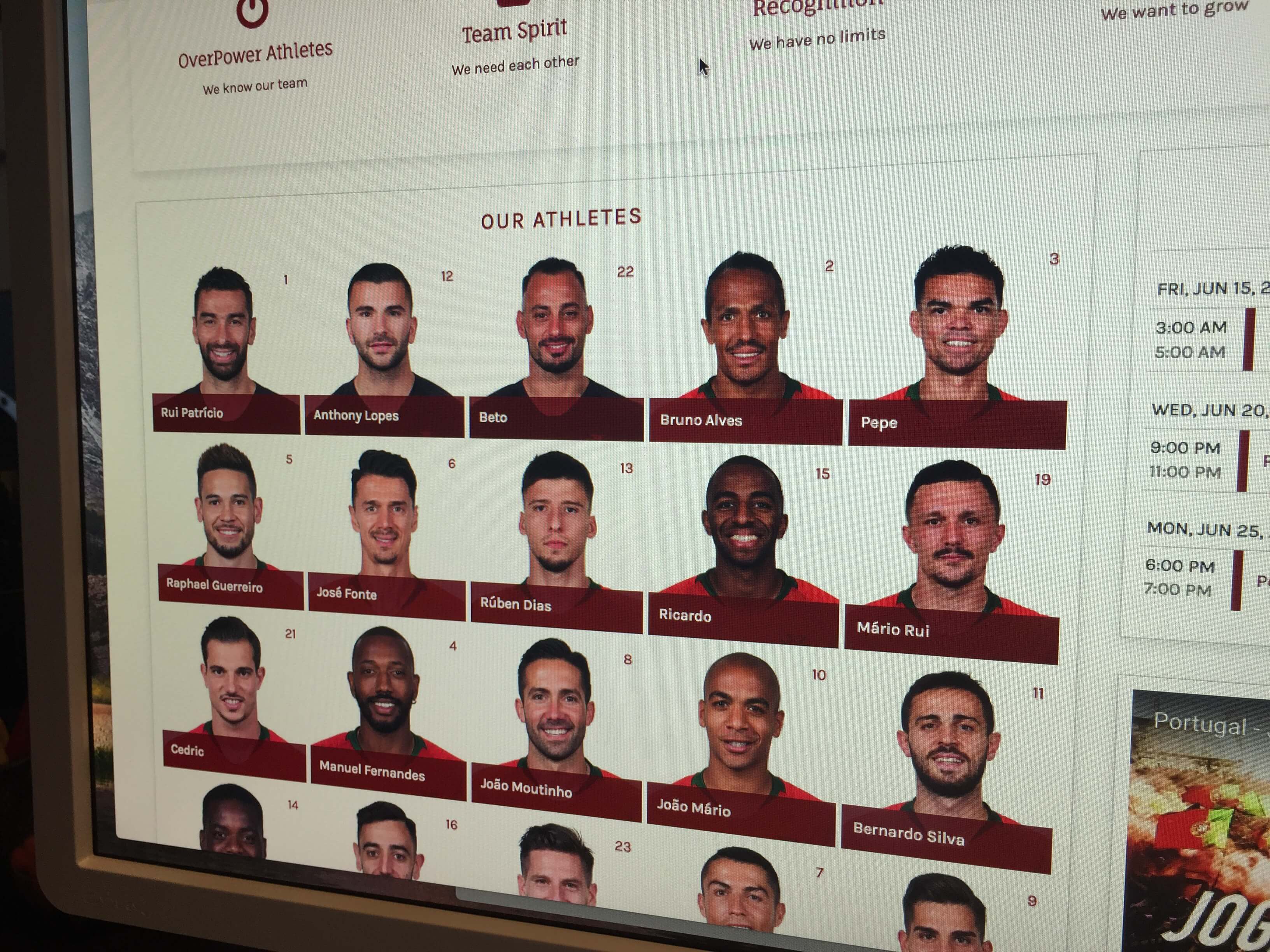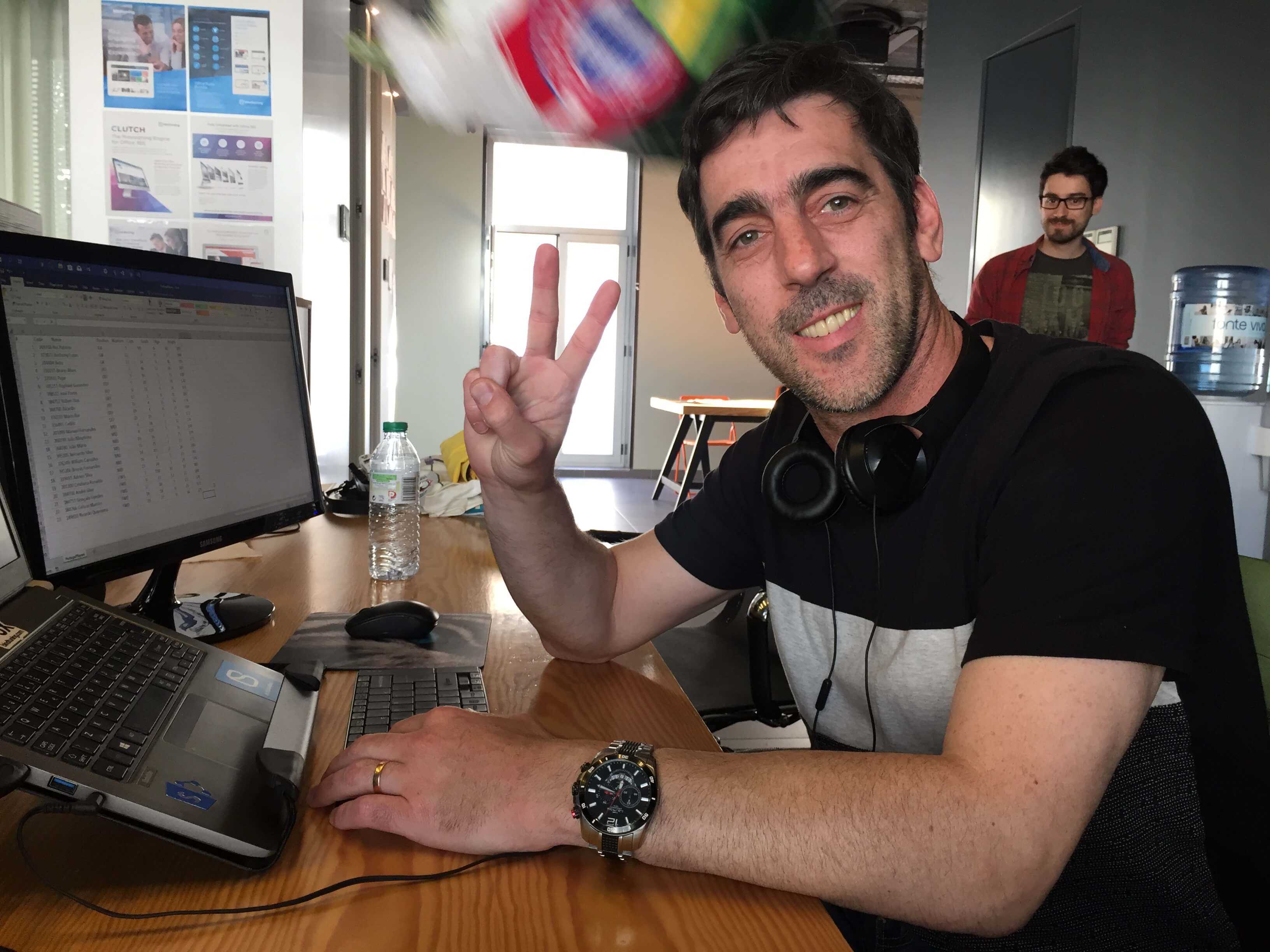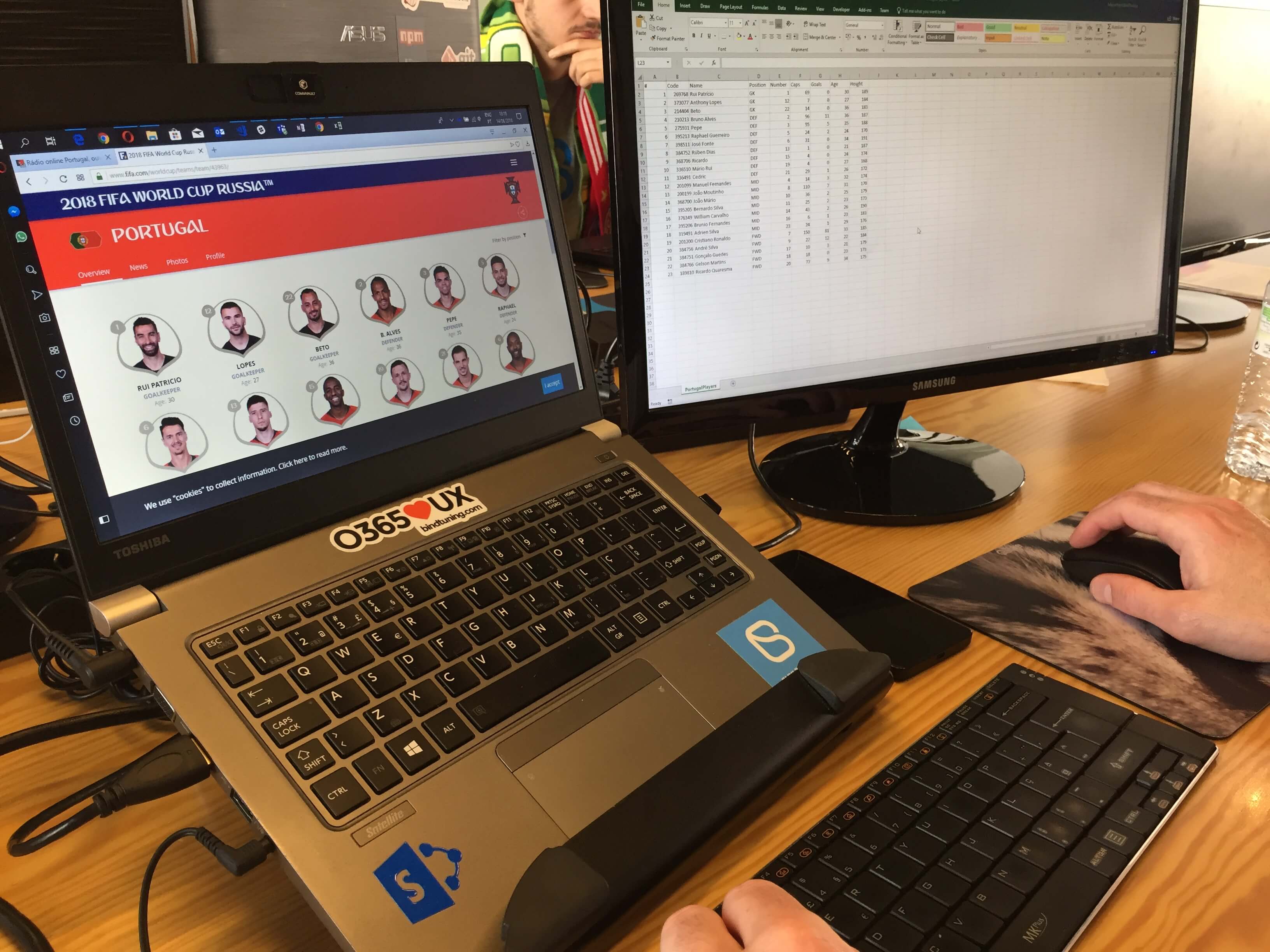 Jun 14 / 8:00 PM
Team's page is really looking good! Tiles web part is used to list team's values 😍💟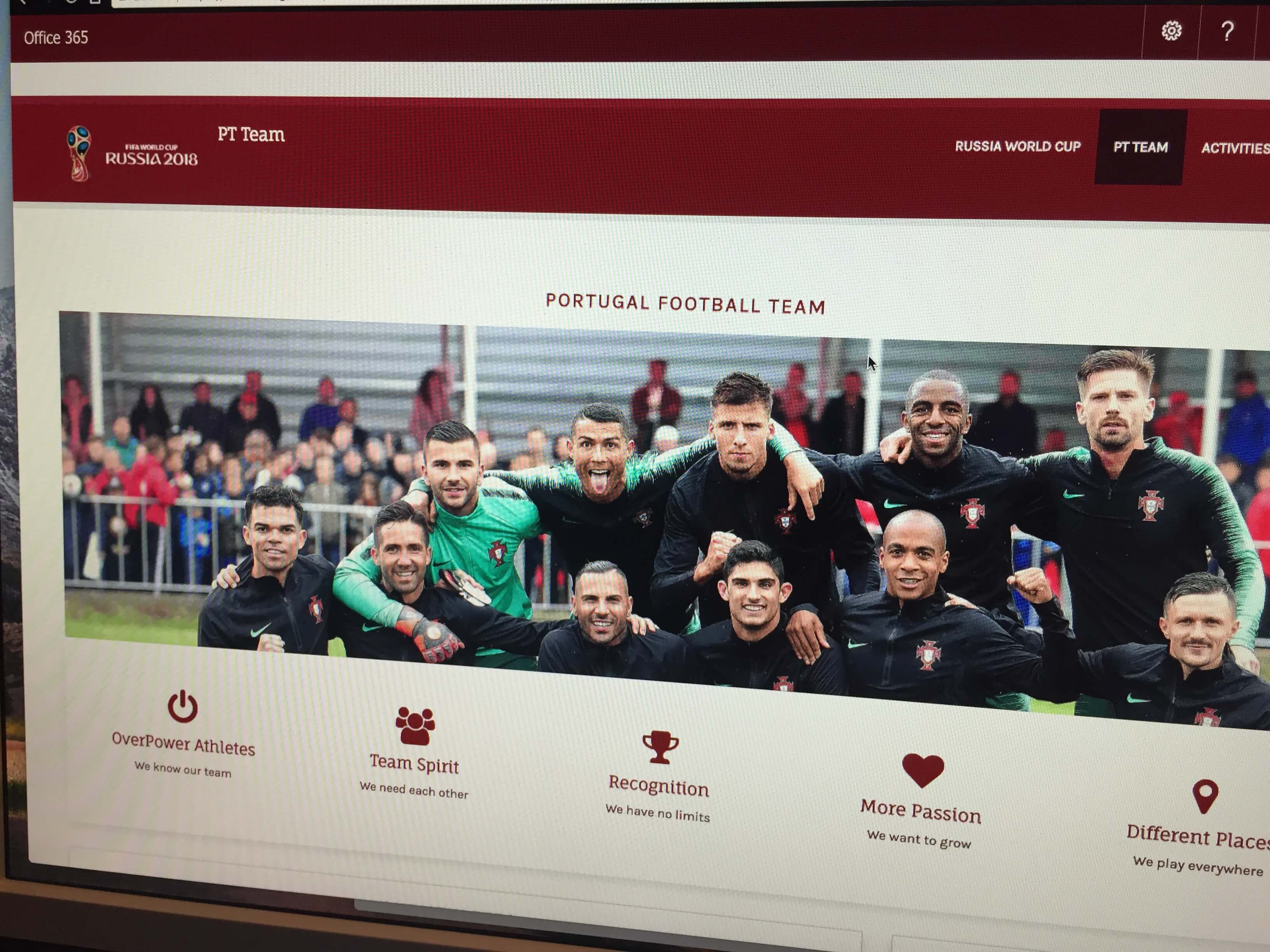 Jun 14 / 10:00 PM
Sophia is ready to go home! See you tomorrow! 😂😂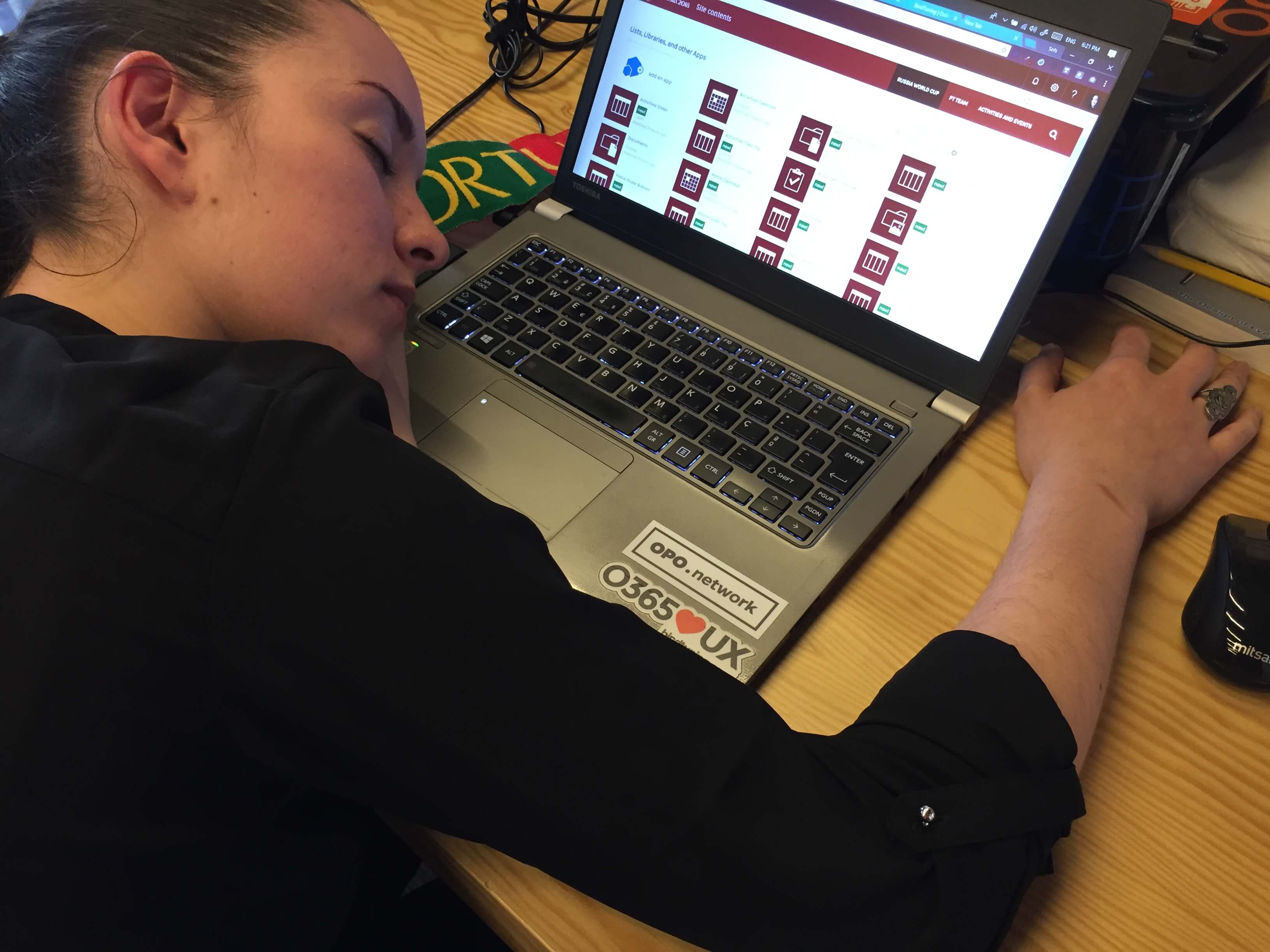 Jun 15 / 7:00 AM
Good morning! 7 hours to go 😁 At this time we decided to challenge our German friends at Rencore to build a German Team site, in time for their first match on Sunday!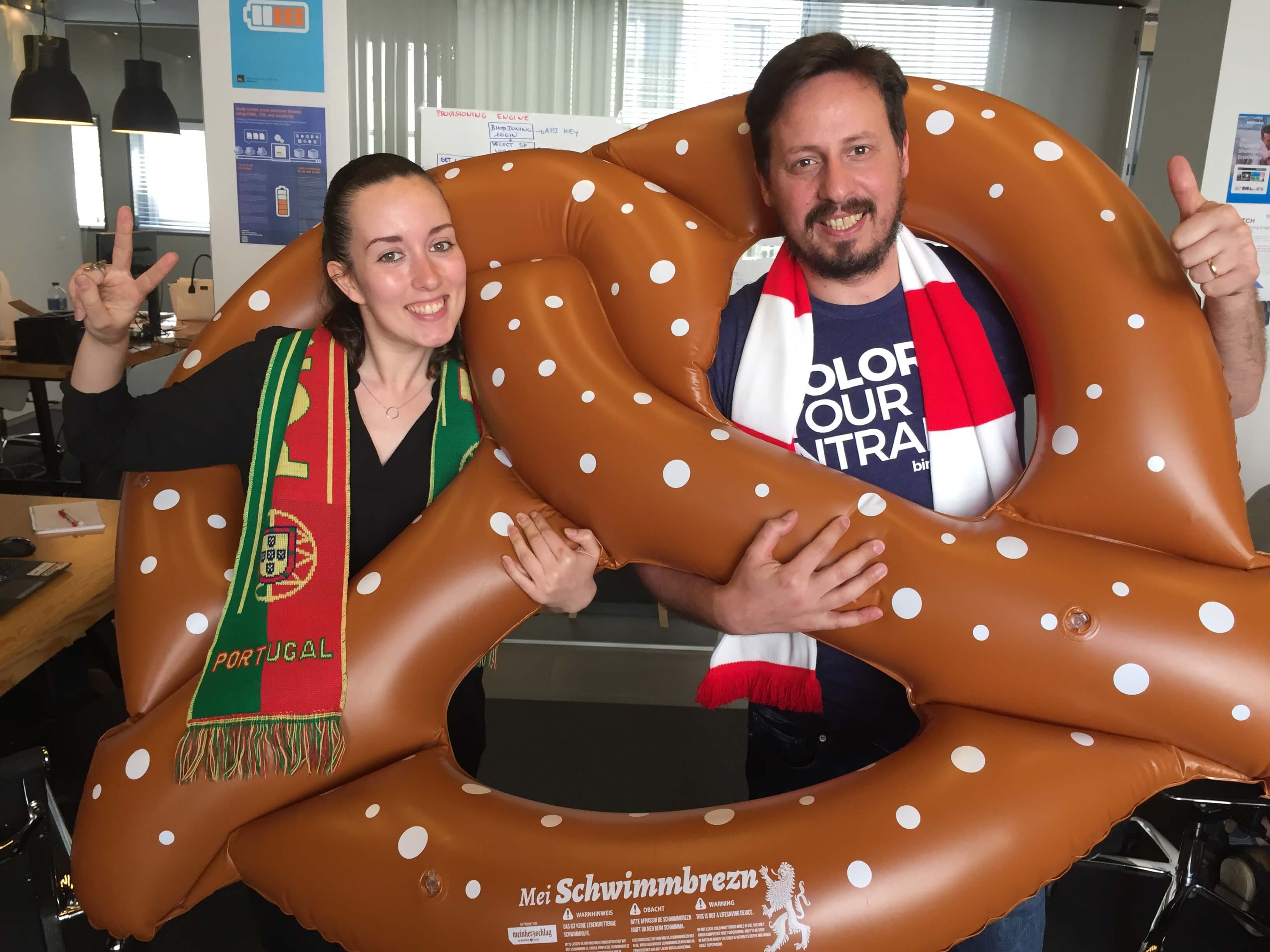 Jun 15 / 9:00 AM
Really this sports team template will support ANY sport! Hockey, Baseball – even "Wife-Carrying" 😂🏃‍♂️🏃‍♀️ How about it dear Finnish friends at Happit? Join our Challenge?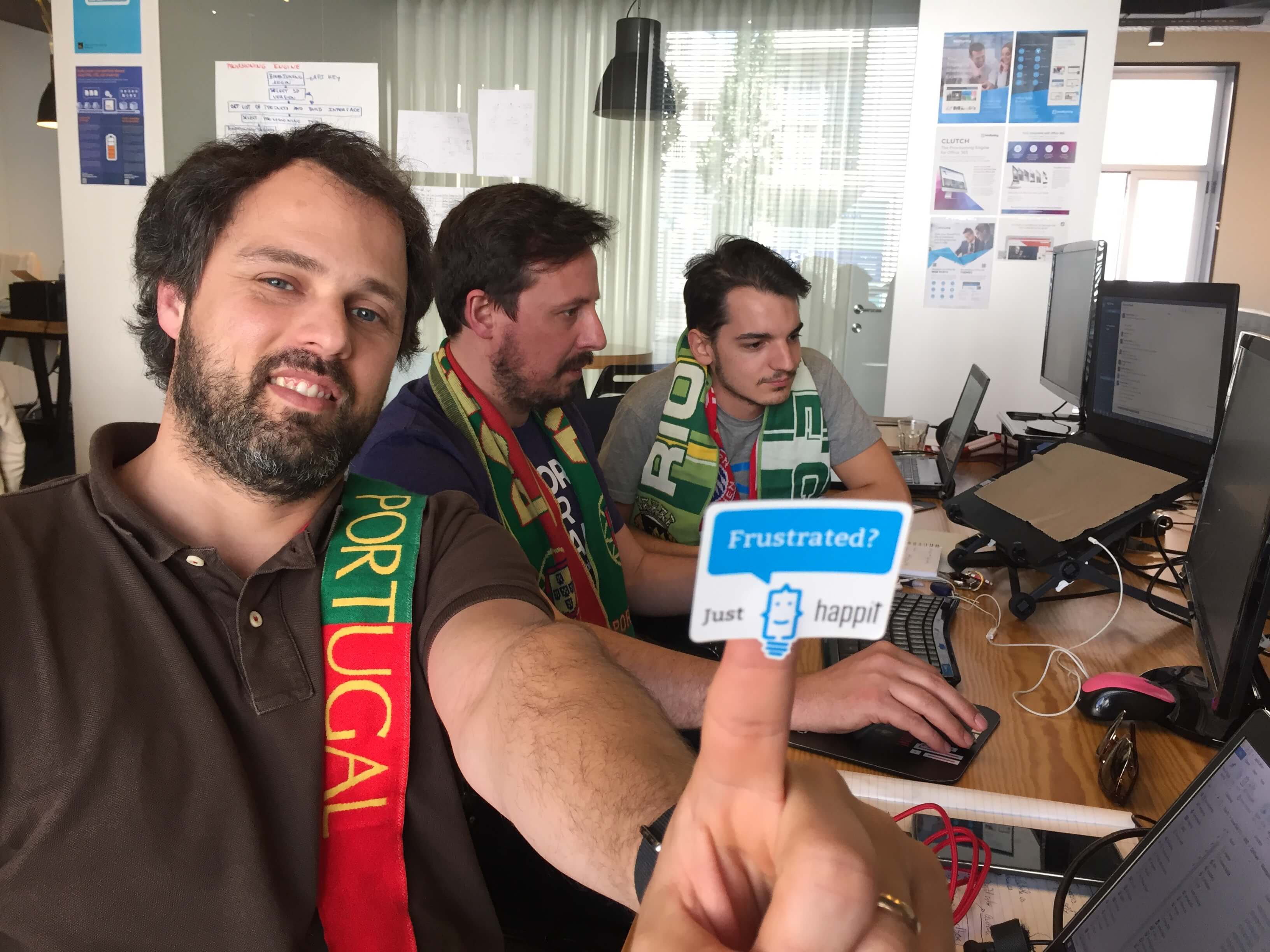 Jun 15 / 11:00 AM
And while some work hard on the template, others anticipate this evening's first match, with a victory for Portugal (playing FIFA2018) 😆

Jun 15 / 2:00 PM
24 hours after we started!
One theme, 5 web parts, one provisioning engine
24 hours later….we have met the World Cup challenge! Our team built a complete sports team template and customized it for World Cup Soccer – Team Portugal - before the first kick of the first match!
The FANatic Team Template is available right NOW, on our website for free. Rally your co-workers to cheer for your team on your Office 365 intranet site. And of course, it is not limited to soccer! ANY sports team, even your own corporate teams can be featured and followed.
---
Our FANatic Team Template is completely customizable and features everything you need:
Zeus Theme – completely customizable so you can brand your team colors, logo.

Calendar web part – Display game schedules, events, viewing parties. Color code home and away games.

Filter web part – Display and filter player images, statistics

RSS feed web part – Access news from the league, sports channels and team news sources

Tiles web part – Display colorful collection of images, messages and links.

Maps web part – Mark the stadiums where your team plays!
---
Get the FANatic Team Template now.
Simply download a free trial of our Clutch provisioning engine.

Included within Clutch, you will find the FANatic Team template.

Deploy your team site in minutes, using the power of Clutch desktop app. No code skills are necessary.
---
We challenge
YOU
to build your own team site and share it with us.
Simply tag
@BindTuning
or
#BindTuning
in your post. Let's keep the fun going!
GO PORTUGAL!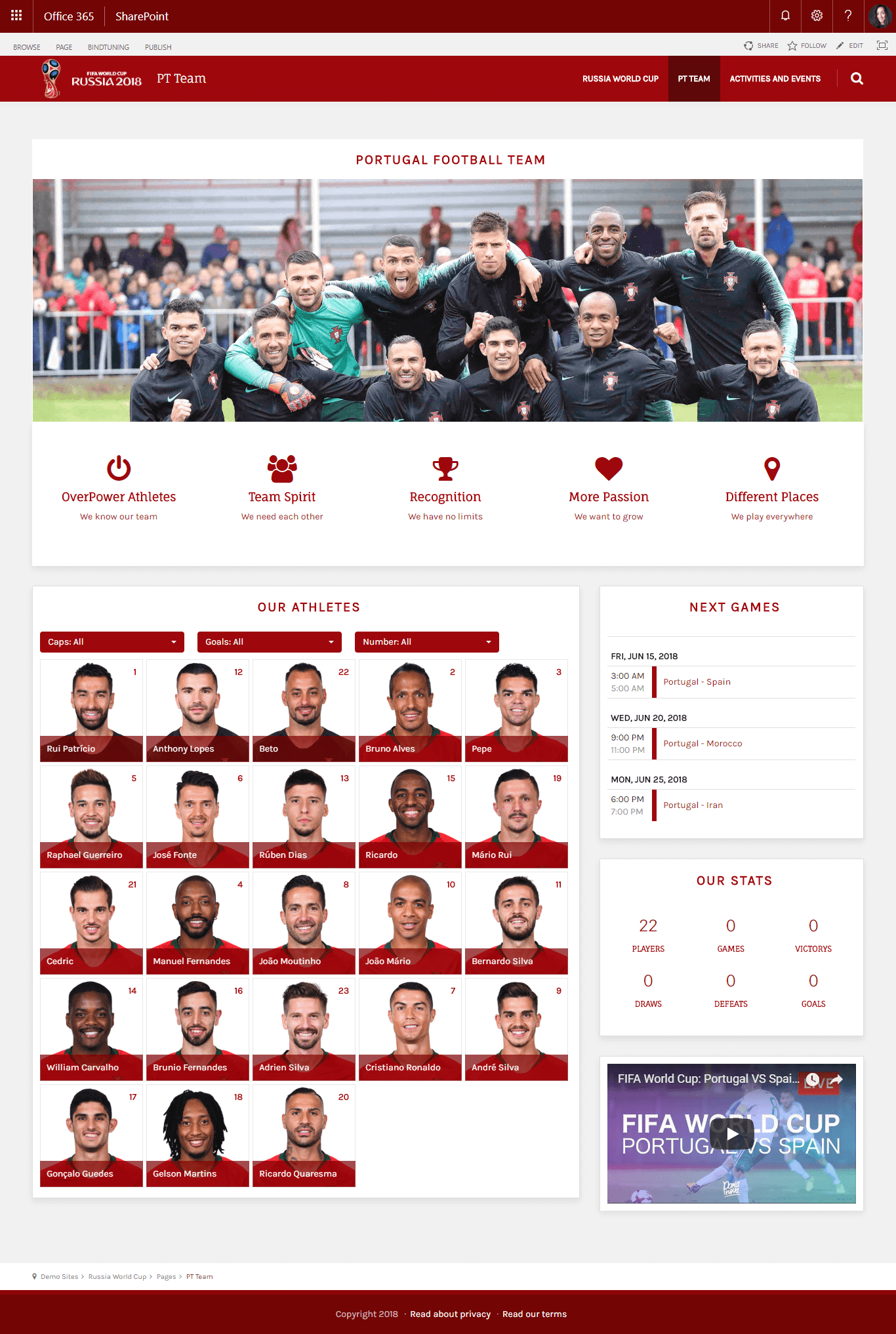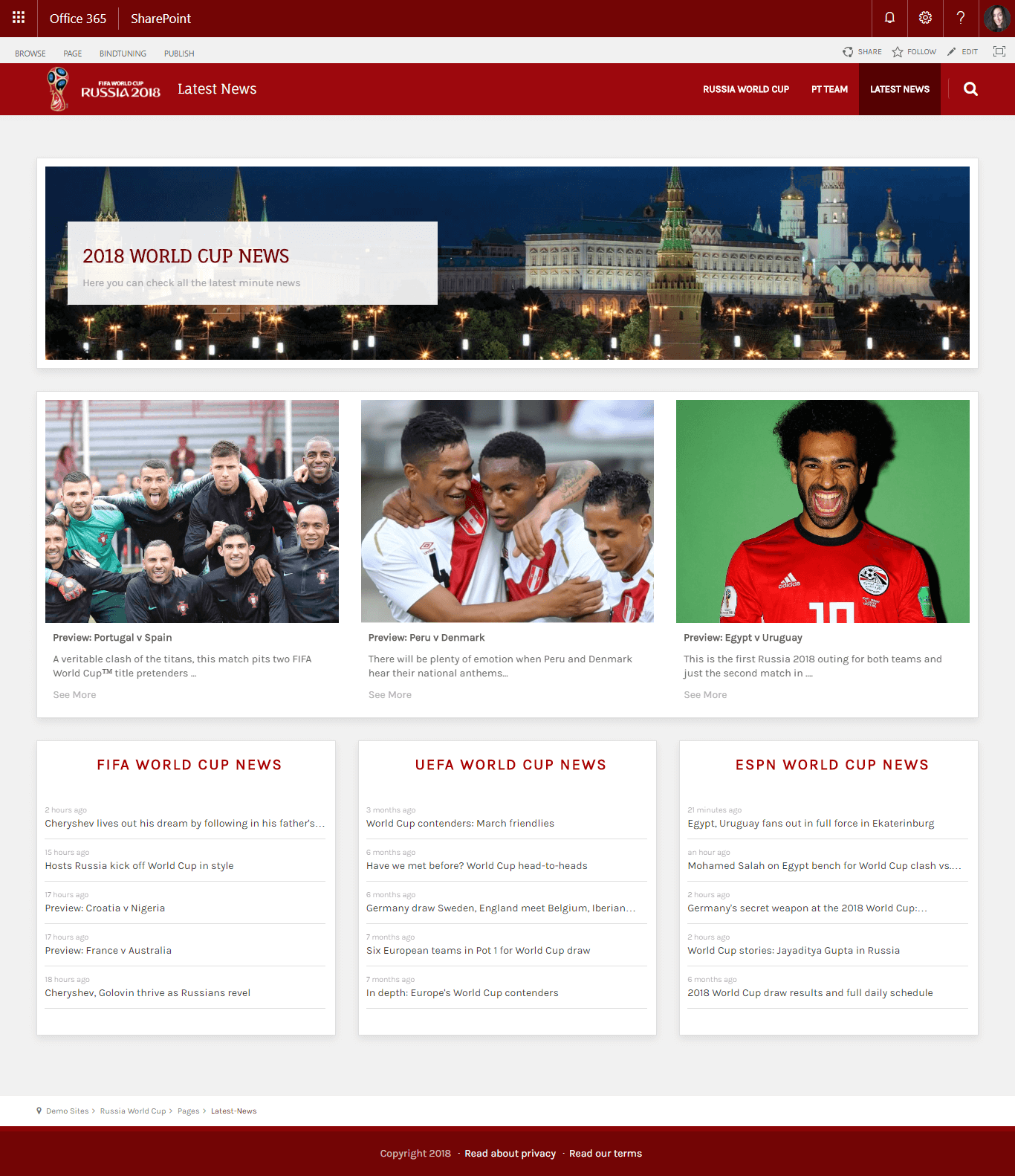 ---